Wahlburgers In Orlando – YES!


As a food junkie it's always great to hear that some of the places you watch on t.v have made their way and set shop a few blocks from where you sleep. Downtown Orlando is now the 1st of 20 new locations Wahlburgers buckled down in Florida. Yep, you read that right, those juicy burgers you see Mark, Donnie and Paul eating and whipping up in the kitchen are now at your fingertips. So naturally I had to go sink my teeth in one to see if they tasted as good as they looked and to validate if all the hype was a real thing or just a celebrity hoax.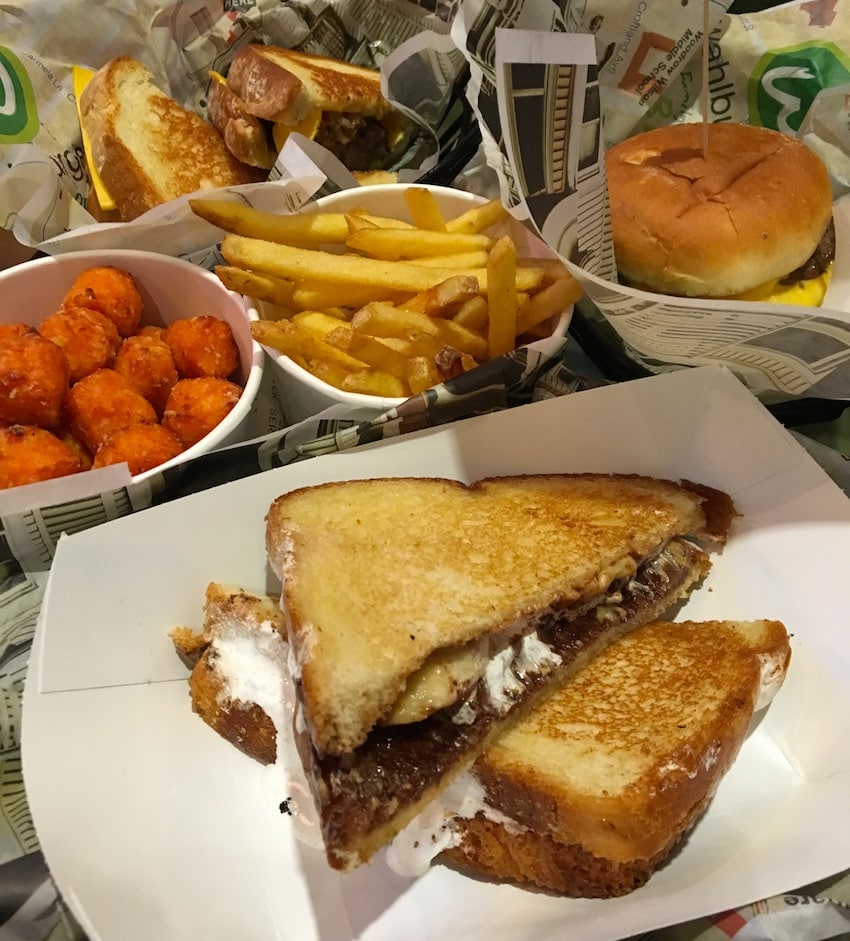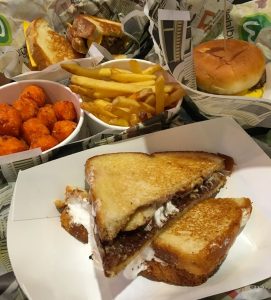 After a rough Monday workday, my boyfriend and I headed over to Wahlburgers to grab a burger for dinner. I was kind of nervous that the line would still be wrapped around the building since it we were still in the first week of it's grand opening. (on Feb 18)  As we approached the SunTrust building located at 200 S Orange Street, the line to get in wasn't that bad, there was maybe 4 or 5 families standing outside as we approached the door. A friendly greeter quickly greeted us outside and asked us if we wanted full service or quick service for the evening. We opted for quick service since the only difference between the two is we went to a cashier to order our food and sit down, instead of having a server cater to us. The wait time was less than 15 mins, which is pretty awesome if you ask me! When we entered the 6000 square foot restaurant, we were again welcomed with a friendly Wahlburgers staff member who was pointing to the direction of Quick service line.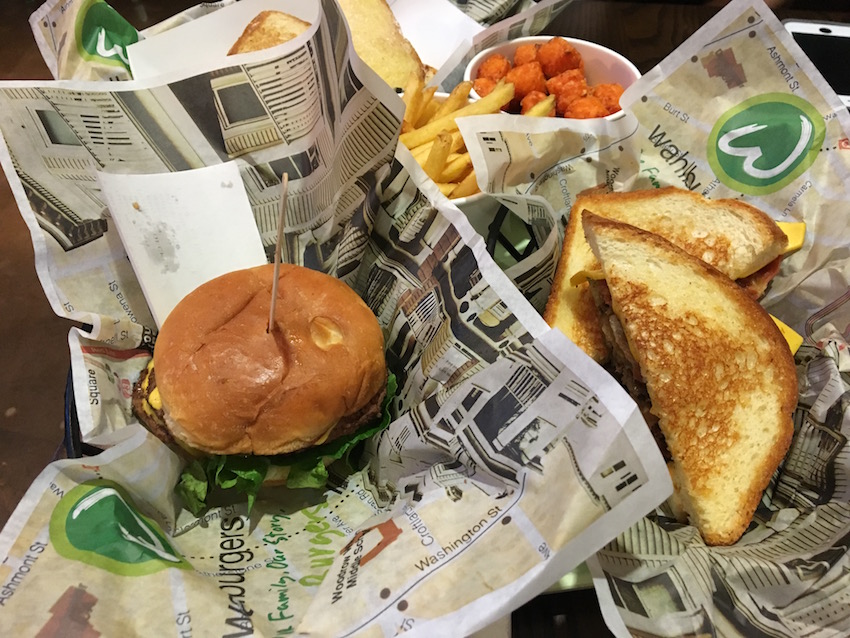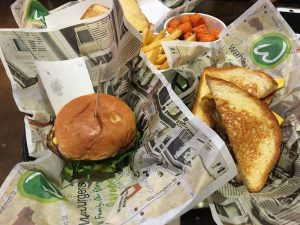 I was pretty stoked to see pictures of the Wahlburg brothers in their younger years posted along the walls, movie tiles placed in artwork form above my head, and a full service bar that demanded your attention.  One of the large screen TVs over the bar quickly claimed my boyfriends attention. While we waited, it was suggested that we needed to try one of their signature Wahlburgers cocktail drinks made in honor our city called "Orlando Dreamsicle".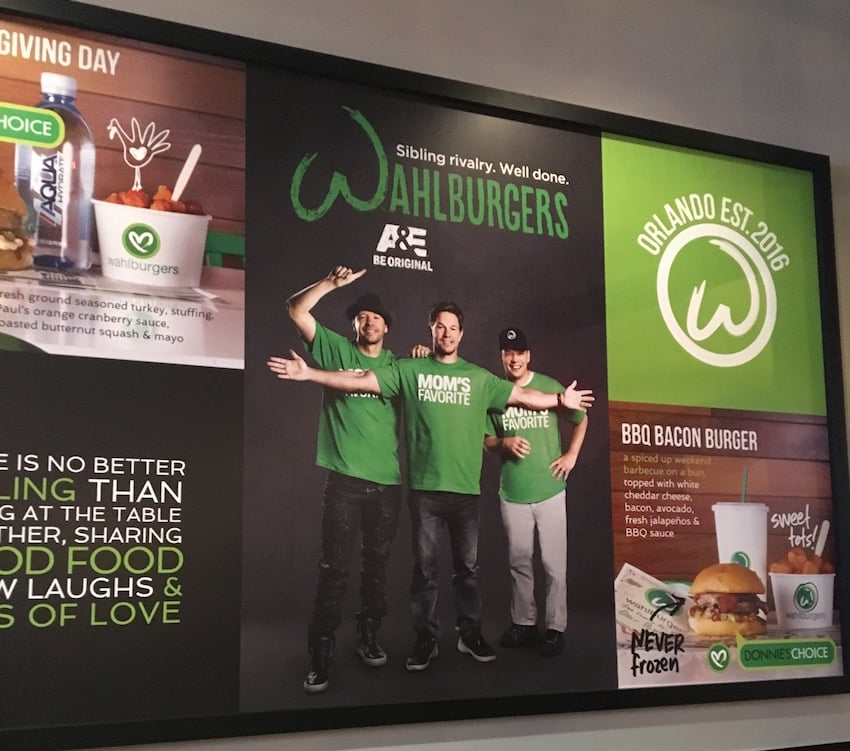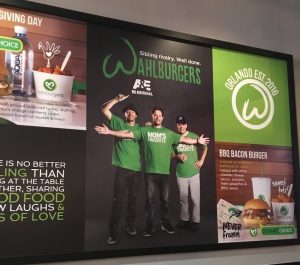 Most of the items on the menu were under $10 which certainly doesn't hurt your bank account.  They had a cool selection of different types of burgers including a beef or a turkey burger that could be simple or have fancy toppings. There was a wide selection of sides you could accompany with it as well. If you're not in the mood for a burger they also had a fish sandwhich, and a selection of fresh salads.
Although my waist was telling me that I needed a salad, my stomach was screaming for a Wahlburgers burger  with all the fixings. I ended up geting "the melt" while my boyfriend got the "O.F.D (minus the tomato jam, he's one of those guys that doesn't eat tomatoes, I know he's weird) While he got his usual side of fries, I opted for the sweet potato tots.  The Grilled Banana Fluffanutta on the dessert menu instantly intrigued both of us, so we ordered one of those as well. Why not right?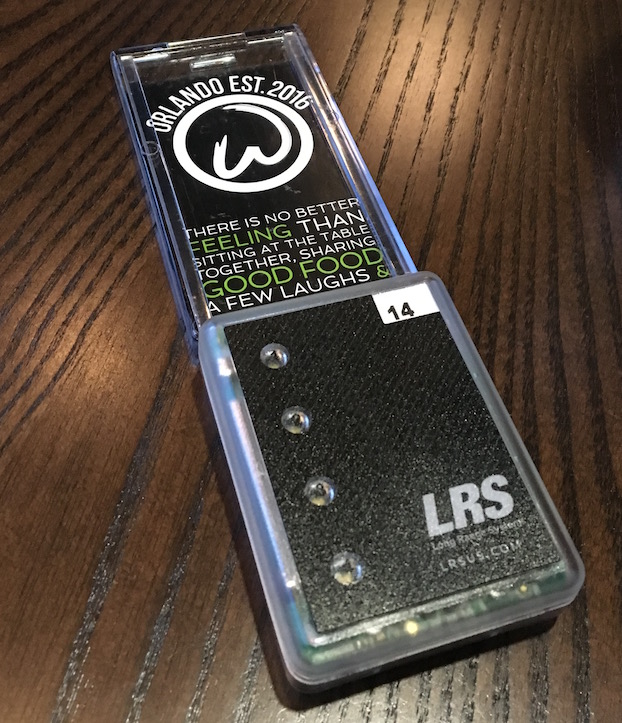 They gave us on of those pager, beeper things and we quickly found a seat. Minutes after we sat down the buzzer was a buzzing and my stomach was jumping with joy because finally one of those burgers I had seen on TV will finally be making it's way to greet my stomach.  When the tray was placed in front of me the aroma of yummy burgers instantly filled my nose. The portion size of the burger and sides were better than any fast food places you would find along the downtown strip and filled me up. From the first to the last of my "melt" wasn't disappointing at all. You could taste the freshness of the meat, and the fries and tots perfect.  I instantly knew after that first bite that we would be coming back again to try one of the other signature burgers on the menu.
I almost left the dessert all to my boyfriend because of how full I was, but I knew I had to give the Grilled Banana Fluffanutta a try. It was absolutely delicious!  My only piece of advice is to eat it right when you get it as I am sure it would have been even better if it was hot.


As we sat and chit chatted, the friendly Wahlburger staff greeted us multiple times.  You could tell they genuinely liked working there and were very knowledgeable about the Wahlburg Company because they were able to answer the 100's of questions we asked them.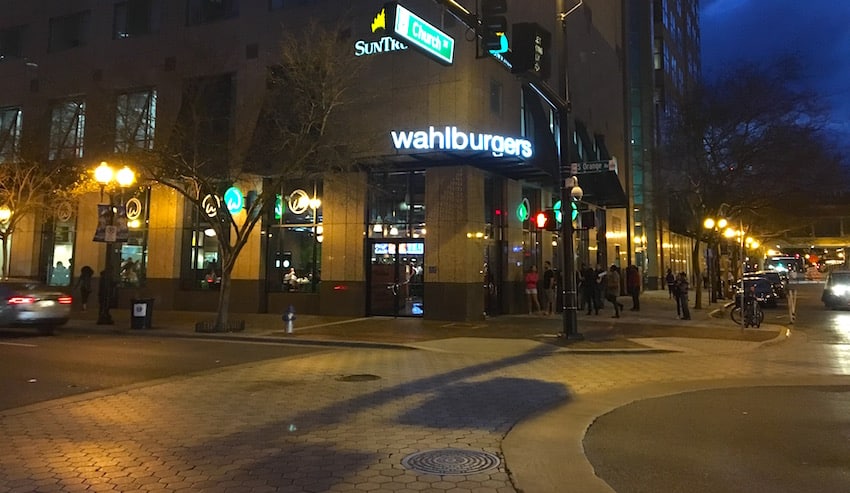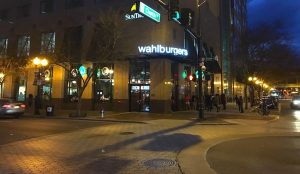 The Wahlbergers staff, food and ambience was superb, definitely a gold star approval! If you're not wanting to cook, need a place to go on date night, or to catch a game while throwing back a few drinks or just plain curious what Mark and Paul have eaten before, I would highly suggest heading Downtown to Wahlburgers for a great meal!
If You Enjoyed This Post, Don't Miss:

Covering Orlando & Central Florida
'Coast to Coast'
Daytona Beach • St. Pete Beach
• Clearwater Beaches •
Family Fun, Local Events,
Dining Reviews, Local Get-a-Ways,
Attractions, Discount
Ticket Opportunities & More!
Wahlburgers
Boston Burgers Hit Orlando
ShareOrlando.com | Share Orlando


950 Celebration Blvd, Suite H

Celebration Florida 34747