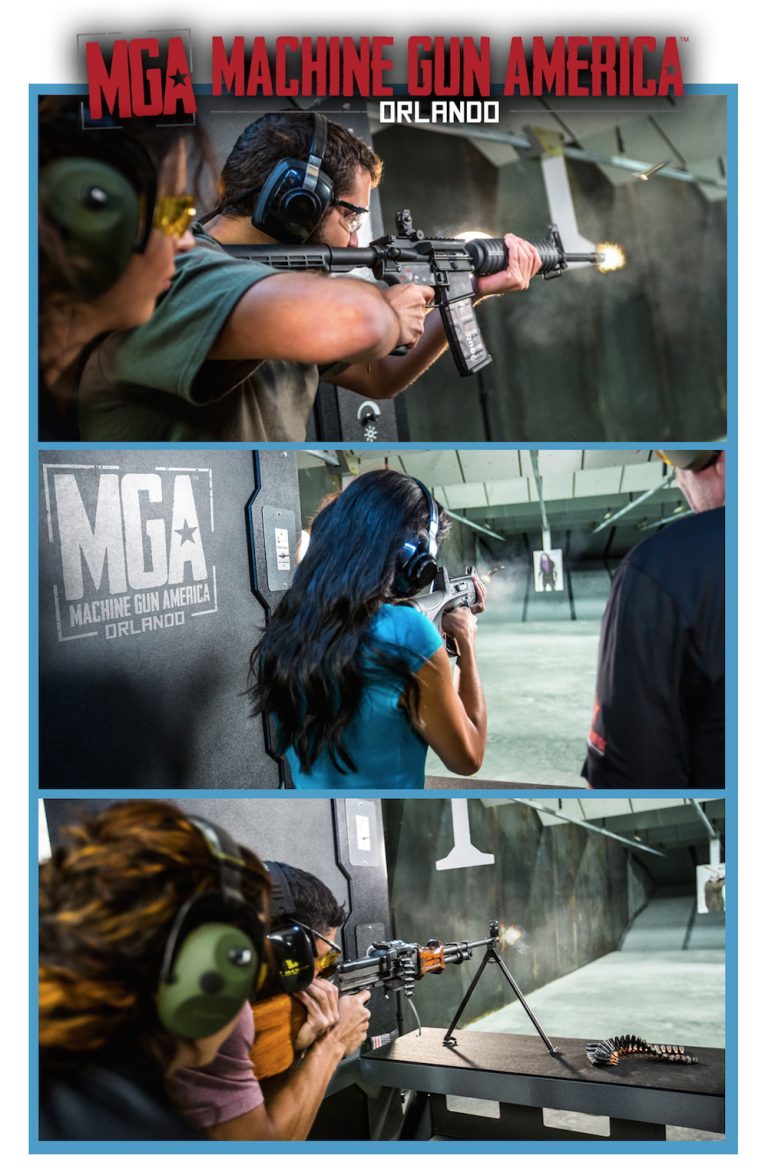 Have you ever felt the power of a German MP5? The kick of a Side by Side 12 Gauge Coach Gun? Or the punch of a Smith and Wesson 44 Magnum revolver? Well now you can at Machine Gun America – Orlando.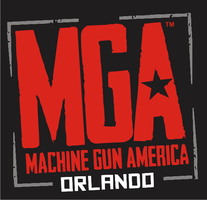 Machine Gun America – Orlando
5825 West Irlo Bronson Memorial Hwy
Kissimmee, FL 34746
www.kgsstickets.com/MachineGunAmerica
Machine Gun America is an indoor firing range, where you get the opportunity to shoot real machine guns and other world-class firearms. They have 8 different experiences you can choose from.
Special Ops – Get up close and personal with military-style firearms and get excitement in your sights. Fire the M4, MP5, Glock 17 and the Mosseberg Shotgun.
Gangster Land – Take a trip back in time and get the chance to fire some of the most notable firearms of the 30s and 40s. Fire the AK47, Side by Side Shotgun, and the 1911 Pistol.
The Walking Dread – Learn wha it might take to survive a Zombie Apocalypse. Fire the Glock 17, AK47, RPD Belt Fed and the Raging Bull Revolver.
007 – Shoot Bond Style with these spy-grade weapons. Fire the M4, MP5, and the Walther PPK.
Western Shoot Out – Find the Cowboy within you. Fire the Side by Side Shotgun, Cimarron Revolver, and the Lever Action Rifle (.44)
Automatic Divas – This one is for the ladies, channel your Lora Croft. Fire the M4 (.22), MP 5 and the Glock 17.
Big Screen Legends – Become your own Dirty Harry or ScarFace. Fire the M4, M4 (9mm), MP5, AK-47, Mossberg Shotgun, Raging Bull Revolver, and 1911 Pistol.
Adrenaline Shot – Get your Heart pumping with this experience. Fire the MP5 and Glock 17.
When I was asked to go and experience Machine Gun America, I really didn't know what to expect. I have been to many gun ranges, most of them dirty and not well kept. Imagine my surprise when I walked through the doors. This place was well lit, clean, bright and definitely better than any other gun indoor gun range I had been too. Their employees greeted me as I walked through the door, and I was soon sitting down looking over the different experiences I had to choose from.   I decided for the Adrenaline Shot Experience and then filled out the waiver form. The waiver form was electronic and done on an iPad. I then chose my paper target. You could choose to shoot at a picture of a zombie, Osama Bin Laden, Werewolf, a crazy clown and a few others. I choose Osama Bin Laden. (Its the Military in me) I waited for my name to be called and then met my personal range instructor. He went over the rules, and gave me my eye and ear protection.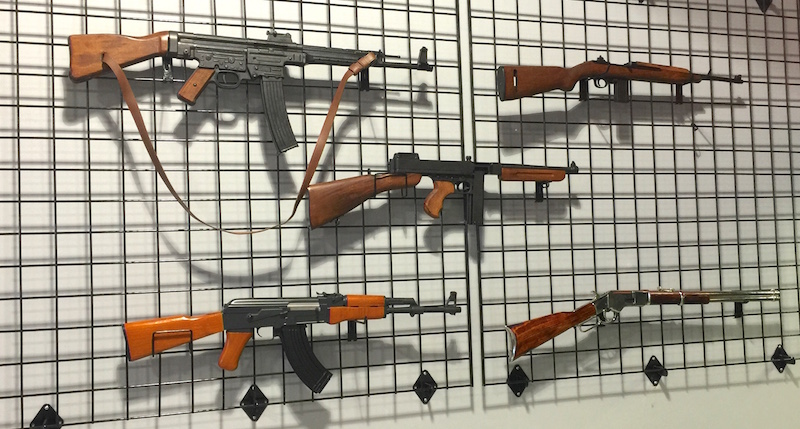 We then headed into the range. First up, the Glock 17. Fired off 30 rounds of this powerful pistol. The adrenaline rush began. With each shot, I got better and my aim zeroed in on the target. Wow! I was literally shaking with adrenaline. Then came the big one. The MP5 Sub Machine Gun. I shot a couple of rounds on single fire, and then switched over to automatic. The range instructor told me for the best rush, I needed to just squeeze and hold down the trigger to feel the power of this automatic weapon. AND THAT I DID! 30 rounds shot through that weapon very fast. Needless to say there was not much left of Osama Bin Laden (my paper target.) More adrenaline pumped through me, and a smile on my face that lasted for hours.
If you are worried about safety, it's there FIRST priority. Their state-of-the-art facility holds the highest standards when it comes to safety measures and keeps you, and your group, secure while on the range. Whether you're a first time shooter or a gun fanatic, you can shoot confidently knowing their staff is specially trained and highly experienced. All of the range safety officers have a background in military or law enforcement.
Have kids, no worries, they have simulators where they too can go and shoot zombies with pistols and/or rifles without the live ammo.
Machine Gun America is definitely an adrenaline rush. Whether you are a first time shooter or experienced, you are sure to have a blast!