As you drive up and down Hwy 192 in Kissimmee and International Drive in Orlando, it is common to see many roadside shacks offering deals on tickets and/or to purchase back any unused days on your tickets.  They usually are marked with balloon billboards, people holding signs, or other marketing gimmicks.  Here are 5 reasons why not to do business with these companies….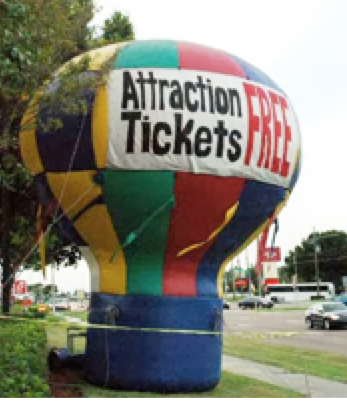 Not an Authorized reseller ~ Walt Disney World, Universal Orlando and SeaWorld do not allow just anyone to sell their tickets.  You must have a legitimate contract with each attraction to legally sell tickets.  Legitimate companies will have the Authorized Ticket Seller logo (displayed to right) somewhere very prominent.  Note:  Look for this logo.  Just because they say they are "Authorized" doesn't mean they really are.
Buy Back Tickets~ A company that offers to buy back unused tickets is selling them too.  Chances are you will be purchasing a ticket that someone else has already used multiple days on the tickets.  Many guests have purchased these tickets, arrived at the gate, only to be turned away because the tickets do not have any days left on them.  Please Note:  Just because the sales person says there are 2 days left on the ticket, doesn't make it true.  The only place that can actually tell you how many days remain on the tickets are the theme parks themselves.
Its Illegal~ Buying and reselling partially used tickets is a misdemeanor in Florida and you could go to jail.  Most of the time, the police will arrest the person selling the tickets, but it is not uncommon for the purchaser to be at the very least escorted out of the park and trespassed.  See Florida Statute 817.36 for more information.
Tickets may be fraudulent~ Just like concert tickets and sporting events, some tickets can be created at home and/or duplicated.  The Parks have done many things to prevent this from happening, but to the unsuspecting guest , tickets can look legitimate.
Timeshare~ Discounted (or free) tickets are often given in exchange for touring a Timeshare location.  While Timeshare presentations are totally above board and very popular in the Orlando area, they take valuable time away from your vacation.  The Tour bookers are very crafty in how they offer the tours and will often stretch the truth on how long it actually takes for the sales presentation.  They do give you a free breakfast, but after that be prepared to spend at least 2-3 hours listening to a high pressure sales pitch before you are given your tickets.  Time is money and your vacation time is extremely valuable, protect it.
Purchasing discounted tickets prior to arriving at the parks is highly recommended (saves not only money but time in line at the gate), just make sure it is a legitimate company.  Look for the Authorized Ticket Seller logos and ask to make sure the tickets you are purchasing are brand new tickets.  Remember:  If the offer sounds to good to be true, it usually is!