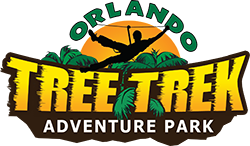 Orlando Tree Trek is one of Orlando's newest parks.  It combines your normal ropes course and zip lining into a fun and challenging adventure.  Orlando Tree Trek has over 50 obstacles including suspended bridges, nets, swinging logs, surf boards, zip lines and so much more.  They have two kids courses, 3 junior courses and 4 adult courses.  The courses range from 5 feet high to 30 feet high.  It is fun and challenging for ages 7 – 99.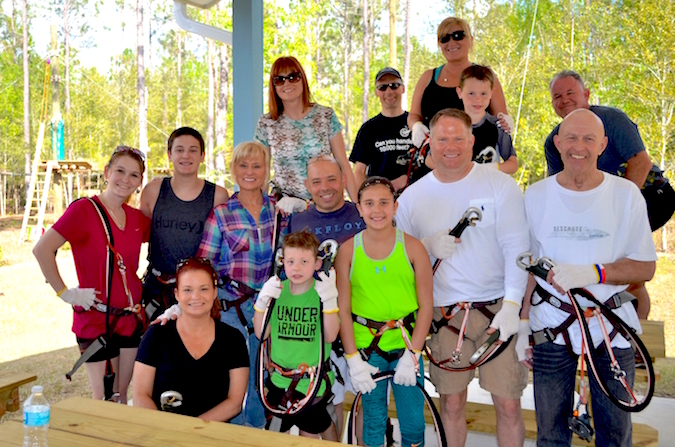 Our trip to Orlando Tree Trek started with making reservations online.  Once our reservation was booked, I received an email confirmation including a link that would allow everyone to sign their waivers electronically.  This feature is very easy to do.  (I highly suggest doing this, as it will save you a bunch of time at the registration desk.)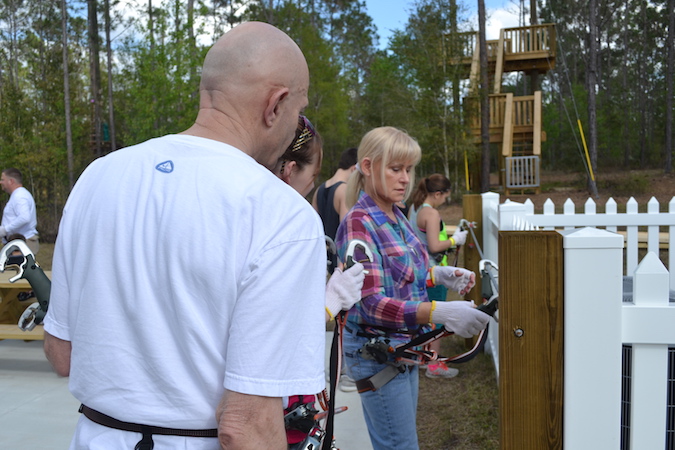 On the day of the reservation all 12 of us, arrived and headed into the Base Camp. We were greeted with smiles and the staff quickly got us all signed in.  At this point we were a little nervous, as none of us really knew what to expect.   Once the sign in process was complete, they handed each of us a harness.  This harness, looked like a huge belt with hooks and straps everywhere.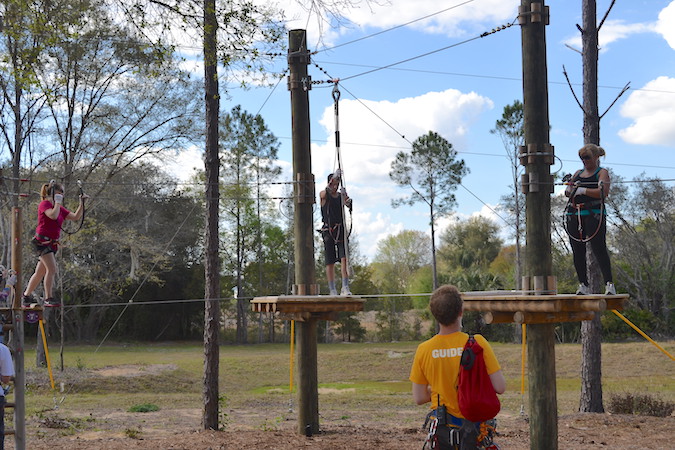 We headed out onto the back porch where met our guides for the day.  These guides were awesome. They were very friendly and very helpful.  We were then instructed on how to put our harness on.  As you can imagine, this was quite a task for our guides, as there were twelve ofus (ages 8 – 65) but they did it with smiles.  They double check each of us to make sure we were strapped in and ready!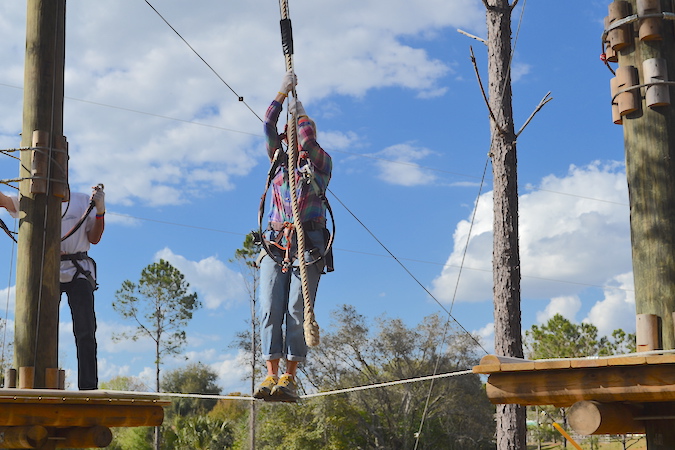 Next, we walked over to the training cable, and learned how the magnetic hooks worked.  We were told that our harnesses had state of the art magnetic hooks, and once you hook into the course, you cannot be unhooked until you are on the ground.  You have 2 hooks on the cable and it is impossible to have both hooks off the cable at one time.  This makes it very safe as you are always attached to the cable, by at least one hook.  Kind of cool once you learn exactly how it works.  We all got a chance to practice "Hooking In" and "Hooking Out".  I could now start to see smiles on every ones face, as they were starting to see how safe we were going to be.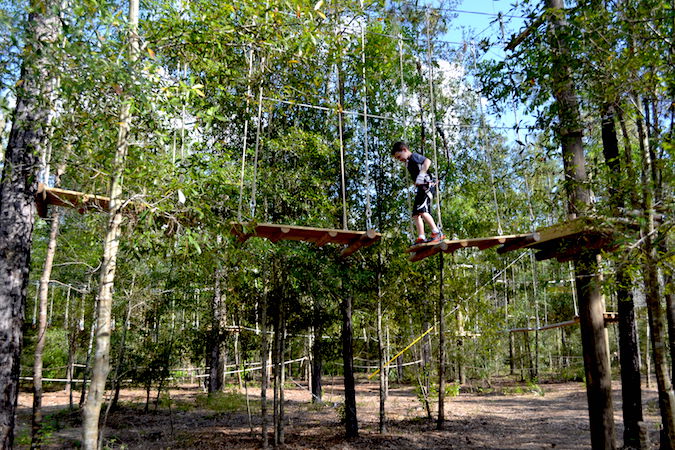 When it was our turn, we took a short walk over to the training course, which was about 3 feet off the ground, and included 4 small obstacles and a short zip-line.  Our guide showed us how to complete each obstacle, and how to maneuver in between each obstacle.  Once he showed us, we each had a turn at these obstacles.  This is where the real fun began.  As you might imagine, some of us caught on quickly while others were slow and steady.  Of course, the guides were right there with us the whole way.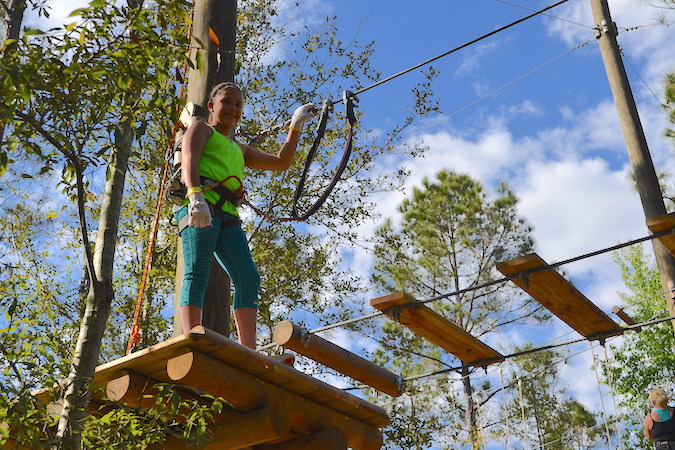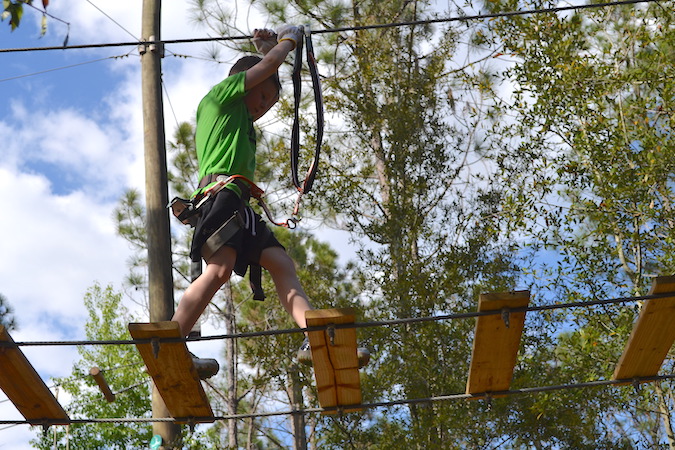 After we all completed the training course, they set us free to enjoy the rest of the park.  The kids went one way, and the adults went another.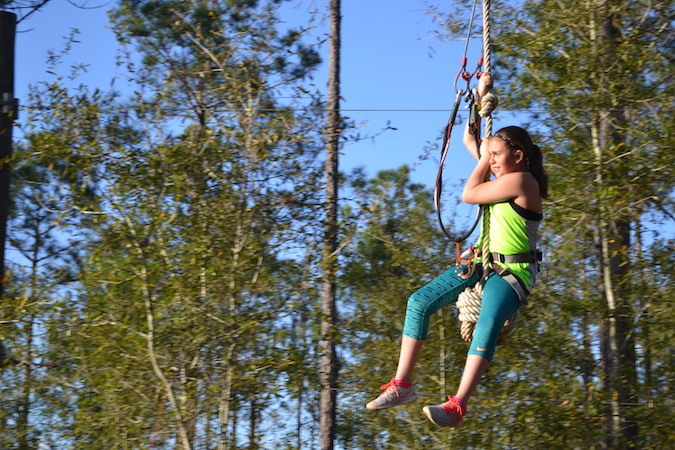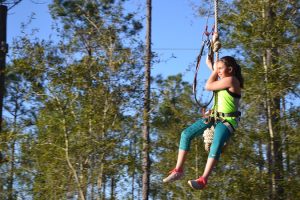 Cool thing about that is one of the guides even the took the kids to the kids course, and helped them get started as us adults began the adult course.
The 2 kids courses were perfect for the younger ones.  They learned how to maneuver the obstacles like pros, of course with one of the Guides watching and instructing from the ground below. Because there are only 2 kids courses they got to go through twice, which made their tree trek more adventurous.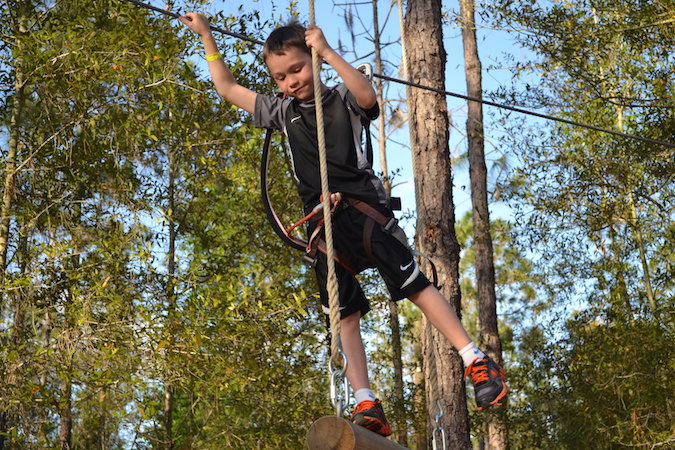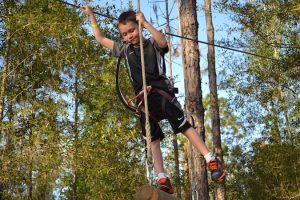 As us adults progressed through the course, we spread out quickly as we all moved at different speeds.  The faster ones went first, to give the slower ones a chance to take their time and not feel rushed.
As we moved forward each course got higher and harder.  We enjoyed the zip lines in between some of the obstacles to give our hands a rest.  (They hurt from holding onto the cables so tight)
The most challenging obstacle for me was the rope swing into a cargo net.  You start out on a platform, and grab onto a long rope, and ride the rope to the other end of the cable where you crash into a cargo net.  You then have to grab onto the cargo net and climb up to the next platform.  I was definitely winded as this one was very challenging but again, completely safe, as you are always "hooked in" and it is impossible to fall.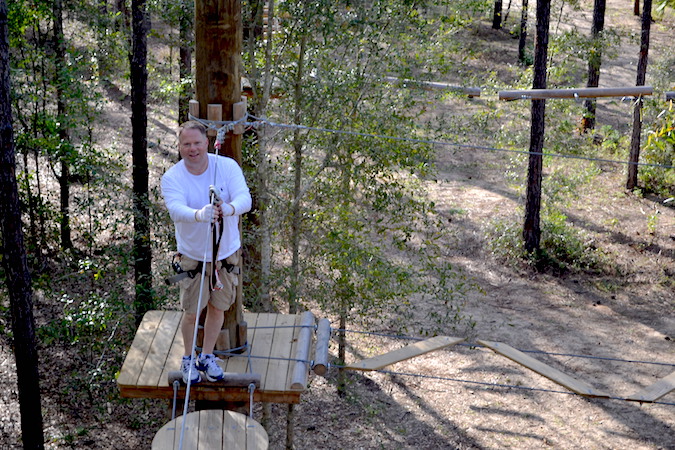 After we completed all 4 courses (some of us were worn out after 3) we walked over to the giant 425 foot zip-line.  We each had the opportunity to zip-line between the trees at an exhilarating speed.  So much fun!
We finished our day back at Base Camp, where we rested and enjoyed a snack from the snack bar. The snack bar was fully stocked with a ton of choices. The kids enjoyed the ice cream bars, while most of the adults elected for water or soda.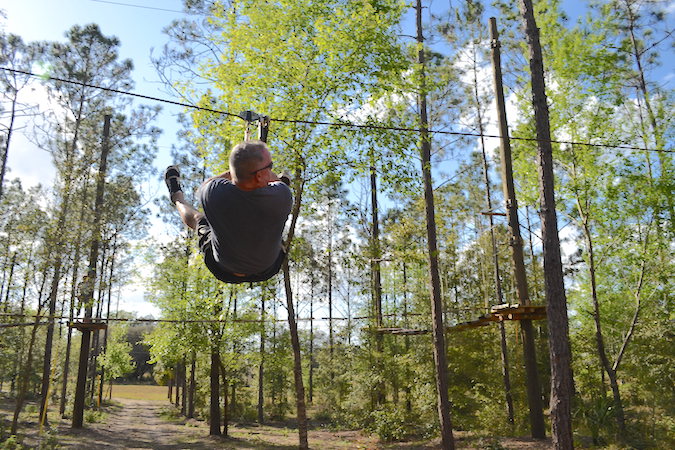 When you are looking for something to do, that most all ages can enjoy, I highly suggest Orlando Tree Trek.  We all enjoyed it and will definitely be back.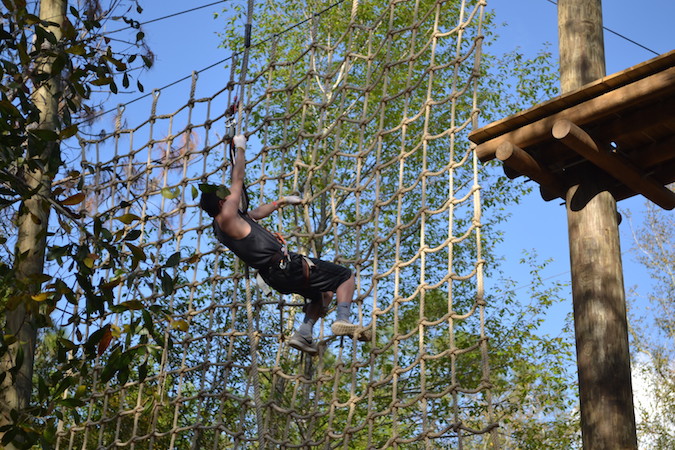 Vacation Like a Local
950 Celebration Blvd, Suite H
Celebration Florida  34747