Coming from land or by water, The Patio at Pier 22 in Bradenton is an absolutely beautiful place to dine, have a drink or simply enjoy an amazing view.
A welcoming retreat on the southern shore of the Manatee River, Bradenton, Florida, Pier 22 in Bradenton Sunday Brunch was our destination! Becky and I have visited a few times over the past year. This is my first ShareOrlando.com review. Some might know my name as I previously had submitted and published many reviews for 'The Orlando Blog' a few years ago.
Pier 22 – The Patio
The restaurant is surrounded by the Twin Dolphin Marina, and has it's own dock for easy access by boat.
Pier 22 Restaurant 
1200 1st Avenue
West Bradenton, FL 34205

It was a beautiful morning to sit by the water, watch the boats come in and out, and enjoy the fresh breeze. We asked for a table on the tree shaded patio, a great choice. Seating is also available in the air conditioned main dining room or the open sided salon area. The décor throughout Pier 22 is contemporary, comfortable, and inviting.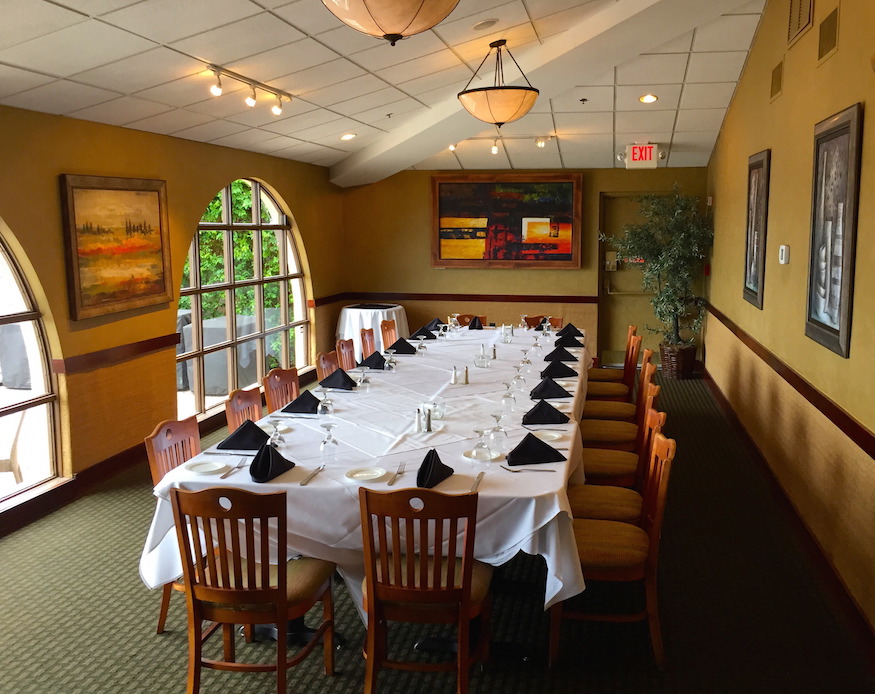 ShareOrlando.com brings you the BEST of Central Florida!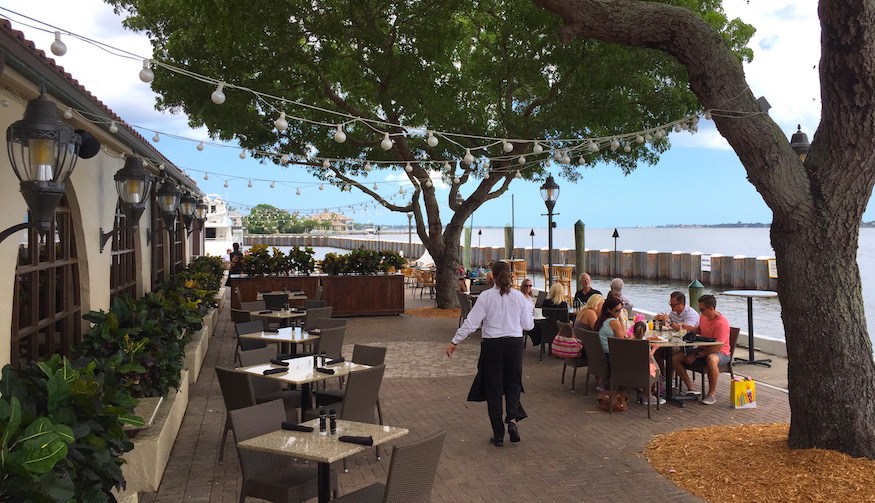 Our server, John, was attentive and very knowledgeable about the menu, as well as the surrounding area. He answered all of our questions without hesitation.
Brunch started with coffee, and Bloody Marys. The coffee was robust and aromatic, my favorite. The Bloody Marys were prepared just to our liking: Becky's with no horseradish, mine with just a bit. As we enjoyed our cocktails we reviewed the brunch menu. Brunch is served from 11 to 3 on Sundays only. Their regular menu is also available 11 till 10PM.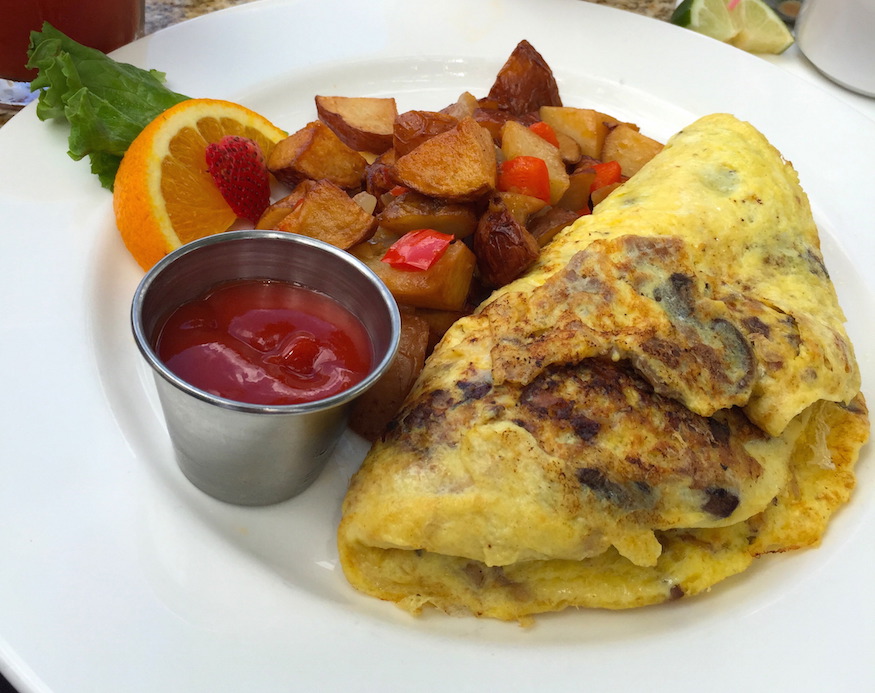 Becky chose the Smoked Salmon Crepes; my choice was the Steak Omelet. We enjoyed the view and did a Facebook check-in while we waited for our order to arrive, which didn't take very long. When John brought us our plates, they looked wonderful, and the aroma was palpable. We knew we were in for a treat.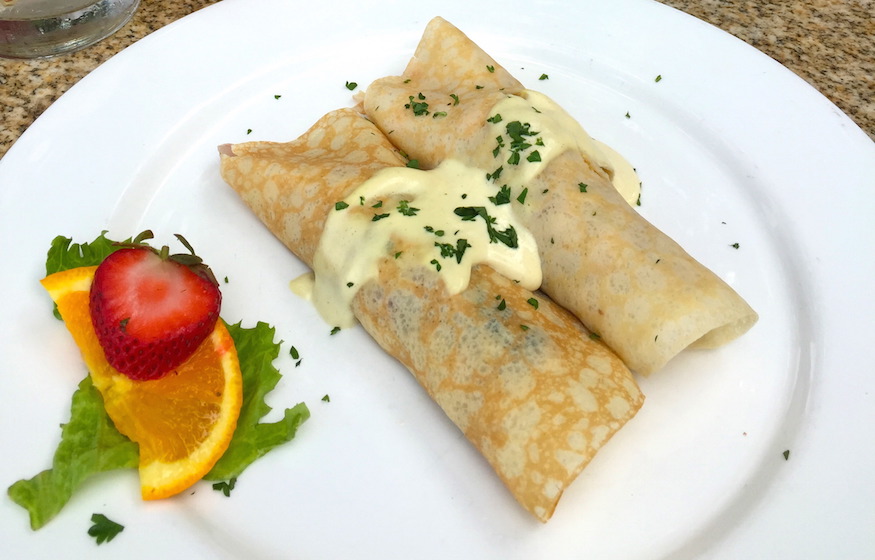 My omelet contained shaved sirloin, mushrooms, fried onions, and Boursin cheese, and was served with seasoned home fries. A hearty breakfast, yet at the same time, the omelet was fluffy, and the Boursin has just a hint of garlic and herbs. It all went together wonderfully. Becky loved the 2 smoked salmon stuffed crepes, which also contained scrambled egg, caramelized onion, and spinach, and were drizzled with a light Dijon Mustard sauce.
The brunch menu is quite appealing with Eggs Benedict, Smoked Salmon Crepes, Egg Croissant, Frittata's, Shrimp & Grits, Malted Belgian Waffles, Smoked Salmon Omelet, Steak Omelet, and Seafood Omelet being the most favorite items on the menu.
A delicious outdoor meal, as we watched the yachts and fishermen come and go. We are both looking forward to our next Pier 22 visit.
As a footnote: Being as I had the omelet, I did not taste the crepe sauce, so I did not actually know what it was. So I sent the restaurant an email through their website and within 10 minutes I received a phone call in return. The sauce is a mix of Dijon mustard, sour cream (in equal parts), and salt & pepper. How nice of them to reply so quickly.
By the way, you might note from the gallery image below, we paid full price and had no comp or favor for writing this review. In fact, we never told the establishment one was coming. Now the next time … (wink) we might just ask.
Gallery of additional photos:
Pier 22 – The Patio – Bradenton
Lastly, as of this writing,
YELP.COM
had 79 Reviews for this establishment with an average of three (3) stars. There were many reviews as well with more but the average remained at 3. We felt it worthy of Five Stars and we think you might agree. Pier 22 … Enjoy!

Covering Orlando & Central Florida
'Coast to Coast'
Family Fun, Local Events
Orlando Florida Attractions & More!
950 Celebration Blvd, Suite H
Celebration Florida 34747