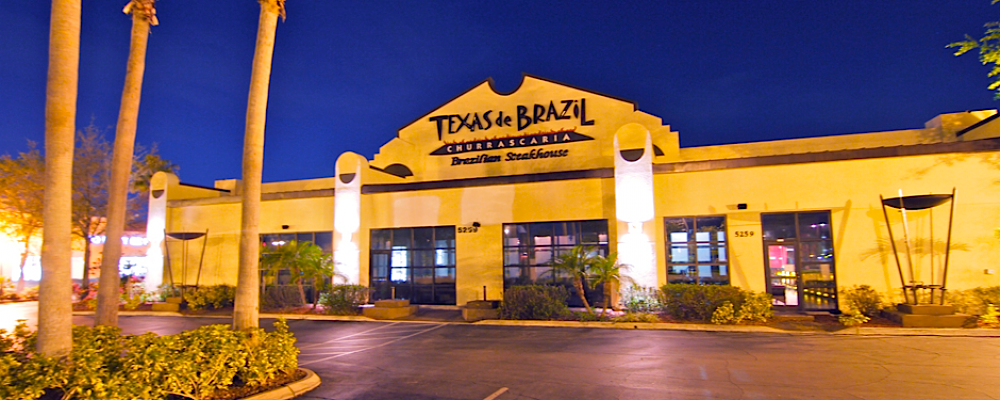 My wife and I recently had the opportunity to have dinner at Texas De Brazil Orlando on International Drive in Orlando, Florida. What an awesome place. A lot of people had told me it was good, but I was shocked at exactly how great this place was.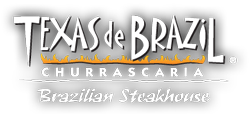 8259 International Drive
Orlando, FL 32819
We decided to go on a Saturday night. Knowing this was probably the busiest night of the week, we expected to wait. Arriving at 6:30PM, we were surprised there was only a 20 minute wait. (I will say that right after we arrived, others started showing up and the place soon filled up.) My wife and I decided to sit at the bar and have a drink while we waited. My wife had a glass of Pino and I decided, since I was eating Brazil, I wanted to try to a Brazilian Beer. I had a Pulma Louca. It wasn't my favorite beer, as it resembled a Bud Light, but still refreshing.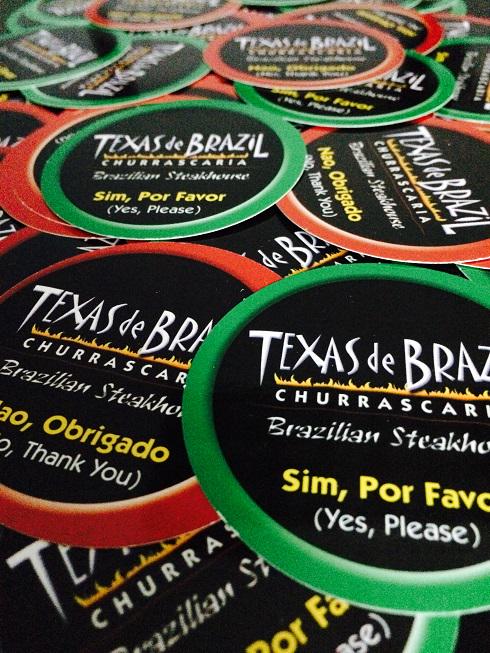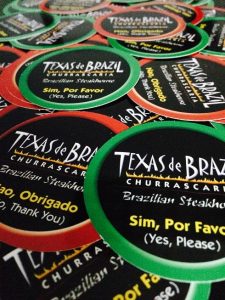 We were then called to our table, and met by a very nice server. She explained what we can expect, and how things worked. We would first be off to the Salad Bar (more on that in a minute) and then when we were ready for the meats, we were to flip over our red and green chips. The chips worked really well. One side of the chip was colored red, and the other green. When we were ready for the meat, we flipped the chip over to the green side. When we had enough or needed a break, we flipped the chip back to red.
Texas de Brazil Orlando
My wife and I headed over to salad bar. Now I had been warned not to fill up on the sides. I am meat and potato guy, and I was looking forward to the meats. So, I got a few olives, a heart of palm and a few other small items. My wife, however, is a side item person. She loves more sides and less meat. We actually balanced each other out.
Then I was ready, I turned my chip over to Green, and said, "Bring on the Meat!" (Of course to myself, but honestly I think every other guy in the place was thinking the same thing.) And bring on the meat they did! Top Sirloin, Garlic Top Sirloin, Filet Mignon, Bacon Wrapper Filet Mignon, Flank Steak, Brazilian Sausage, Lamb Chops, and Parmasean Crusted Chicken and Pork. They dropped off slice after slice of melt in your mouth, savory, delicious cuts of meat, chicken and pork. The gentleman would stop by your table, tell you what he had on their skewer and then serve you, if you wish to try it. I think I tried just about every thing atlesat once, but the had several pieces of the Top Sirloin. This sirloin was cooked to perfection. It was so tender, you could cut it with your fork, and it literally melted in your mouth. My wife enjoyed the Garlic Sirloin and the back wrapped Filet Mignon.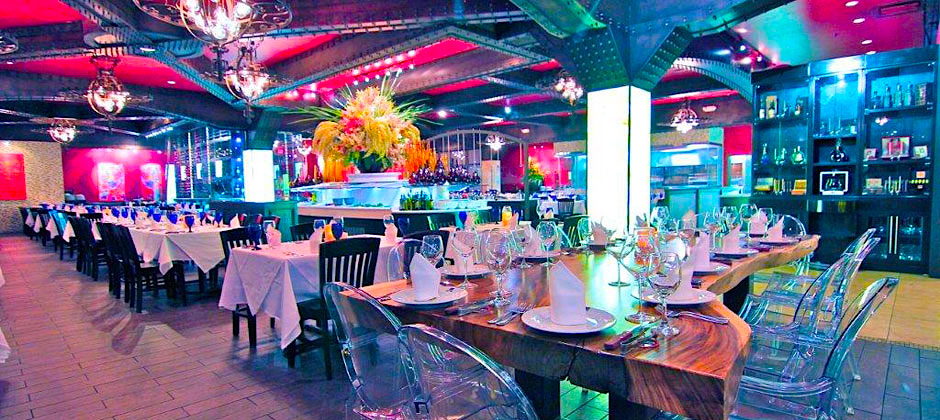 Sides: I want to mention that while we were eating the server brought over to our table a small dish of mashed potatoes, cheese rolls, and cinnamon plantains. As I mentioned before, I am not a sides guy, but the plantains were delicious! I could have eaten both of them myself, but my wife fought me for the second one.After about 30 minutes, our chips were turned back over to red, as we were stuffed full. Then our wonderful server cleared off the table and brought over the dessert tray. Wow! We just couldn't help ourselves. After studying the tray carefully ,we decided to split a piece Chocolate cake and two lattes for dessert.   I must say both the cake and lattes were perfect, and was a great way to end the evening.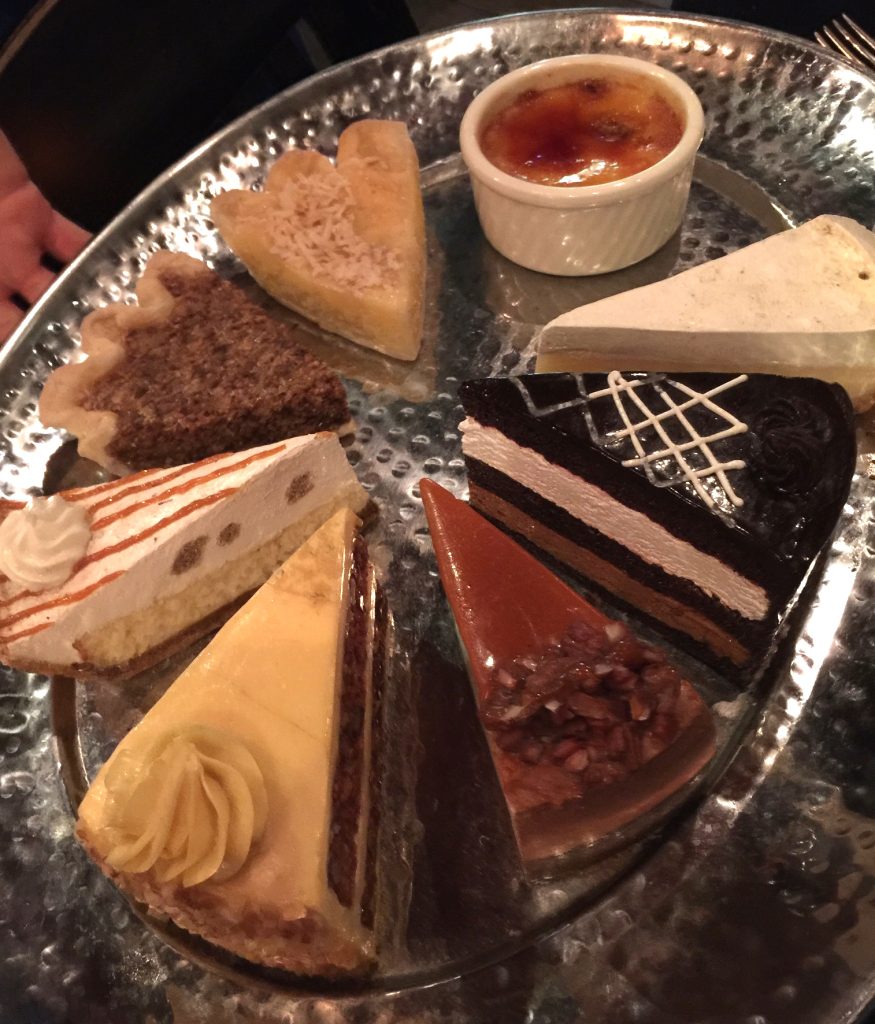 If you want a great meal, and an awesome experience, I highly suggest Texas De Brazil Orlando. Although the price is considered moderate to high ($46 per person), you definitely get what you pay for.
Have you ever eaten at Texas De Brazil Orlando? We stress the 'Orlando' in the name is the location is stunning, elegant and provides an amazing ambience while you are here. What did you think? We think that Texas de Brazil Orlando is among the finest in this chain. And well above the competition!

Vacation Like a Local
Texas de Brazil Orlando – Eat Like a King
ShareOrlando.com | Share Orlando
950 Celebration Blvd, Suite H
Celebration Florida 34747