My first experience with Mellow Mushroom Pizza was over 20 years in Statesboro GA. I was visiting a friend while I was stationed at Ft. Gordon and he insisted we stop by and grab some excellent pizza. Being a pizza lover, I was up for that. Excellent pizza it was! I hadn't had pizza like that, since. Well, until the other day!!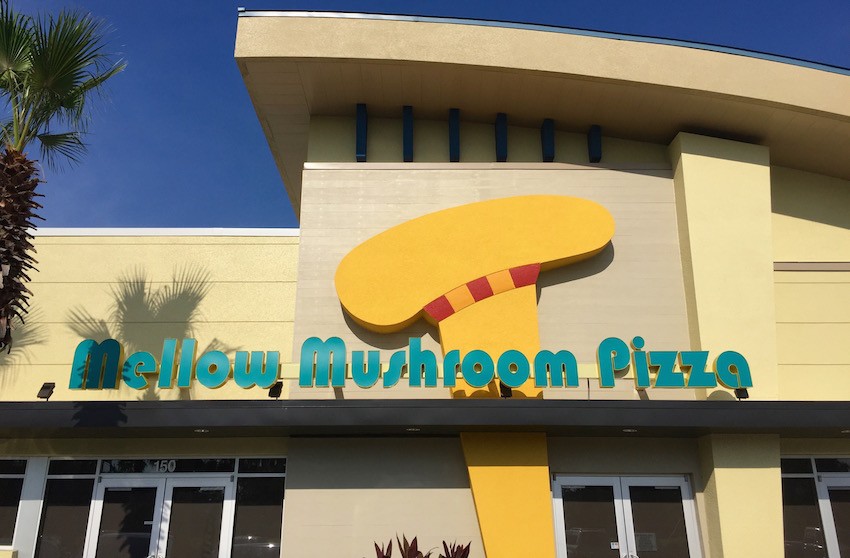 I was driving down South International Drive and guess what I see… Mellow Mushroom! My family and I were hungry, so of course we stopped.
When we walked in, it was just as I remembered, only a bit more modern. Ok a lot more modern, but the same feel as it did in Georgia. Everything was painted with psychedelic colors. They had funky 70's rock murals on the walls and a cool guitar chandelier like no other. They were using a painted piano as the host stand which was super awesome. Mellow Mushroom has a way to bring out that bit of funky feeling in everyone, and I mean that in the best way possible.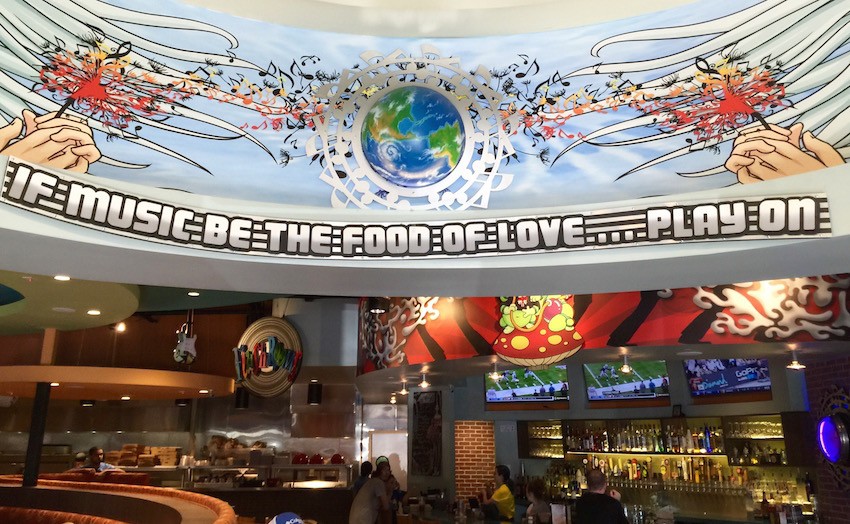 We were quickly seated and then greeted by our server, Cory. He brought our drinks to us. When I asked him about a good appetizer, he quickly suggested the pretzels. The Pretzels are described as "Fresh Mellow dough twisted into pretzels served with Garlic butter and Parmesan, with a side of red sauce." We went with Cory's suggestion and very glad we did! The pretzels were soft and hot. Very delicious!
MELLOW MUSHROOM ORLANDO – YES!!!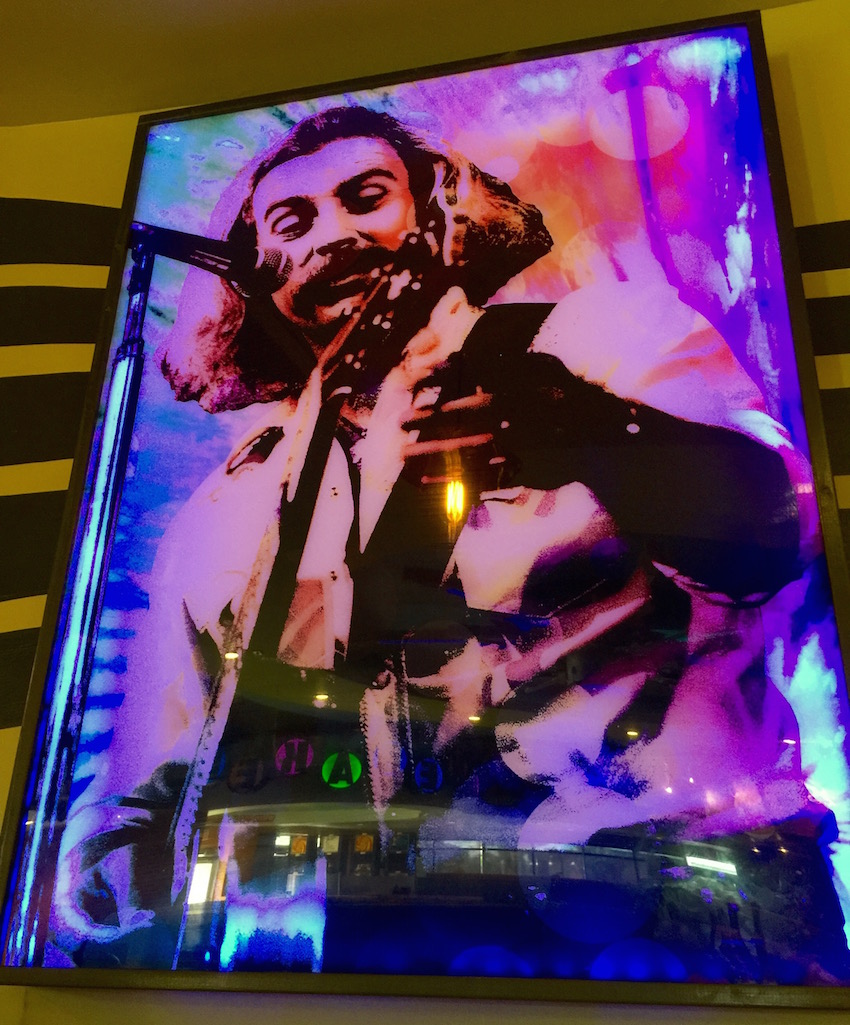 My wife and I are big mushrooms fans, so of course we elected to go with the Holy Shiitake Pie, which has an Olive oil and garlic base, Shiitake, button and Portobello mushrooms, caramelized onions, mozzarella and MontAmoré cheeses. Drizzled with garlic aioli and black truffle oil. Garnished with fresh chives and shaved Parmesan. The kids decided to split the Mighty Meaty, which has a red sauce base with mozzarella, pepperoni, sausage, ground beef, ham and Applewood smoked bacon.
When the pizza arrived, we quickly realized we ordered way too much! The pizzas were HUGE. They were piping hot, and smelled awesome. I quickly took a bite and HOLY SHIITAKE it was delicious. The combination of the 3 types mushrooms, garlic and truffle oil was absolutely the best thing I have tasted in a long time. Yum!
The kids raved about their Mellow Mushroom pizza as well. My son said it was "to die for". I am not sure where he heard that, but apparently it was that good.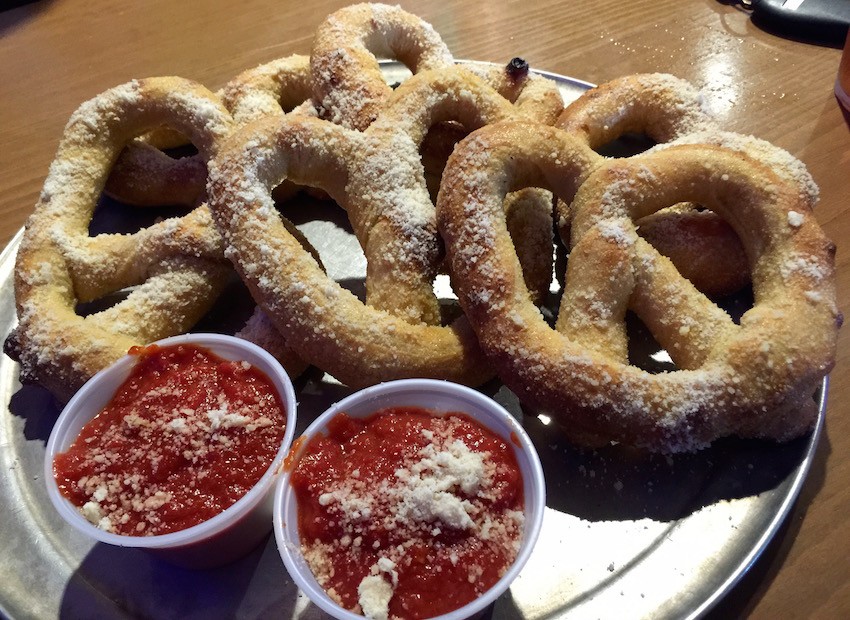 Well, try as we may, there was no way we were going to finish all of the pizza. When we had our fill, Cory brought over a box for us to take the leftovers with us. I must compliment Cory on his service, as he was very a tentative to us. He kept our drinks filled and took great care.
So, if you are ever on the South International Drive area, around Aquatica, stop in and get a pizza at the Mellow Mushroom! You won't be disappointed!
If You Enjoyed This Post, Don't Miss:

Covering Orlando & Central Florida
'Coast to Coast'
Daytona Beach • St. Pete Beach
• Clearwater Beaches •
Family Fun, Local Events,
Attractions, Discount
Ticket Opportunities & More!
Mellow Mushroom Orlando
ShareOrlando.com | Share Orlando


950 Celebration Blvd, Suite H

Celebration Florida 34747