The Main Street Electrical Parade has been wowing Magic Kingdom guests since 1977. While it had a different name (Spectromagic Parade) from 1991 thru 1999, it was, and still is a crowd favorite.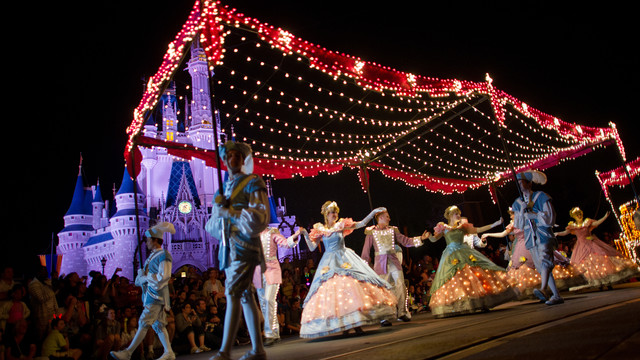 My family and I took a trip to the Magic Kingdom last weekend. We usually avoid the theme parks during July and August, but we had friends in town and just couldn't avoid it. Once we were there, we realized that our friends had never seen the Main Street Electrical Parade. WOW!! If there is one thing you need to see while at the park, it's that!
Main Street Electrical Parade – Fan Fave
The Main Street Electrical Parade has over a half a million shimmering lights that are carefully synchronized to a memorable soundtrack (Baroque Hoedown) to create this moving musical spectacle, which lasts over 20 electrifying minutes.
There are parade floats from Wonderland, Never Land and many other classic Disney stories. You will also get a glimpse of Alice in Wonderland, Pinocchio, Cinderella, Pete's Dragon Elliot, Snow White and the Seven Dwarfs and many more. In addition to the characters, you will enjoy the dancers and other critters that pass by in this amazing parade. It ends with a unique American tribute featuring dancing patriots and a majestic bald eagle.
Main Street Electrical Parade- Best View
So, where and when can you see this parade?? Here are a few tips I suggest.
The parade's times vary depending on the time of the year but people start lining the curbs of Main Street nearly 2 hours prior to the start of the parade. While Main Street is a nice place to see the parade, I suggest not wasting your time camping out that far in advance. You can see it just as well as it goes through Adventure Land, and you only have to be there about 30 minutes in advance.
If you are lucky enough to be there on a night when they are running the parade two times, plan on the later one. A large majority of the people leave the park after the first parade and fireworks, leaving a less crowded and more enjoyable viewing area for the second parade. (We always do this, and never have a problem finding a front row spot.)
If you have small children, park your stroller right up to the parade ropes that line the streets. This will ensure they have a front row spot, and you can stand behind the stroller and still have a clear viewing area.
Our friends really enjoyed the Main Street Electrical Parade and of course we did too. I have probably seen the parade over 100 times in my life, and I still enjoy it as much today as I did the first time.
If You Enjoyed This Post, Don't Miss:

Animal Kingdom Harambe Market
A True Taste of Africa

Covering Orlando & Central Florida
'Coast to Coast'
Daytona Beach • St. Pete Beach
• Clearwater Beaches •
Family Fun, Local Events,
Attractions, Discount
Ticket Opportunities & More!
Main Street Electrical Parade
Magic Kingdom
ShareOrlando.com | Share Orlando


950 Celebration Blvd, Suite H

Celebration Florida 34747