My family I and planned a trip out to Kelly Park at Rock Springs for a day of relaxation and fun. I hadn't been there since I was in High School, so I wasn't exactly sure what to expect. We did a little research and found out that just outside the park there are a couple of places to rent tubes for the river. My family had 3 of our own tubes, so we only needed to get one. Next time, I think we will get one for everyone as the cheaper thin inflatable tubes you buy at Walmart just don't hold up to the sharp rocks at the beginning of the tube run. (More on that later.)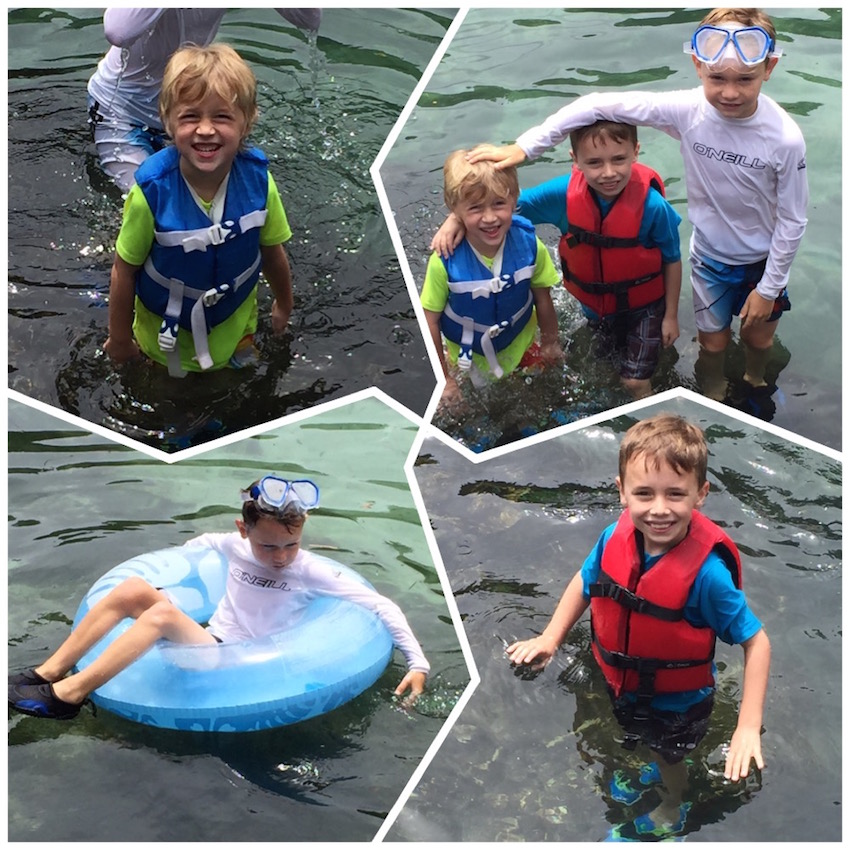 Once we got to Kelly Park, we found out there were a ton of the things to do. The three things that my family and I loved were swimming in the swimming hole, tubing down the river and picnicking on the side of the river.
KELLY PARK – ROCK SPRINGS
3 AWESOME THINGS TO DO:
Swimming in the swimming hole. About half way down the river there is a nice swimming hole, were you can get off your tube, swim a little and enjoy yourself. The swimming area is about 6 feet deep in its deepest area, but mostly 3-4 feet. There are some areas only 1 -2 feet deep. The kids enjoyed this, as they could climb on the rocks and swim freely. We were also told that if you bring a small sand sifter, you might find shark teeth and other fossils in the sand. The swimming hole is surrounded by a seawall, which allowed us parents to watch the kids and warm in the sun. The water at Kelly Park in Rock Springs is 72 degrees year round, but it feels so much colder! It definitely takes some getting used to.
Tubing down the river ~ this was so much fun! A couple of things I want to mention. I HIGHLY suggest getting water shoes for everyone. The rocks (especially at the beginning) are very sharp and will cut up the bottom of your feet if you are not careful. I would also suggest bringing some rope to tie your tubes together, because it is very easy to get separated from the rest of your group as the current pushes you along. Once we were all tied together we started out. About 2 minutes into the river, THAT'S when it happened! I heard a bubbling sound coming from back of my "Walmart Bought" tube and I was sinking fast!. I looked back, and saw a HUGE tear in my tube. I guess it got caught up on a rock and was torn. I kind of laughed it off and thought, no biggie, I will just swim down river. Ha! Big mistake! Although it was very shallow, it was nearly impossible to walk, as the rocks were slippery and very sharp. (Did I mention to bring water shoes? I certainly wish I had!) I ended up jumping up on my sons tube, and we shared it the rest of the way down. The rest of the ride was fun. The current pulls you along slowly through beautiful scenery. We saw tons of wildlife, birds, fish, an otter and even a small alligator. The gator stayed far enough away and wanted nothing to do with any of us. The whole trip down the river takes about 20 minutes. Once exiting the river, there is a small path that takes you back to the beginning to do it all over again.
Picnicking ~ as you probably already know, my family and I are camping and picnicking fools. We love to do it. There are a ton of places to picnic in the park, from along the river to around the shaded areas near the parking lot. The park is full of picnic tables and most of them have bar-b-q grills. There were people having snacks, hamburgers and hot dogs, and I even saw a couple whole chickens being roasted on the grills.
I would highly suggest taking a trip out to Apopka and enjoying Kelly Park at Rock Springs for the day. Stay for an hour or two, or make a day of it! You and your family will certainly enjoy it!
If You Enjoyed This Post, Don't Miss:
5 Things To Do At Wekiva Springs State Park

Covering Orlando & Central Florida
'Coast to Coast'
Daytona Beach • St. Pete Beach
• Clearwater Beaches •
Family Fun, Local Events,
Attractions, Discount
Ticket Opportunities & More!
Kelly Park – Rock Springs
Rock Springs Run State Reserve
ShareOrlando.com | Share Orlando


950 Celebration Blvd, Suite H

Celebration Florida 34747