Last Saturday I was lucky enough to attend the 2nd Annual O-Town MacDown. This is a huge fundraising event for Give Kids The World that raises a ton of money and brings awareness to the cause. The concept is that local restaurant chefs and catering companies get together and compete against each other on who can make the best mac-n-cheese. The ingredients do not matter, as there was everything from lamb, maple syrup, chocolate and everything in between.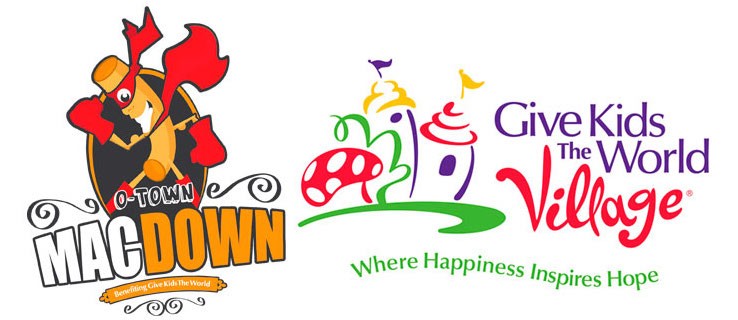 O-Town MacDown – What's This All About (Really)
I have to admit, I wasn't really sure what to expect. But as soon as I walked in, and the smell of mac-n-cheese deliciousness filled my nose, I knew I was in for a fun and filling afternoon. All of the competing restaurants and chefs were lined up on the outer edges of the hall. In the middle were tables, a stage with a live band and a fun kids area for the younger ones to hang out. Looking like MacDown is going to be a great day for the taste buds.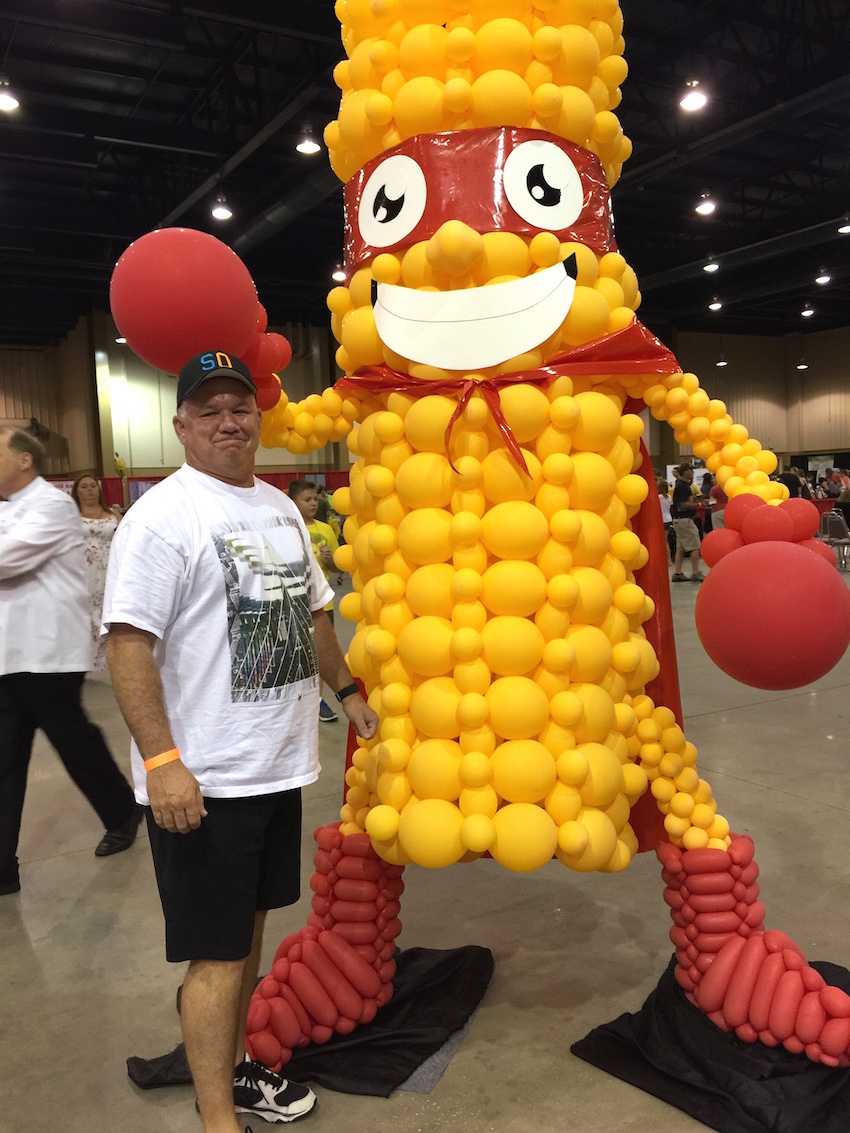 Upon check in, we were given the "Peoples Choice" coin. We were told that we could vote for our favorite mac-n-cheese dish, by placing our coin into the jar on the Chef's table. How cool is that. It ended up being a little harder than I expected, as there was a lot of good ones.
O-Town MacDown 2015
I quickly got in line at the first booth and slowly worked my way around room. Tasting each cheesy concoction. Then I came across a booth that had Smoked Gouda mac-n-cheese with Bacon Lardons topped with SeaDog's Maple Bacon Stout and chipotle BBQ drizzle. Wow!! This was good stuff!!
I continued around and came across my next favorite. It was a small catering company called Cocktails Catering. They had Bacon Wrapped, Maple Syrup, Deep Fried Mac-n-Cheese popsicles. OMG!!! The sweetness of the maple syrup, saltiness of the bacon and deep fried goodness was a perfect match!!
I was only about half way around the room when I started getting full. Was I going to make it? Ugh! I pushed through, and was glad I did. I soon came across the most unique submission. It was from Tin Roof. They had a S'mores Mac-n-Cheese dish. At first I was a bit skeptic about it. But again, the sweetness of the chocolate and marshmallow blended surprising well with the mac-n-cheese and the graham animal cracker was the perfect topping.
I finally made it all the way around the room, tasting each submission. I was very happy when I reached the end. I was beginning to think my wife was going to have to roll me out of there.
Who got my "People's Choice" token? It was a toss up between Tin Roof and Cocktails Catering. I eventually decided on the Mac-n-Cheese popsicles. But both of them were outstanding!!
O-Town MacDown Winners Circle
Below are the official hands-down, MacDown winners in each category.
The Restaurant Category:
1st Place: Four Seasons Resort Orlando at Walt Disney World Resort
2nd Place: Outpost Neighborhood Kitchen
3rd Place: Hard Rock Café Orlando
The Professional Category:
1st Place: Richard West with Walt Disney World Swan and Dolphin
2nd Place: Leslie Sickler with Cabot Creamery Cooperative
3rd Place: Jill Holland with Second Harvest Catering for Good
People's Choice
Hard Rock Cafe Orlando
I have to admit, the Hard Rock Café's Mac-n-Cheese was very good. But it was just creamy Mac-N-Cheese, not much more to it. I guess people prefer the norm, and I am ok with that.
If you missed the O-Town MacDown this year, make sure you catch it next year. You won't be sorry!
If You Enjoyed This Post, Don't Miss:

Covering Orlando & Central Florida
'Coast to Coast'
Daytona Beach • St. Pete Beach
• Clearwater Beaches •
Family Fun, Local Events,
Dining Reviews, Local Get-a-Ways,
Attractions, Discount
Ticket Opportunities & More!
O-Town MacDown 2015 Recap
ShareOrlando.com | Share Orlando


950 Celebration Blvd, Suite H

Celebration Florida 34747