Did you know that the HOT PEPPER  is in high demand? If you are a Hot Pepper aficionado like me, this story will get your attention and you will find yourself drawn to check out this place! As the song goes … it's HOT HOT HOT!
My wife and I were recently walking through the newly renovated Artegon Mall, and came across this quaint shop called The Pepper Palace. The name itself pulled us in to investigate, due to my spicy curiosity.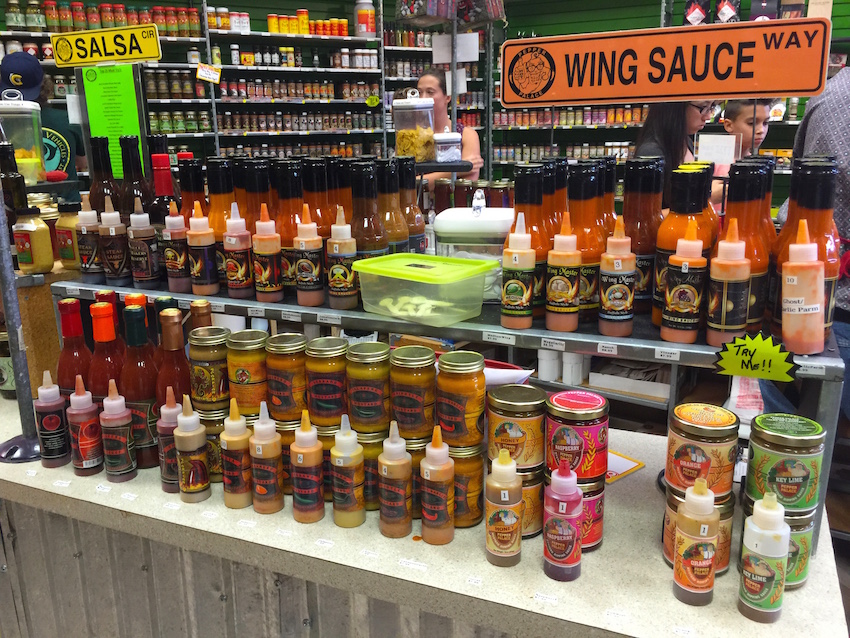 As soon as I walked in the door I knew this was a place for me. The mere conversion of a Hot Pepper turned into the most amazing creation and shelves lined with hot sauce, salsa, hot sauce, barbeque sauce and did I mention hot sauce? It was hot stuff galore.
Now, just to give you a little background, I am a huge spicy hot food, hot pepper junkie. There is nothing better than nuclear hot wings, fries (dipped in hot sauce) and an ice cold beer (of course). My wife always says, that if I am not sweating while eating chicken wings, they are not hot enough for me. And I agree 100%.
While I was walking around the store, I quickly realized you were able to actually sample all of the hot pepper sauces that they sold. My temples were perspiring at the mere thought of sampling them all! That's when I met Michael. He quickly introduced himself and explained how everything worked. The customer service was refreshing. In the middle of the store they had a sample bottle of each hot sauce and salsa they sold. There were chips to sample each salsa and they gave you tiny little spoons to sample the hot sauce.   He explained their "hotness" rating scale, which ranged from 1 to 10, with 10 being the hottest. Of course (me being me) I automatically wanted a 10 sticker to label myself, but unfortunately, I was told that they were only for the sauces.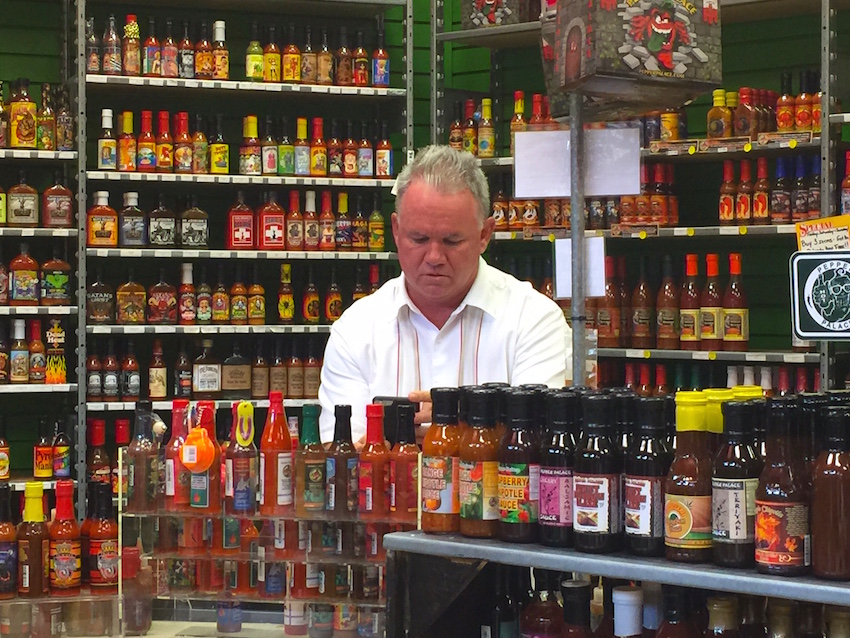 So my wife and I walked around sampling several hot pepper sauces. I immediately went for the 10's and my wife stayed with the 5 – 7 range. Each of the sauces had clever names like Scorpion Death Stalker, Day of the Dead Habanero Hot Sauce and many others. The coolest thing is that each one had it's own unique flavor. Obviously, within a few minutes, my mouth and lips were on fire! Holy hotness!! Michael made a few suggestions for my wife, and her love for cooking sauces. I, of course, continued punishing myself, with sample after sample of hot sauce.
After all was said and done, I found a bunch I really liked, but decided on Parrot Head Hot Sauce. I think the name had something to do with it too, as I am a Jimmy Buffet fan. My wife bought a jar of the "Sweet Bourbon Glaze" and the "Sweet but Sassy" sauce. Michael even threw in a bottle of "Orlando, FL Heat" hot sauce, which is one of their local signature sauces.
According to their website (PepperPalace.com), "The Pepper Palace was founded to be different, to prove that a successful business could and should be fun. To this end, our mission is to leave no Chili Head's yearning for heat unsatisfied, to leave no plate of bland food untouched by saucy goodness, and for every customer to leave our locations not only satisfied, but impressed." Impressed I was, and on fire!!
I also learned from their Facebook page that they have the "Pepper Palace Flash Bang Challenge" which is where you get to sample their hottest sauce. Judging from the videos on their website, it sets your mouth on fire. I am definitely going back to do that.
Next time you are in the I-Drive area, and if you love hot pepper sauces, stop in and sample some of the Pepper Palace's awesome hot sauces. I know I will be back.

Covering Orlando & Central Florida
'Coast to Coast'
Daytona Beach
•
St. Pete Beach

•
Clearwater
Beaches
•
Family Fun, Local Events,
Attractions, Discount
Ticket Opportunities & More!
HOT PEPPER – PEPPER PALACE
Artegon Marketplace, Orlando FL
ShareOrlando.com | Share Orlando
950 Celebration Blvd, Suite H

Celebration Florida 34747