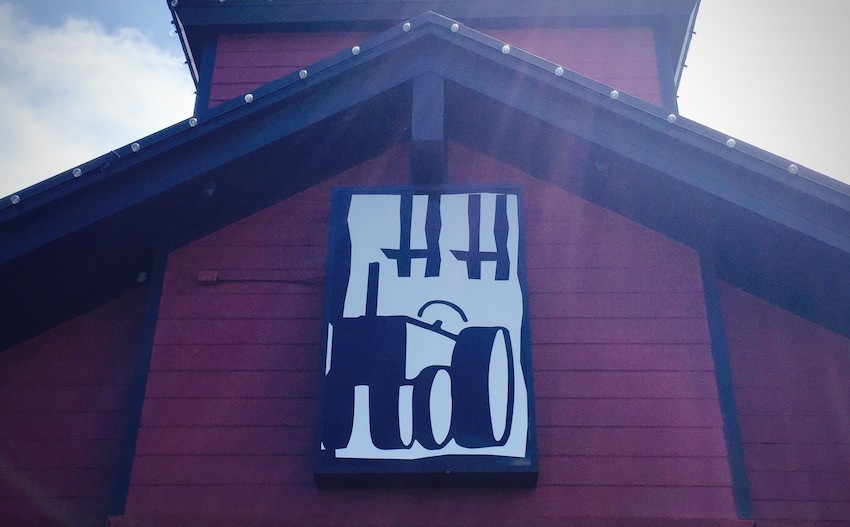 I  have driven by Hash House A Go Go on International Drive many times, always wondering, but never stopping in. Well the other day I was invited out to a business lunch with our friends at Adrenaline Media, and that's where they wanted to go. I was stoked to try something new!
When you first walk in Hash House A Go Go, you are greeted by, a full size orange tractor right inside the door. I thought "This is strange, why a tractor?" It wasn't until after my experience, did I fully understand what the tractor stood for. (More on that in a bit)
We were quickly led to our seat. The dining room was very open, with a slight industrial look and feel. The smell… oh the smell… of the dining room was splendid. Bacon with a hint of maple syrup filled the air. It honestly reminded me of my grandmother's kitchen at breakfast time.
Hash House A Go Go – Service With a Smile
Our server greeted us with a smile, as she welcomed us to the restaurant, and explained then menu to us. She told us that they are known for their huge portions, but not to worry, they have boxes for leftovers. I thought to myself "Ha! She obviously doesn't know how I eat." She then explained that the favorites on the menu were the Sage Fried Chicken & Waffles and the Andy's Sage Fried Chicken Hash House Farm Benedict. They call it "Andy's" because it is Andy Richmans (Man vs. Food) favorite meal and the one he showcased when the show visited the restaurant. Here is how the menu at Hash House A Go Go described them:
Sage Fried Chicken & Waffles ~ Two fried chicken breasts with hardwood smoked bacon waffle tower, hot maple reduction and fried leeks.
Andy's Sage Fried Chicken Hash House Benedict ~ with fresh spinach, hardwood smoked bacon, market tomato, grilled mozzarella, chipotle cream and scrambled eggs all served over griddled mash potatoes.
I decided to go with the Sage Fried Chicken & Waffles. We also ordered the Sage Fried Chicken Hash, and the Sun Dried Tomato, Basil and Goat Cheese Farm Scramble. After we ordered, I started to notice the size of the plates coming out of the kitchen. WOW!! Our server wasn't kidding, when she said "Big Portions". I quickly realized that leftovers were in my future.
Hash House A Go Go – BIG PORTIONS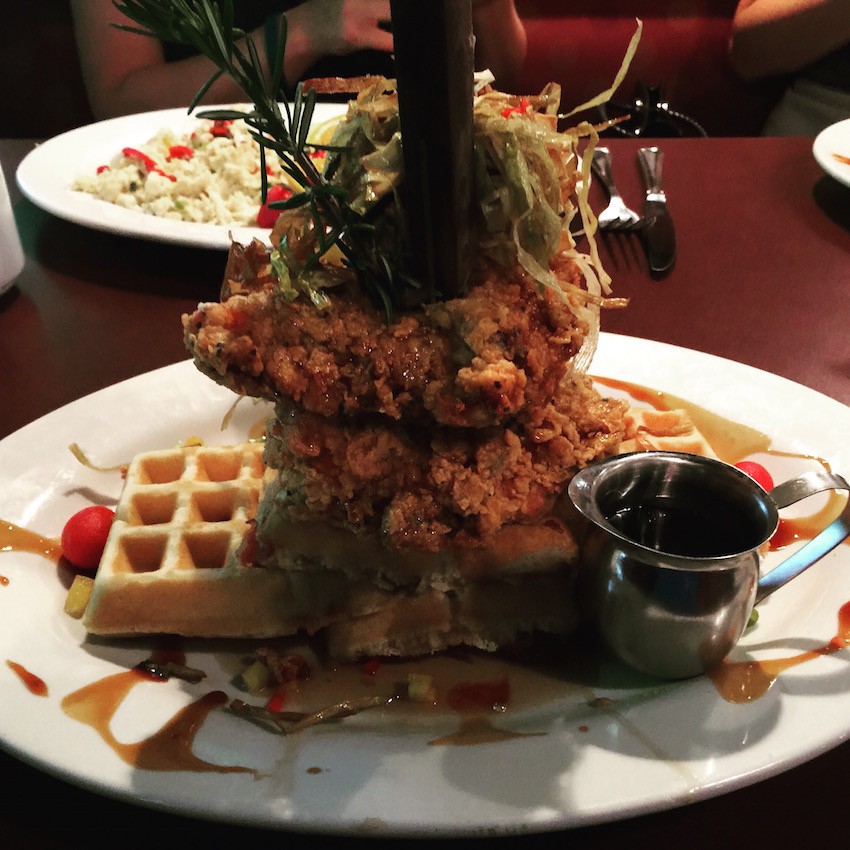 And then our meals arrived. My Chicken and Waffles was stacked high off the plate, looked and smelled absolutely amazing. I poured the hot maple reduction over the waffles, which added a sweetness aroma to the already home-style fried chicken smell that reminded me of home. And as far as taste goes, well I can tell you that I was in love at first bite. Absolutely delicious!! The combination of spices on the fried chicken, along with the sweetness of the reduction had my taste buds partying like it was 1999. As I continued to enjoy the "party", every once in a while, I would taste a hint of bacon. After further inspection, I realized that there were full slices of bacon cooked inside the waffles, which added a slight smokiness to the taste. Yum!
The Chicken Hash House Eggs Benedict was also plated perfect looked delicious. The chicken and eggs were stacked high on a mound of the grilled mash potatoes. The presentation was superb. I didn't get a chance to taste it. I was worried that if I asked for a bite, it would mean that I would have had to share my chicken and waffles, which I had no interest in doing. I wanted it all for myself! But I was told it was perfectly delicious.
I was able to finish about half my meal, before I could not eat another bite. I was brought a box, and was excited that I would be able to enjoy it again for dinner, or maybe even breakfast the next day.
Oh and about the tractor. Hash House A Go Go promises to keep the fun in food while pulling from the experiences of farm fresh agriculture, live stock, and old recipes with a twist. Most of their ingredients come directly from local farms, which is where the tractor comes in.
If you are ever in the I-drive area and want to enjoy a delicious meal, stop by at Hash House a Go Go. Your taste buds will thank you!

Covering Orlando & Central Florida
'Coast to Coast'
Daytona Beach • St. Pete Beach
• Clearwater Beaches •
Family Fun, Local Events,
Attractions, Discount
Ticket Opportunities & More!
Hash House A Go Go
5530 International Drive
Orlando, FL 32819
ShareOrlando.com | Share Orlando


950 Celebration Blvd, Suite H

Celebration Florida 34747