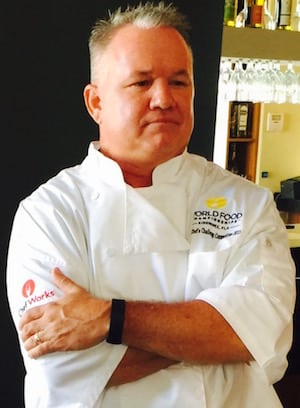 When I first heard that I was going to be competing in a food competition, Food Fight Write, and a chance to win $500, I must admit I was excited. I mean, how bad can it be? We are all bloggers. We are all in the same boat. Ha! Was I wrong!! As the day got closer, I slowly started to realize that not only are these people bloggers, but they are executive chefs, food critics and writers that travel the country looking for the best places to eat. They are active food bloggers who make a good living creating and sharing their concoctions. Oh my!! What did I get myself into it?? Well here is my story…
Food Fight Write – The Competition
The rules were simple. We had 90 minutes to create the best steak. We were to be judged using the EAT Methodology. (Execution, Appearance and Taste) The only catch is that we had to infuse at least one type of Saucy Mama's specialty sauces into the recipe. We were allowed to bring other ingredients with us (as long as it was pre-packaged) if we wanted, but would also be supplied with other ingredients as well. Only catch, no one knew what those ingredients were.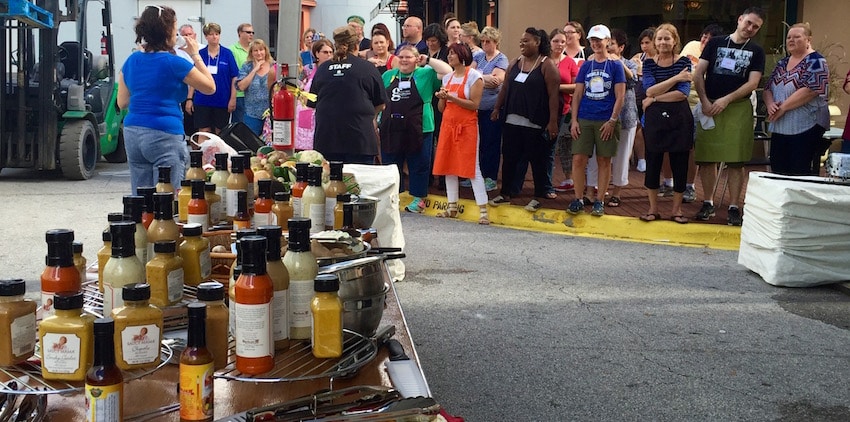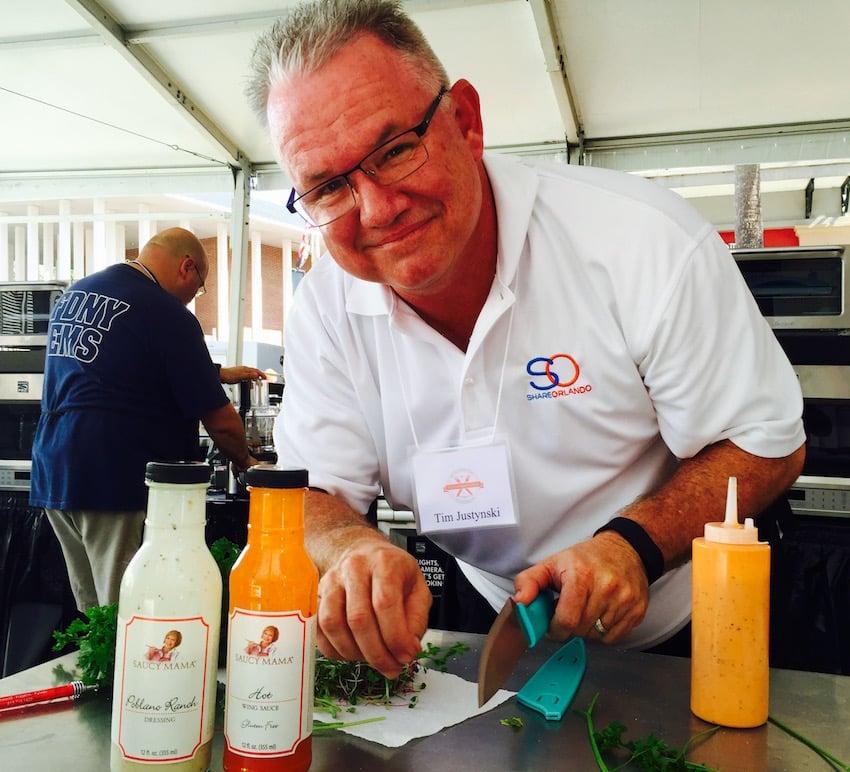 The day before the competition, we were able to sample all the sauces. I liked them all, but I don't put anything on my steak when I eat it. How was I going to add this sauce into my recipe if I prefer my steak "sauceless"? Well in the end, I decided that I was going to use the Pablano Ranch dressing and mix it with the Hot Wing Sauce, forming a Spicy Ranch sauce. But how will I add it to my steak? (more on that in a minute). We were also given a quick class on how best present our steak, how to get the perfect grill marks on the steaks and how to slice the steak properly. While I have grilled many a steak, I didn't realize there was such a science to using the grill. I was super thankful for these helpful tips.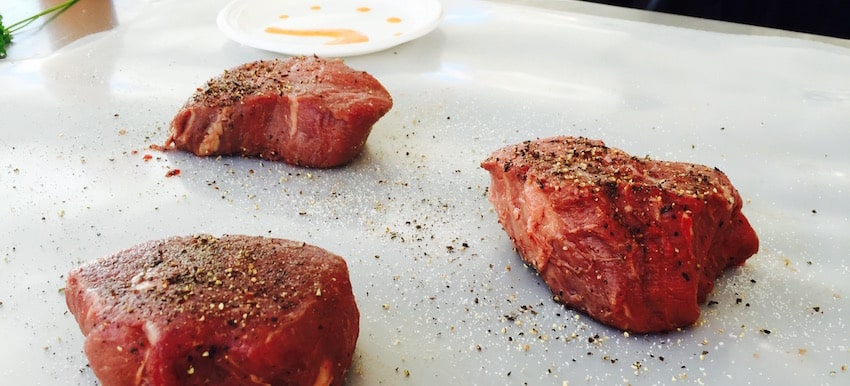 Competition day arrived and after considering all of my options, I decided I was going to season my steak with onion salt and pepper. I would use the "Spicy Ranch Sauce" as dipping sauce and to add color to my presentation. Upon arriving that day, I noticed that many of my competitors were bringing in bags full of supplies. This didn't make me feel comfortable considering all I brought was onion salt and pepper.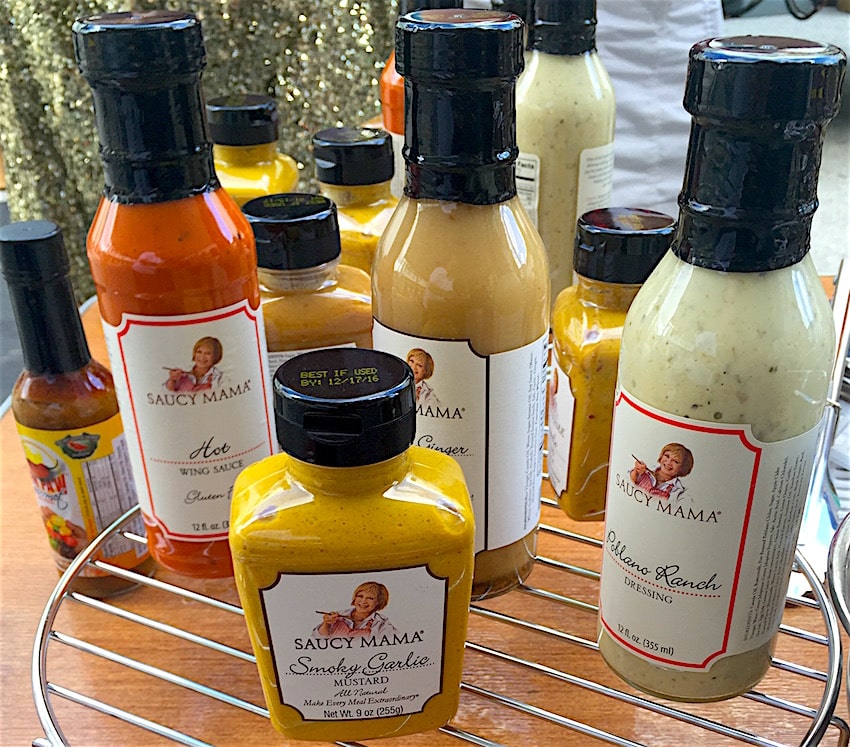 30 minutes prior to cook time, we were introduced to the Pantry. The Pantry consisted of many vegetables, sauces and spices spread across a table. A little nervous that I had "under-thought" my recipe, I began to rethink things. We were then told we would be given 60 seconds to grab what we needed. The count down began, and I was off. My mission, grab the ranch and hot sauce. That's all I needed. (or was it?) I was surprised to see everyone grabbing lettuce, cauliflower, potatoes etc. I thought we were just cooking steaks?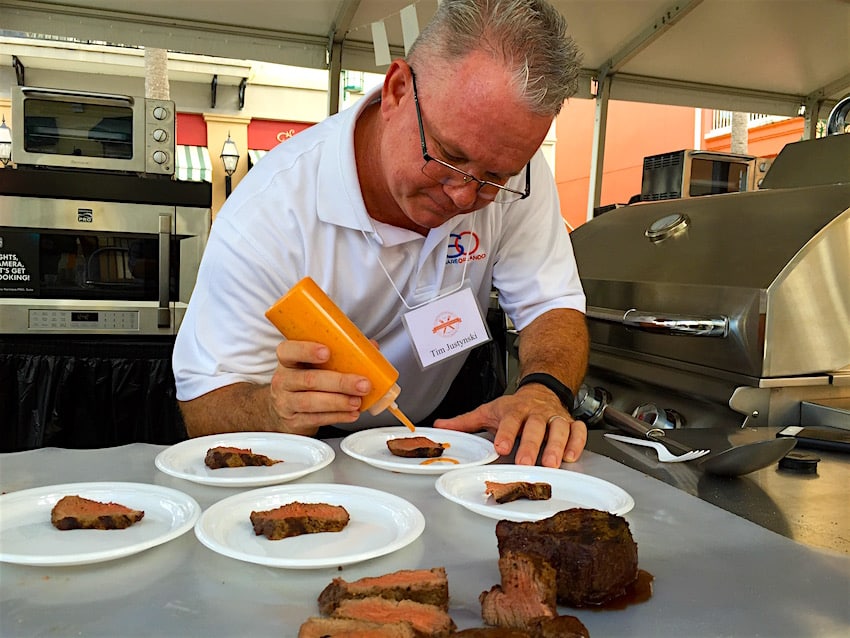 I went back to my "kitchen" and started to get things ready. Before I knew it, the bell rang and my 90 minutes had started. This is when my nerves kick in! They gave us three Filets from Kansas City Steak Company, 1 to mess up, 1 for presentation and 1 to cut into 5 pieces for each judge to sample. Now I knew that it was only going to take about 12 minutes to actually cook the steak, but it is good to let the steaks "season" for at least 2 hours. So I decided to let the steaks season for about 60 minutes. I sprinkled onion salt and ground pepper on each and then waited.
Food Fight Write – World Food Championships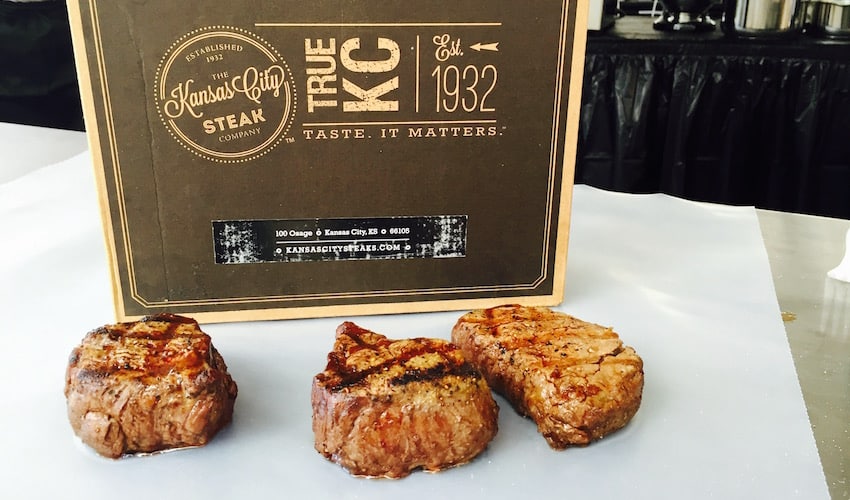 Now what do I do for the next 60 minutes? I decided I would mix my sauces to taste and then decide how I was going to add it to the plate. Can I design it to look like a Palm tree? Nope! Looked more like an Octopus! I tried a few other designs and decided to go with just an easy small swirl.
Before I knew it, 60 minutes had passed, and it was time to get my steaks on the grill. On they went and I turned them at 3 minutes, for the perfect grill marks, just as I had learned. I flipped them over and did the same thing to the other side. And just like that I was done. Only one steak had the perfect grill marks, so of course that one was my presentation steak. I cut the other two into slices. One steak was a little over cooked, (but tasted awesome) the other was perfect! I plated the perfect cuts and garnished them with my "swirled" spicy ranch sauce, and a couple of wild sprouts. And I was done. Only one thing left to do… Carefully take my tray of steaks to the judge's table without dropping them. That was probably the most nerve-racking part of the whole competition. I carefully made my way, and with thankfully no mishaps along the way.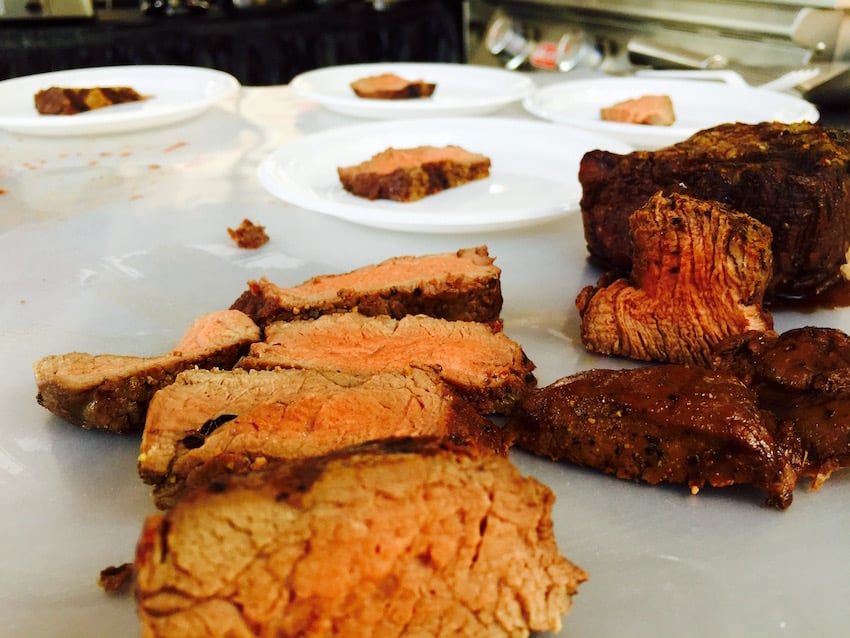 I watched as others turned in their steaks. I was in total awe at some of the presentations and toppings on the steaks. They all looked awesome.
Waiting for the results was the worst part. They told us they would announce the winners at the Kick-Off party later that night. Ugh!
As we all gathered around the stage that night, they told us that they were going to only announce the top 10 finishers. I honestly thought there were so many more that were better than mine, I didn't think it was possible to be on that list. Imagine my surprise when they called my name first! I placed number 10 out 37. I will take that!! Wow!! Of course I didn't win any money, but that's ok. I was happy where I finished.
The winner of the Food Fight Write Bloggers Summit Steak Challenge was Rebekah Evans. She so deserved it! Her steak, grilled corn and all of the toppings looked spectacular. I can only imagine how it tasted. By the way, there is a link below which will direct you to Rebecka's blog and the particular link also has the receipt for the winning dish. Enjoy!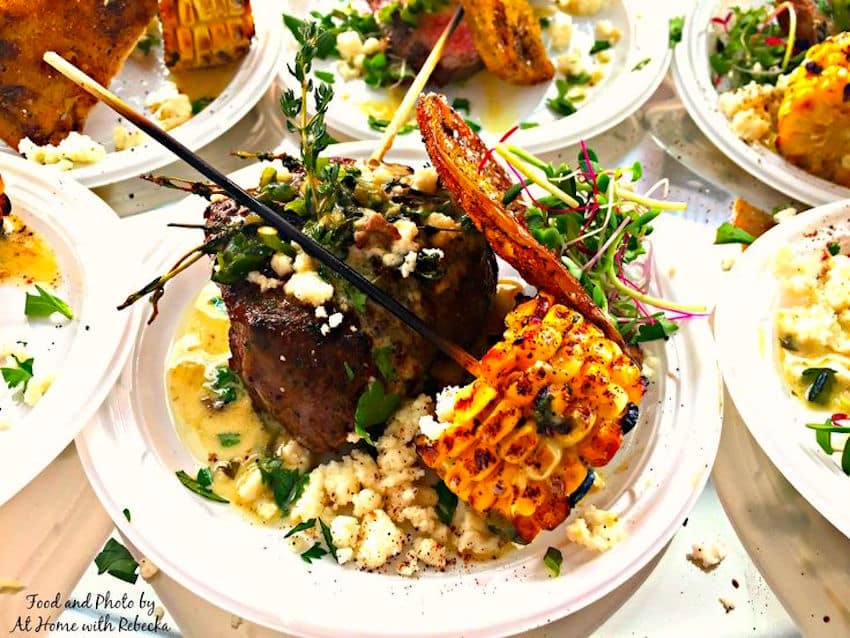 Well, this concludes my series on the Food Fight Write – World Food Championships. I met so many awesome people during the 3 days of this event. I certainly hope to see them next year. I also wanted to give a quick shout out to my local Orlando blogger friends that so graciously allowed me to hang with them. Thanks Jason, Nicole, Rashmi and Kim!! You all rock!!
If You Enjoyed This Post, Don't Miss:

Covering Orlando & Central Florida
'Coast to Coast'
Daytona Beach • St. Pete Beach
• Clearwater Beaches •
Family Fun, Local Events,
Dining Reviews, Local Get-a-Ways,
Attractions, Discount
Ticket Opportunities & More!
Food Fight Write – The Competition
ShareOrlando.com | Share Orlando


950 Celebration Blvd, Suite H

Celebration Florida 34747