I had mentioned on my last post, that during the Food Fight Write Bloggers Summit, I had met some of the coolest people. Some were bloggers like me, some were foodies and others were Food Superstars. Below are a handful of awesome people I met, who have inspired me to dive deeper into the world of Food Competition.

Write Bloggers Unite!
Beth Peterson. Beth was one of our hosts for the summit. In 2014 she put together an Italian-style Mac-n-Cheese recipe featuring 6 different cheeses, that wowed the judges and was ultimately crowned the World Food Recipe Champion. She is also the creator of YummyNation.com (coming soon) that will bring the world's best Food Bloggers together under one roof, giving the average at home cooks and entertainers a one stop shop for all of their needs. Beth used her knowledge and expertise to give us a look (from the inside out) of the World Food Championship, and what it takes to be a World Food Champion.
Emily Ellyn (aka The Retro Rad Chef). Emily was also a host for the event and actually lives right here in Orlando. Emily has been seen on the Food Network's "Food Network Star (Finalist)", "Cupcake Wars (Champion)" and "Cutthroat Kitchen". Emily with her "Totally Rad" style and charm gave us a inside look on what a food judge looks for in a winning dish. She also hosted a "Pizza Party" with us and gave us a few tips on how to make the best homemade pizza. Ever had sliced lemon on your pizza? Yeah me neither, but I tried it and now I highly suggest it. During our Bloggers Competition (more on that in my next post) Emily stopped by each of our "kitchens" giving words of encouragement. I will never forget her saying to me during my stressful plate presentation "Oh Tim – attention to detail… I like that."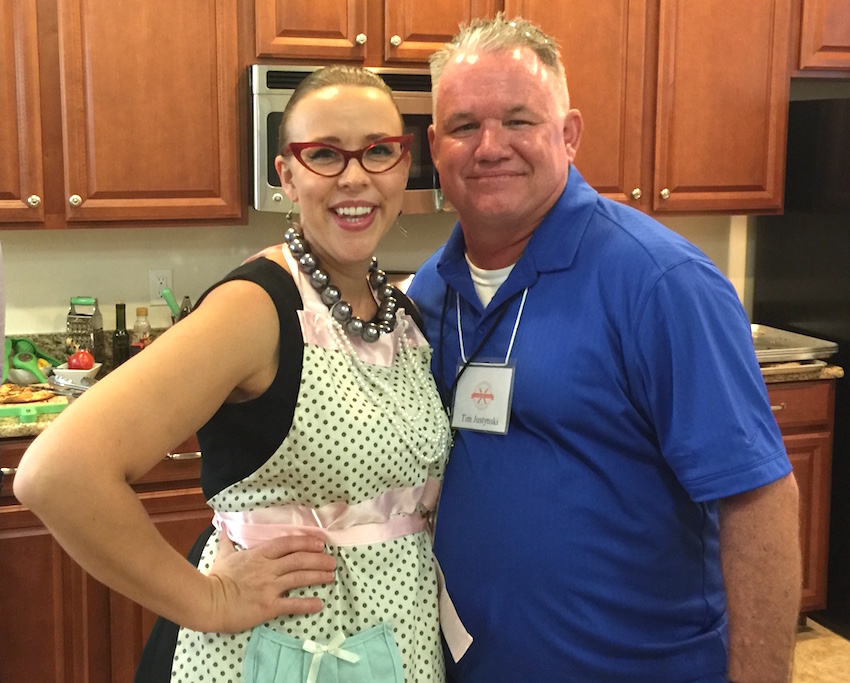 Write Bloggers – "I never knew a food fight could be so much fun"
Krayl Funch. Krayl is the author of "An Appealing Plan: A Year of Everyday Celebrations" and also resides in nearby Tampa. She has been featured in Tampa Bay METRO Magazine, TableWare Today and on the ABC News. During the Inspired Home Event (hosted by Lennar and Global Resort Homes) Krayl gave us some of her best tips on how to host a party on a budget. From her makeshift photo booth (which was far from anything makeshift) to her party décor, and her delicious snacks and drinks, Krayl obviously knows how to keep the party going.
On a side note, if you get the 3 women above in the same room, you are in for one fun and gut splitting afternoon. They kept us laughing throughout the whole summit.
Last but certainly not least…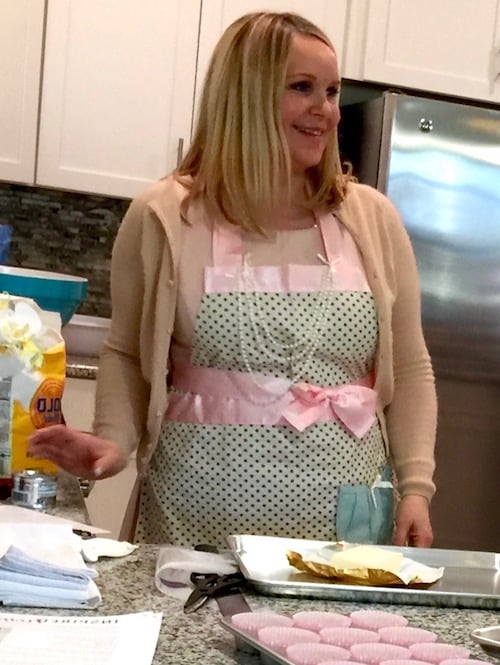 Manuela Kjeilen. Manuela is a TV Host, blogger, baker, photographer and baking is her passion. Her blog "Passion for Baking" is one of the most popular blogs in Norway, and has over 1 Million Instagram followers. We actually got to bake cupcakes with her, (well she baked, I ate) and listened to her stories on how she became one of Norway's most popular Bakers. Manuela is currently filming her very own TV show in Norway, which will be inspiring bakers and foodies for year to come.
The above are just of a few of many awesome people I met during the Food Fight Write Bloggers Summit. There are just to many to name them all!
Want to now what it's actually like to compete in the World Food Championships, or any other food competition? My next post will give you a first hand look!
If You Enjoyed This Post, Don't Miss:
Food Fight Write Bloggers Summit (Part 1)

Covering Orlando & Central Florida
'Coast to Coast'
Daytona Beach • St. Pete Beach
• Clearwater Beaches •
Family Fun, Local Events,
Dining Reviews, Local Get-a-Ways,
Attractions, Discount
Ticket Opportunities & More!
The People of Food Fight Write Bloggers Summit
(Part 2)
ShareOrlando.com | Share Orlando


950 Celebration Blvd, Suite H

Celebration Florida 34747