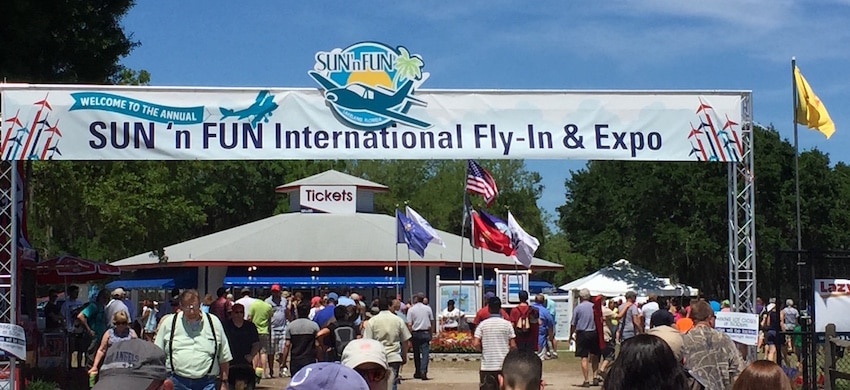 This past weekend, my son and I had the opportunity to drive out to Lakeland to check out the Sun N Fun Fly-in Expo. This was probably one of the coolest things my son and I have done in a long time. There were planes galore and just about every type of plane you can imagine. There were 5 main areas of the Expo that we enjoyed thoroughly.
The first area was reenactment area. This area was an area right inside the gate, that had what looked like a whole battalion on re-enactment soldiers and all of their gear dating back to World War II and earlier. Logan enjoyed walking around looking at the old jeeps and other vehicles they had on display.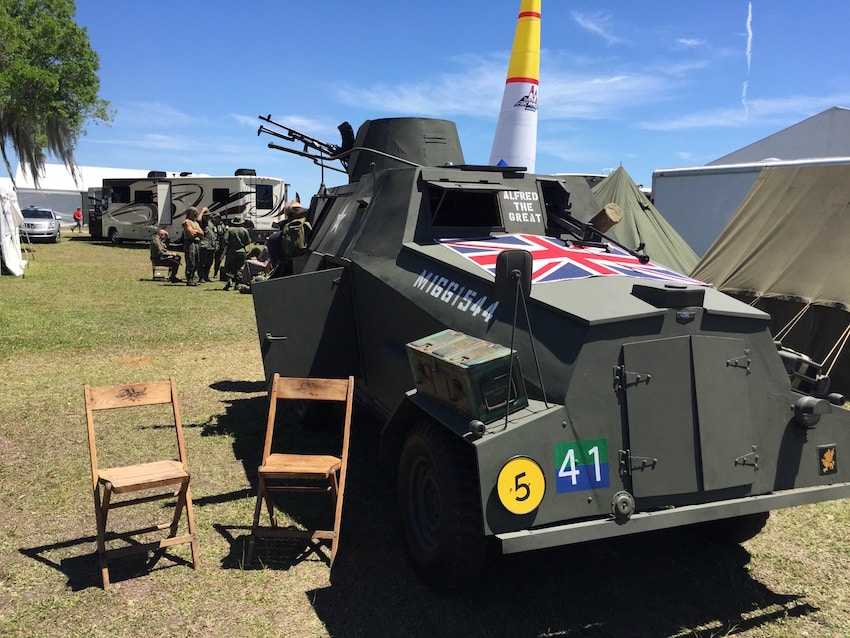 The second area was what I called the Expo. This took up about a 3rd of the airport. The had every type of new plane imaginable on display. So, if you were in the market for a sea plane, ultralight, or even a personal jet, that was the place to be. Logan enjoyed seeing the cockpits of the newer planes. He almost had me talked into buying one of the smaller sea-planes. He said we could land in the lake that my parents lived on. But we had to pass, because it was only a two seater and we are a family of 4. I wish it was that easy son… I really do!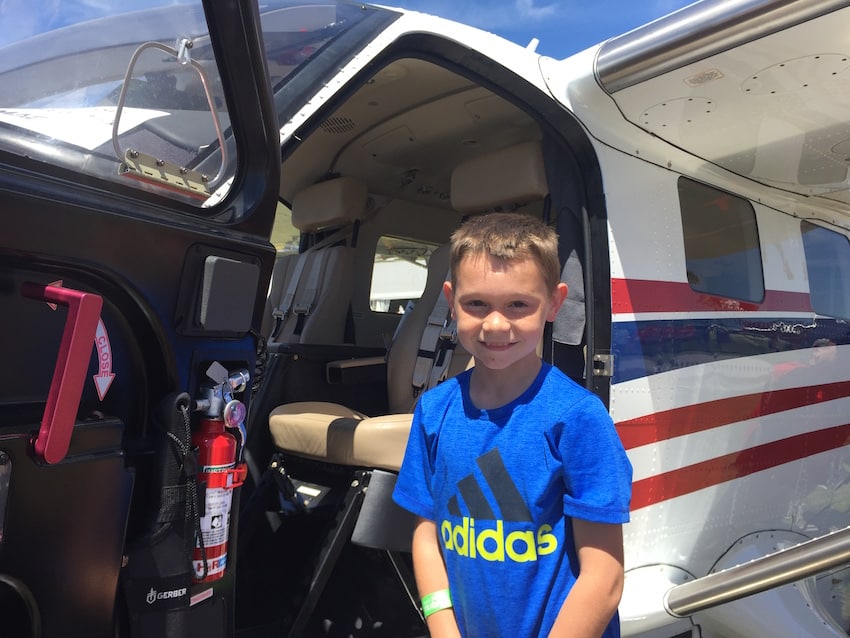 The 3rd area was the flight line. We arrived just in time to see the air show. It began with the parachutists jumping out of the planes carrying the American flag. I think that was the first time Logan had seen this in real life. Then came the stunt pilots. It is absolutely amazing to see what these guys can do with their airplanes. They also had the War Bird Museum planes fly by a few times and told us exactly what each was used for. We even got to see a guy land a plane on a moving truck. It was crazy! I think our favorite part was the F-22 Raptor Demo. This is a military type jet that can make some noise. It was loud and awesome. Seeing it fly through the air at nearly 1.5 times the speed of sound was spectacular. It was truly amazing to see the jet perform some of the same stunts as the smaller prop planes did.

The 4th area was the Military Airfield. They had a many different types of planes, ranging from today's fighter jets, to yesterday's warbirds. They even had the big daddys out there like the C-17. Logan was stoked when he was able to walk inside the belly of the C-17. He was telling me that they put tanks and other vehicles in this plane, and then push them out with parachutes on them. I asked him how he knew that. Youtube! Of course… what was I thinking.. I think that was one of Logan's favorite parts of the day.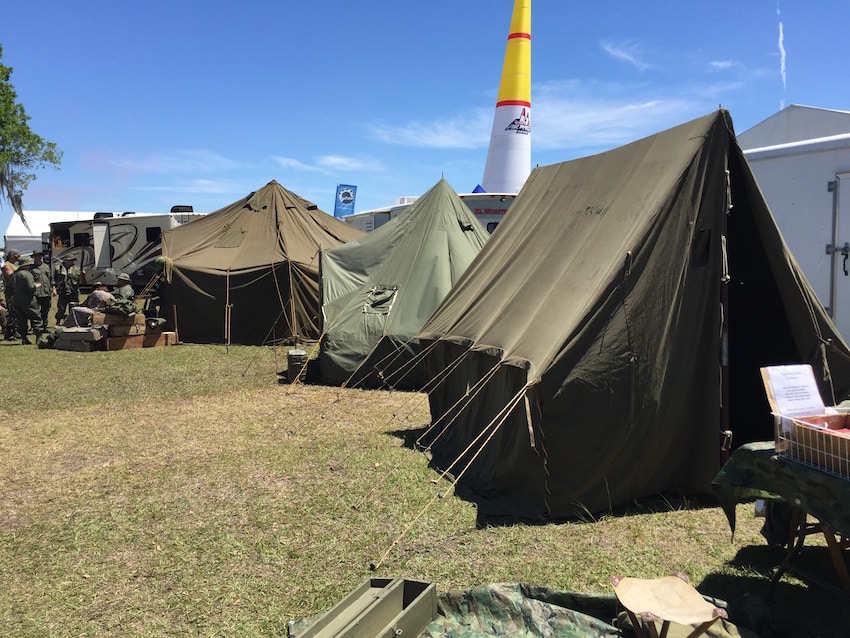 The 5th area was the actual airfield itself. I didn't quite understand why they called it a "Fly-In" until I saw it. Pilots from around country fly in their personal planes into the airport to attend this show. The coolest thing was to see all of the personal aircraft lined up all over the fields. It appeared that most of them didn't get hotel rooms to stay in, as you would think. We saw tents sent up right next to their planes. Now that is an awesome way to go camping. Fly-in, land and set up camp!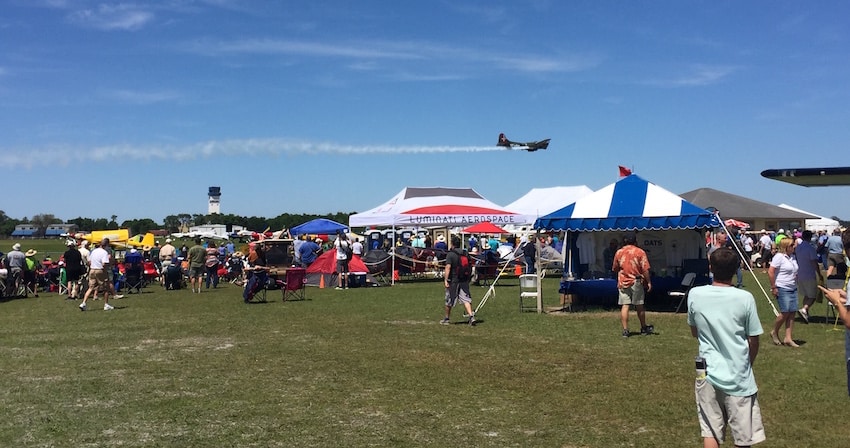 The Sun N Fun Expo Fly-in is an annual event and is usually the first or second week of April. I highly suggest checking it out. Logan is already talking about it. You can find out more about at sun-n-fun.org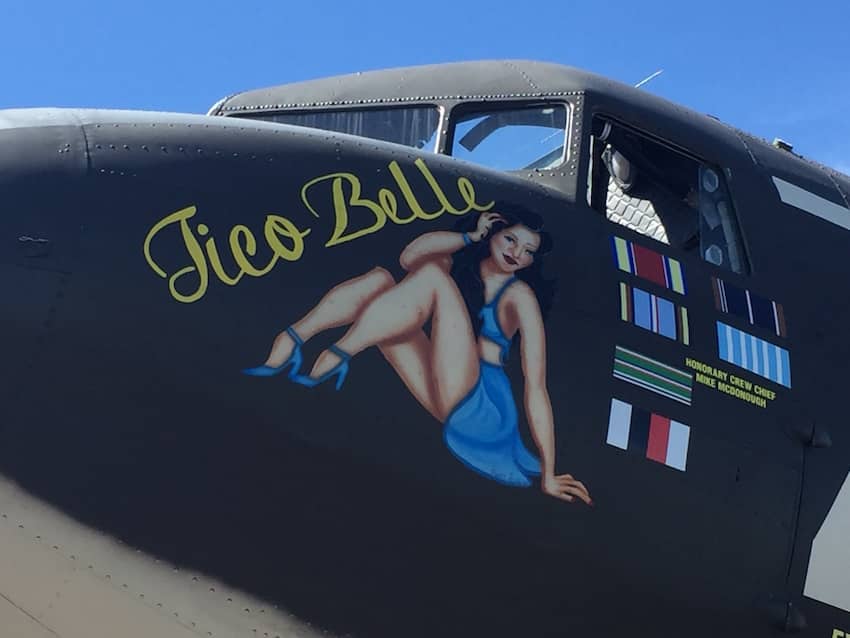 Special Thank you to our friends at Visit Florida for providing me the tickets. Although the tickets were provided to me, all opinions are my own.
If You Enjoyed This Post, Don't Miss:
 
Covering Orlando & Central Florida
'Coast to Coast'
Daytona Beach • St. Pete Beach
• Clearwater Beaches •
Family Fun, Local Events,
Dining Reviews, Local Get-a-Ways,
Attractions, Discount
Ticket Opportunities & More!
Sun n Fun International Fly-In 2016
Flight Expo
ShareOrlando.com | Share Orlando


950 Celebration Blvd, Suite H

Celebration Florida 34747