Emeril's Orlando is thought to be amazing, hard to get into at times and worth it when you can. All true by the way! But for me, well I like to explore, trying places I've never been and experiencing fine dining. And as hard as it is to believe, Emeril's Orlando at Universal City Walk opened in 1999, so here I am, 16 years later and I finally made it. I am glad I did.
On the 4th of July my girlfriend Becky and I decided to go to Universal Orlando Resort to have dinner and watch the fireworks. Upon arrival came the challenge of where to have dinner; a venue within CityWalk or inside one of the 2 parks. So many choices. We decided on Emeril's Orlando because she nor I had ever eaten there. We were Emeril virgins.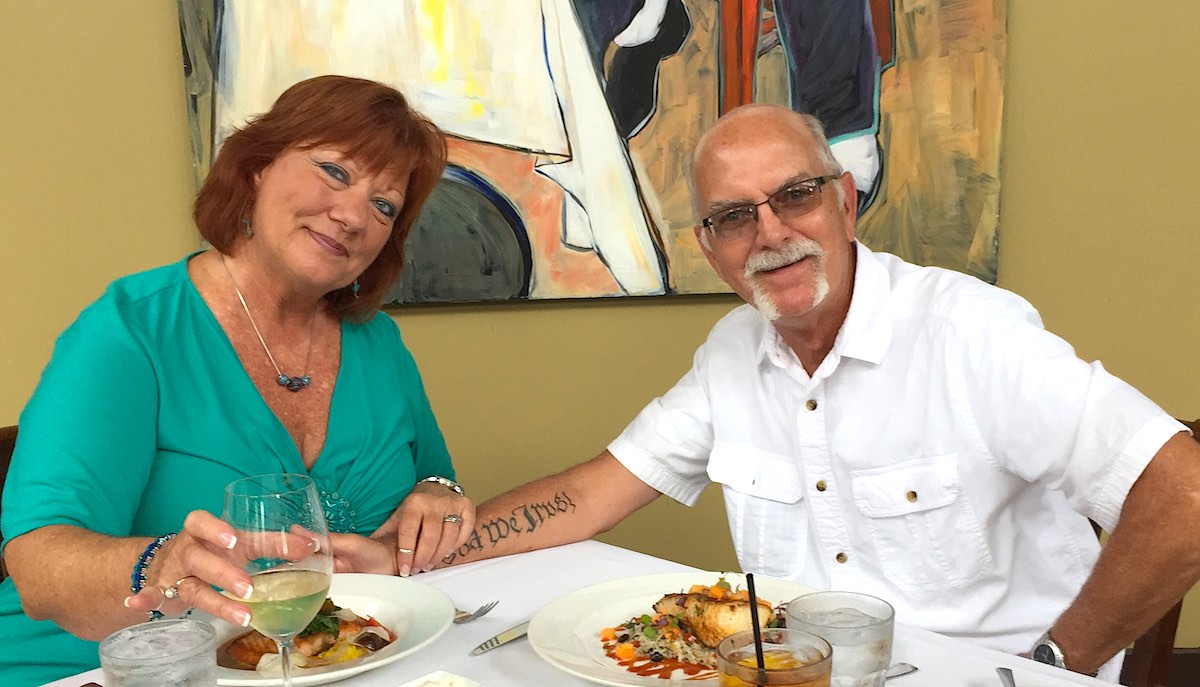 We arrived a few minutes before 5 PM, and it was the perfect time between the lunch and dinner service. The dining room was set up and empty. The service staff was attending their daily pre dinner briefing to go over the evening's menu. About 2 dozen patrons were at the bar. I was expecting to be asked by the hostess if we had a reservation, we did not. She said a table for two would not be a problem, and that we would be seated once the staff meeting had ended. She invited us to go to the bar area to await being called to be seated.
Emeril's Orlando ~ Elegant
I'd seen the interior of the restaurant many times before from the outside, through the crystal clear floor to ceiling windows. But once inside it is even more impressive. The website for Emeril's Orlando refers to it as "modern warehouse". There are warm shades of brown, polished wood surfaces, stone accent walls, crisp white linens, comfortable chairs at nicely sized tables, and spotless glassware and silverware. The wait staff, all in white shirts, neckties, and full length aprons presented a very professional appearance.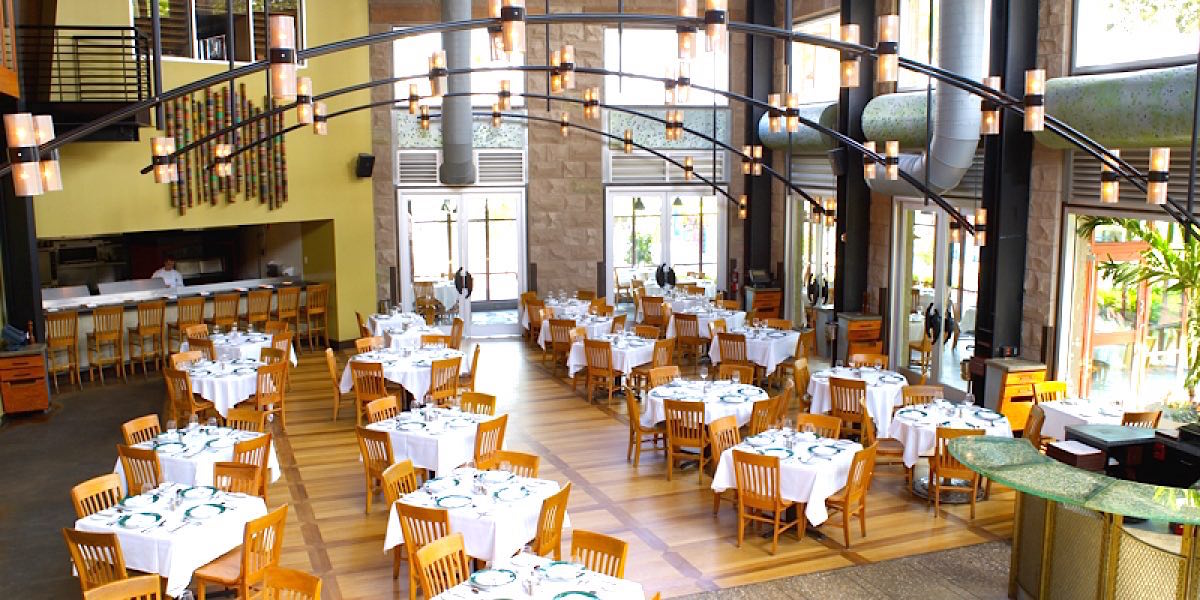 At a few minutes past 5 we were escorted to our table. Our servers introduced themselves and provided us with dinner menus and the wine list. Their website says they have a 10,000 bottle wine gallery. So they are sure to have something for every palate.
The menu is very diverse, and every entrée description said it would be a good choice. We both decided on fish. I choose the Mahi Mahi, and she the Salmon. Becky asked for a glass of Emeril's Chardonnay with her dinner, but I stayed with my usual sweet tea with lemon.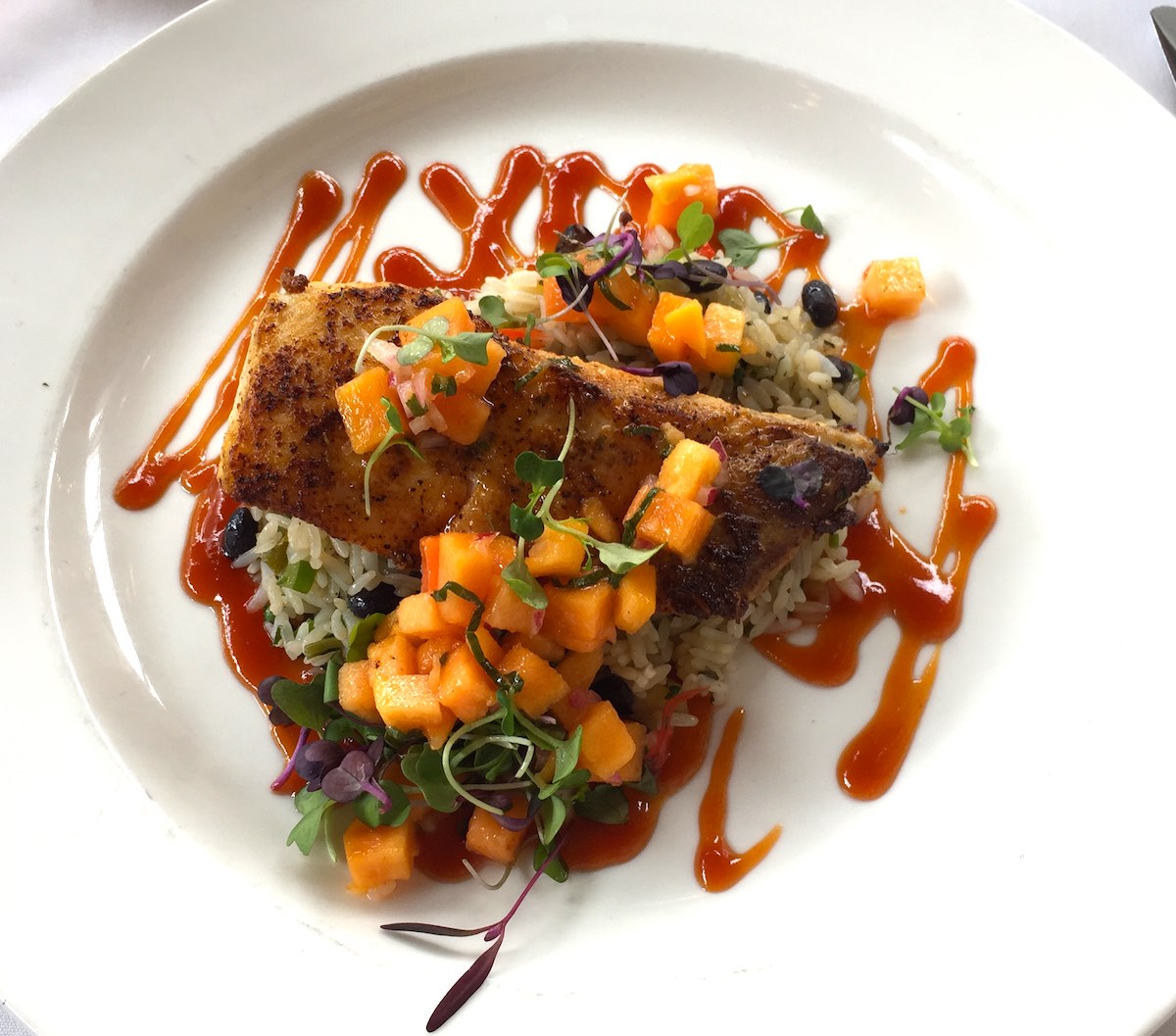 At this point let me say that the staff at Emeril's Orlando are excellent. It seemed as if several men were assigned to our table, headed by a young man named Stevie.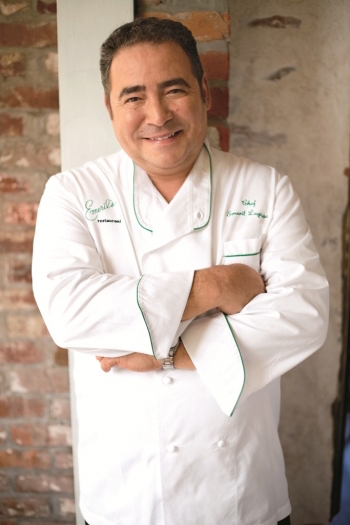 We had decided to skip an appetizer, and our dinners arrived without too much wait. As every other table in the room had been seated at the same time as us, I noted that the other guests dinners were arriving about the same time as ours.
My large Mahi section was served pan seared on a bed of black bean mango pilaf, with a papaya relish. It looked enticing and tasted marvelous. Becky's Roasted Salmon was served on saffron risotto, surrounded by tomato butter sauce, and garnished with kale and fennel. It also looked amazing in its presentation. As an aside, I had noticed grilled asparagus on the menu, I love asparagus, and so we added that to our dinner. It was great! As we ate, all the flavors and textures blended nicely.
Then we, rather I, came to a bump in the road. My Mahi portion was a rather large wedge shape, and as I got to the thicker end, it became more fleshy. Even Becky noticed it didn't have that flakey appearance most fish have when cooked. Just then one of the Managers happened by our table to inquire of us. In as hushed a tone, and as tactfully as is possible, Becky asked his opinion of what he saw. He immediately said that my dish appeared to be undercooked, and followed with a sincere apology. The young man went on to say he would immediately have another brought to my table. I thanked him for that, but declined the offer. Becky had finished her dinner (I am a very slow eater), and I didn't want to start over. The house had, as would be expected, adjusted my check when it arrived, with another apology.
Would I visit Emeril's Orlando again? Absolutely! One cannot write off an establishment based on one small misstep. Overall, I had a positive experience.
Finally, I would like to thank Chef Douglas Braselman for speaking with me today. He clarified for me some of the culinary details that were fuzzy to me, as I am writing this 2 weeks after the fact.
Note: While we at times advise establishments that we are coming by and are provided the favor of meals and or drinks with the stipulation that our review would be our own independent opinion, this was one of those occasions when we provided no advance notice to Emeril's Orlando. We asked for and received no compensation and the entire meal was paid by us at the end of our meal. In fact, no one knew we were writing a review until well after our visit when we had a few questions for the staff.

Covering Orlando & Central Florida
'Coast to Coast'
Daytona Beach
•
St. Pete Beach

•
Clearwater
Beaches
•
Family Fun, Local Events,
Attractions, Discount
Ticket Opportunities & More!
Universal Orlando
CITY WALK
Emeril's Orlando
ShareOrlando.com | Share Orlando
950 Celebration Blvd, Suite H

Celebration Florida 34747