FOR IMMEDIATE RELEASE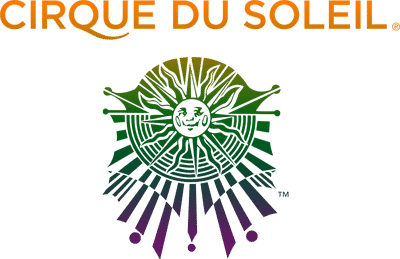 Cirque du Soleil and Experience Kissimmee team up
to bring a one-of-a-kind Trapeze performance
outside the tent via Facebook Live
 La Nouba by Cirque du Soleil Trapeze team to attempt 2 rarely performed Trapeze tricks during a live show
NOTE: The actual Facebook LIVE event has now passed. The entertainment value of the press release stands.
Lake Buena Vista, Fla. – March 29, 2016 – After entertaining over 10 million audience members and performing more than 8,000 shows, Cirque du Soleil's La Nouba, located at Disney Spring, continues to spring imaginations to life with daring feats, incredible strength and breathtaking beauty which will be on display during Thursday evening's performance.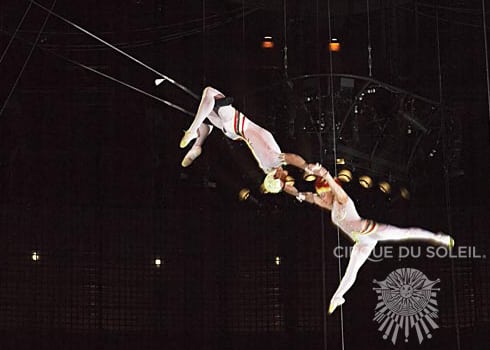 During a live show on Thursday, March 31ST, Cirque du Soleil's La Nouba, in partnership with Experience Kissimmee, streamed a LIVE via Facebook Live and Periscope as the energetic Trapeze troupe attempts two (2) rarely performed tricks that only a handful of Trapeze artists have accomplished. The "Double & ½ Layout to the Legs" is an extremely skillful maneuver that includes a 2 ½ backward layout with a twist, all performed within seconds before the artists is caught by his legs. The second trick will be a "Quadruple" layout, which is rumored to be completed less than 20 times in the 150 year history of Trapeze.
"We are delighted to partner with Experience Kissimmee as we bring this rare performance to life via Facebook Live," said Neil Boyd, Company Manager for La Nouba. "This collaboration between Cirque du Soleil and Experience Kissimmee allows for a new, emerging way to engage fans during our attempt at feats that are not common to the show."
To see the more about any upcoming broadcasts from behind the scenes and the trapeze act, visit Experience Kissimmee's official Facebook page at Facebook.com/ExperienceKissimmee
Follow @Kissimmee on Twitter for updates. Fans can check the hashtag #CirqueLIVE on Facebook, Twitter and Instagram to find sneak peeks and broadcasts for the event.
#CirqueLIVE, #LaNouba, #FacebookLIVE
We at ShareOrlando were invited to La Nouba and Cirque du Soleil at Disney Springs (formerly Downtown Disney), to observe first hand this amazing feat during live practice sessions.

We were provided backstage opportunities to see the staging from the highest levels, interview the trapeze artists as well as the show directors and producers.  Quite impressive!

These athletes clearly not only trust each other, the actually like and hang out together as well. Special thanks to Lakiya Arrington and the entire Cirque Du Soleil team. We had great time! 
About La Nouba and Cirque du Soleil:
La Nouba transforms the ordinary into the extraordinary and stimulates the imagination from beginning to end with daring acrobatics, dazzling choreography, vibrant music and whimsical characters only at Disney Springs in Orlando, Florida. For more information about La Nouba by Cirque du Soleil, visit cirquedusoleil.com.
Cirque du Soleil has brought wonder and delight to more than 160 million spectators in more than 400 cities on six continents. Cirque du Soleil has close to 4,000 employees, including 1,300 performing artists from close to 50 different countries. For more information about Cirque du Soleil, visit www.cirquedusoleil.com.
About Experience Kissimmee:
Experience Kissimmee is the travel and tourism authority for the Kissimmee destination, the Gateway to Fun.  The organization develops and implements programs that encourage more than 6 million overnight guests each year who enjoy easy access to Orlando's world-renowned theme parks, a host of amusement parks and natural adventures.  Kissimmee's nearly 50,000 total accommodations include luxury resorts, well-known and comfortable hotels and motels, vacation rental homes and villas, and campgrounds.  To learn more about all of the exciting things to see and do in Kissimmee, go to ExperienceKissimmee.com.
Here are Some La Nouba Fun Facts
  La Nouba premiered in Orlando on December 23, 1998. It was the third resident show ever created – after Mystère and "O" in Las Vegas.
  La Nouba celebrated its 15th Anniversary with a special appearance from Disney Pals, Mickey Mouse and Minnie Mouse.
  La Nouba comes from the French phrase "faire la nouba," which means "to party," or "to live it up."
  Since launch, La Nouba has entertained over 10 million guests and has performed over 7,900 shows. La Nouba will host its 8,000th show on November 20, 2016.
  The 1,671-seat theater is the first freestanding permanent structure ever built for Cirque du Soleil. Set Designer Michel Crête of Cirque du Soleil, Michel Aubé of Scéno Plus, Walt Disney Imagineering, and the architects of the Rockwell group of New York collaborated on the overall design of the building.
  There are 1730 audio cables – if placed end to end they would span 865,000 ft or 164 miles.
  Over 1200 lighting fixtures are used for each performance of La Nouba.
  The La Nouba Stage Managers have said "go" over 1million times.
  The most expensive item sold at the La Nouba Boutique was a bronze Le TitanSculpture that sold for $12,500.
  Since launch, the wardrobe department has handled over 21,510,000 costumesand headpieces.
  Most of the 65 artists performing in La Nouba wear three different costumes pershow.
  600 rhinestones are hand applied to each of the three Le Cons costumes; 8costumes are worn each night.
  Since the launch of the show, La Nouba has used over 43,500 balloons in theshow.
  There have been over 2.8 million flips in the PowerTrack act since the showlaunched.
  During the PowerTrack act you will see 394 Flips and 62 Twists in seven minutes.
  There has been 285 miles traveled by the little train used by the imaginary frog inthe show – more miles from Orlando to Miami.
  Six musicians play 22 instruments in the show – live, each night!
If You Enjoyed This Post, Don't Miss:

Covering Orlando & Central Florida
'Coast to Coast'
Daytona Beach • St. Pete Beach
• Clearwater Beaches •
Family Fun, Local Events,
Dining Reviews, Local Get-a-Ways,
Attractions, Discount
Ticket Opportunities & More!
Cirque Du Soleil
One-of-a-Kind Trapeze Performance
ShareOrlando.com | Share Orlando


950 Celebration Blvd, Suite H

Celebration Florida 34747