Wet 'n Wild Orlando is not new.  It opened in 1977.  Its old.  Shouldn't it be closed?  The two other old water parks closed: River Country closed in 2001 and then Water Mania in 2005.  And they were not as old as Wet 'n Wild.
I thought we didn't want anything from the 70's.  We don't want black and white computers made by Commodore and Tandy.  That "new" company, Apple, also from 1977, is better.  And I thought disco was dead.  So why should I care about Wet n Wild's ride Disco H20? In general, why is Wet n Wild still here? 
The answer is simple: Wet n Wild kicks butt…  Ask me why it's so good.  Is it their imagination-capturing marketing or their magical landscaping?  NO! Click here for buzzer.
Wet n Wild … REALLY
Its the rides!  To quote Carly Simon, "Nobody does it better."  And yes, that song is from the the 70's as well, 1977 as a matter of fact.  It was the theme song from the James Bond movie, The Spy who Loved Me.  You see, good things do come from the 1970's.  You may even be from the 70's.  Maybe your hairdo or your shirt is.  Maybe the 70's called and want their dance moves back.  They can have them, but they can't take Wet 'n Wild because it kicks butt!  (Oh, yeah I said that already.)
 No one needs to defend Typhoon Lagoon, Blizzard Beach, or Aquatica. They have fantastic decor and advertisements. But all the local kids in my neighborhood went to Wet 'n Wild more – no doubt.
You may be thinking at this point, "Well Bob, tell us about the rides." First of all, I am not Bob. I'm Tim. Second of all, ok.
They have 6 thrill rides. Other water parks might have half that many, if you're lucky.  Let me mention 3 of the thrill rides to wet your appetite. (Pun intended)  The Storm should be called the toilet. Don't worry, it's a clean toilet – a giant one.  It is truly dizzying, a rarity for Orlando. Bomb Bay is a world class high speed drop slide.  What makes it the best is that instead of the usual controlled scoot to the edge, you enter a capsule and the floor drops out from under you and down you go!  Their newest ride is Aqua Drag Racers.  Most of the parks have a ride like this: side by side racing.  I love them all, but this one is definitely the tallest and the fastest.
Wet n Wild Orlando also has 6 multi passenger rides which is easily the most in Orlando.  They include Disco H2O, which I mentioned earlier and is top quality.  The Back Hole – Next Generation is probably the most popular, but I think the Brainwash is really the best because of the amazing swirling colors.  The Flyer is really the most fun though.  Nobody will say its their favorite though because it's low tech.  Its just a 4 -person toboggan.  But good luck keeping your composure. I have been riding it forever, l laugh and act stupid every time.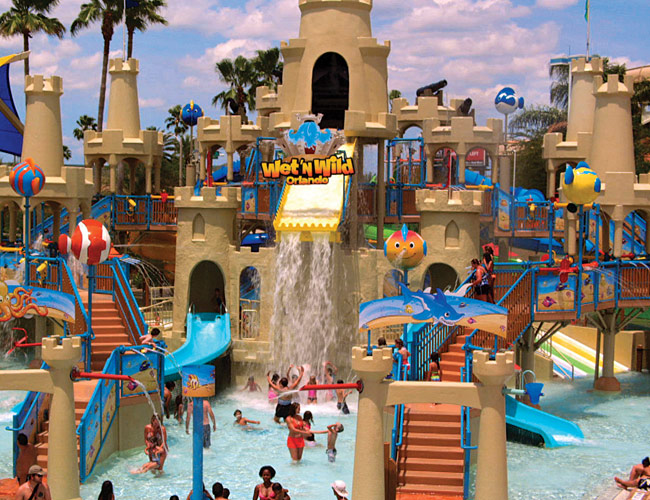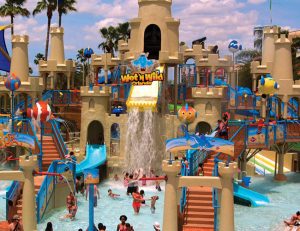 To be clear, Wet n Wild simply has more good rides, more thrill rides and more multi passenger rides then all of the rest.  If you are looking for something a bit tamer, don't look to the kids stuff.  Blastaway Beach is simply the biggest and the best. My cousin David and I got thrown out of there.  We misread the sign: no adults unless accompanied by a child. Oops!
There is even a little bit of of the real Florida.  They have a lake with wake skiing, knee boarding, and paddle boarding.
So, there is nothing good about Wet n Wild. Its old and its not full of decorations.  The only good thing is the rides. It has the more of them, they are more unique, and they have more for the kids. Check it out!
For tickets to Wet n Wild or any other Orlando theme parks, visit our preferred tickets vendor at www.KGStickets.com.

Covering Orlando and Central Florida
'Coast to Coast'
Daytona to St. Pete 
• 
Clearwater Beaches
Family Fun, Local Events, Attractions
Discount Ticket Opportunities & More!
Wet n Wild Orlando Water Park
ShareOrlando.com  |  Share Orlando
950 Celebration Blvd, Suite H

Celebration Florida 34747