Toothsome Chocolate Emporium is a "Sweet Tooth's" paradise.  They definitely keep the chocolate party going by infusing chocolate in many of their entrees, as well as make some of the biggest and most delicious milkshakes in all of Orlando.  Toothsome Chocolate Emporium is one of Universal Orlando's newest restaurants located in CityWalk between Universal Studios and Islands of Adventure.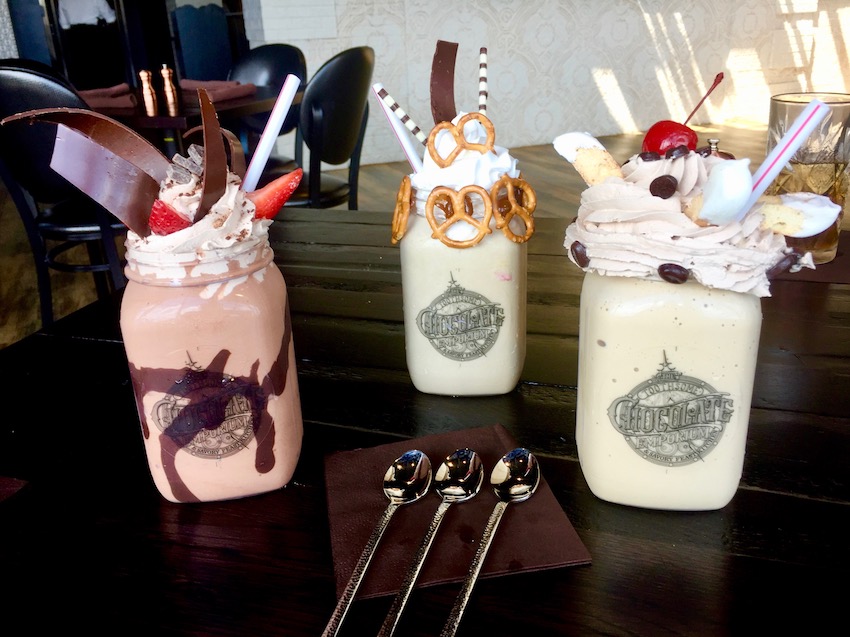 When I first heard about Toothsome Chocolate Emporium, I wasn't sure what to think.  Of course, anything with the word "chocolate" in the name is enough for me to check it out, and I super glad I did.
Upon walking into the building I first noticed the copper metal pipes, fencing and gears that decorated the room.  Definitely a "steampunk" look and feel. The servers and hostesses were even decked out in steampunk attire.  The aroma of melted chocolate filled the air and I swear I gained 10 pounds just walking inside.  To the right was the gift shop that was filled with all kinds of sweets.  They had flavored marshmallows, freshly made truffles, many types of macaroons, mason jars of candy floss (cotton candy) and a ton of other delicious candies lined from the floor to the ceiling.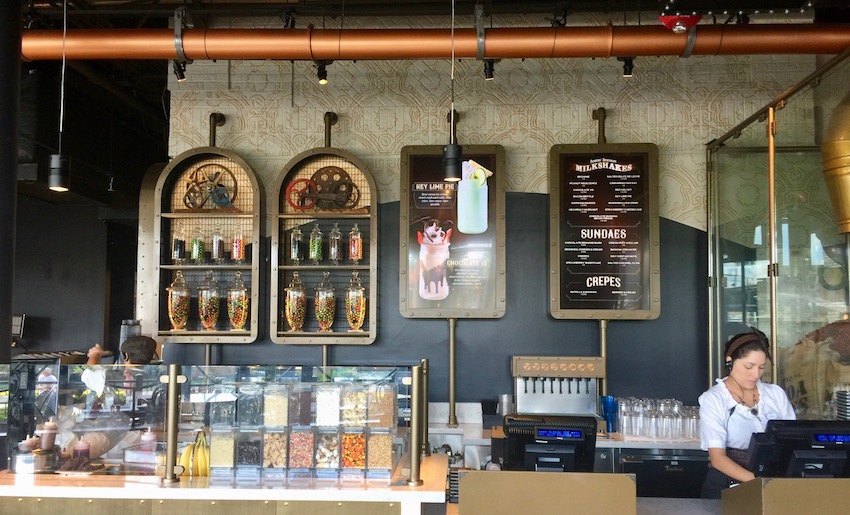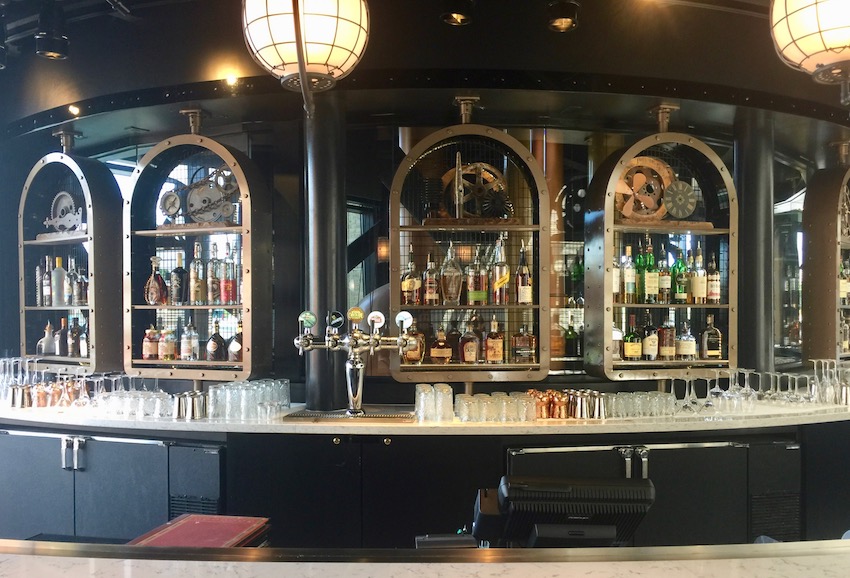 To the left was their signature "milkshake" fountain.  If you didn't want to eat or was just stopping in for a quick snack, you could order one of their delicious milkshakes to go.  (More on the milkshakes in a minute.)
We were taken upstairs to our seats, and we were lucky enough to have a table that overlooked the lake and Universal's Citywalk.  It was an awesome view to say the least.
[powr-photo-gallery id=27b905b8_1476663224618]
The menu was huge and had quite the variety of dishes.  The "Temptations" (aka appetizers) filled the first two pages.  Pistachio Hummus, Coffee and Chocolate Stout Chicken Wings, Black and Tan Onion Rings, Warm Chocolate Almond Bread, and the Totchos (nachos but with tater tots) were just a few that caught my eye.  We settled for the Warm Chocolate Almond Bread and the Totchos which were delicious.
For our meals we ordered the Southern Fried Chicken BLT (crispy boneless chicken breast, tomatoes, butter bibb lettuce, bacon Dijon mustard on a toasted brioche), the Fork and Knife Grilled Rib Eye Steak Sandwich (Sautéed onions, mushrooms, tomatoes, arugula, herb shallot aioli, horseradish cheese on a toasted onion brioche) and the Quiche Lorraine (Applewood bacon, Gruyere cheese, fresh fruit and a side salad).  Everything was absolutely superb!  But of course we had to save some room for the MILKSHAKES!  Bring on the Milkshakes!!!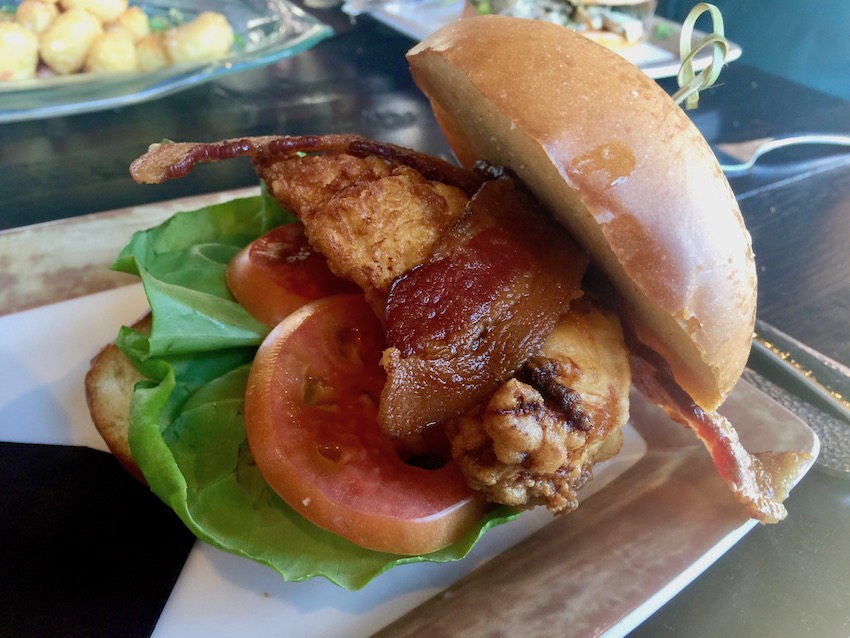 [powr-photo-gallery id=92b8feb8_1476663099650]
They had over 12 different flavors to choose from starting with Red Velvet and Marshmallow Crisp all the way to Cinnamon Fantasy and of course, everything in between.  We ordered the Expresso Buzz (Coffee ice cream, espresso, chocolate espresso beans, fresh whipped cream, cherry), the Salted Dulce De Leche (Salted caramel ice cream, dulce de leche, salted pretzels, fresh whipped cream, chocolate cigars) and the Chocolate X5 (Chocolate ice cream, chocolate chunks, strawberries, chocolate sauce, fresh whipped cream, chocolate spirals, cherry).  I have to say, I have had many a milkshake in my life (obviously) but these were probably the best I have ever had.  It was amazing how after filling the entire jar with the milkshake and then they were able to perform the balancing act with all of the toppings.  The presentation was awesome and taste was OUT OF THIS WORLD!
If you are looking for a unique dining experience and some awesome chocolate goodness, head over to Universal Orlando CityWalk and check out the Toothsome Chocolate Emporium.  You won't be disappointed!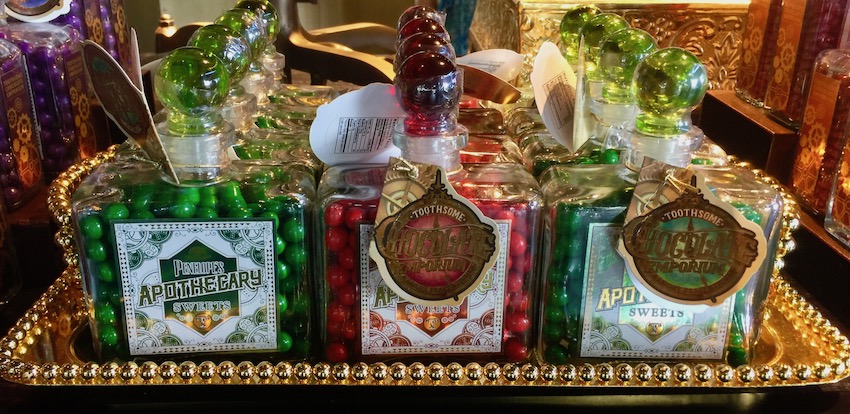 If You Enjoyed This Post, Don't Miss:
Frontera Cocina



Fresh Gourmet Mexican Cuisine at Disney Springs

Covering Orlando & Central Florida
'Coast to Coast'
Daytona Beach • St. Pete Beach
• Clearwater Beaches •
Family Fun, Local Events,
Dining Reviews, Local Get-a-Ways,
Attractions, Discount
Ticket Opportunities & More!
Toothsome Chocolate Emporium – SUWEEEEET!
ShareOrlando.com | Share Orlando


950 Celebration Blvd, Suite H

Celebration Florida 34747