Orlando Yard House
8367 International Drive
Orlando, FL 32819
YardHouse.com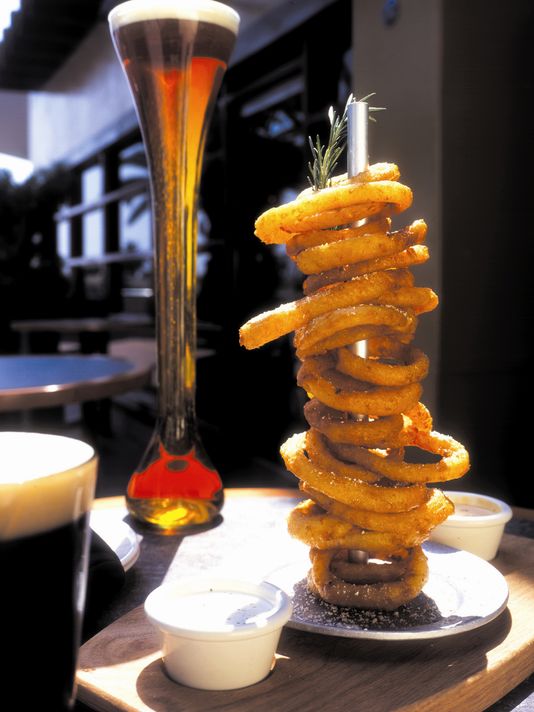 The Orlando Yard House is one of two awesome new restaurants (other is the Tin Roof) to open in the new I-Drive 360 complex, which is home to the Orlando Eye.
When I first heard about the Orlando Yard House coming to I-Drive I wasn't sure what to think. It sounded to me, that it was just like a glorified TGI Fridays or an Ale House. That could not have been further from the truth! This place is awesome!
When you first walk in there is this huge water wall to the left. It's one of those things that you will, "just have to touch" as it literally draws you over to it. We were then, greeted by a pleasant hostess that promptly took us to our seat.
Upon walking into the main dining area, the first this that catches your eye is the HUGE bar that sits in the middle of the dining room. This thing is an attraction in itself. The beer taps (Heaven in my opinion) go on and on for what seemed like forever. More on that in a minute… The whole dining room has the industrial look and feel with dark wood, black leather seats and silver aluminum accents.
We sat down and were immediately welcomed by our server, Chris. He was very polite and attentive.   He handed us our menus. I say "menus" because there was one solely dedicated to the beer. Out of 140 taps, there were 133 different types of beer on draft. (Again… Heaven!!) They have everything from you water downed domestic beers to the finest craft beers. I opted for a Cigar City Jai-Ali IPA. Why Cigar City?? Well first it's a Florida beer, and second I am hoppy kind of guy, and I love an awesome IPA. By the way, they call it the "Yard House" because you can actually get a yard of beer there. (Almost 48 ounces of cold, bubbly deliciousness) NOTE: Please make sure you have a designated driver if you order a yard of beer. It will catch you quickly. PS – I only know this because a "Friend" told me.
The food menu is huge as well. They have anything from a Truffle Fries to Burgers to Ribs to Steak, and everything in between. With over 130 different options to choose from you are sure to find something unique and delicious. I ordered the Black Truffle Burger made with truffle cheese and tomato bacon onion jam and of course the truffle fries. Yes, it's true, I love truffles, and while the chocolate truffles are good, the mushroom type is even better. Others at the table ordered the BBQ Chicken Salad and the Chopped Salad.
As soon as the food hit the table, the truffle aroma filled my nose with heavenly bliss. The salads were huge and definitely looked awesome. Everything was plated well and tasted wonderful. A big shout out to the chef!
Chris, our server, kept our drinks filled and stopped by several times to make sure all was good.
The Orlando Yard House is a great place to stop in for a beer (or two) and/or enjoy a delicious meal with friends and family. I will definitely be back! Oh and while you are there, stop in and ride the Orlando Eye. It's a great adventure as well!
Ever been to the Orlando Yard House? If so, what did you think?

Covering Orlando & Central Florida
'Coast to Coast'

• 
Daytona Beach
•
St. Pete Beach 
•
•
Clearwater
Beach 
•
Family Fun, Local Events,
Attractions, Discount
Ticket Opportunities & More!
Orlando Yard House
ShareOrlando.com  |  Share Orlando
950 Celebration Blvd, Suite H

Celebration Florida 34747