Like most people I have a bucket list and iFly Orlando helped me clear one off. On that list you will not find "Jump out of a plane" but "indoor skydiving" definitely made my list. I have been dying to do it for years. So when my husband asked me what I wanted to do special for my birthday – I went for it! I told him I wanted to go to iFly Orlando!! After giving it more thought, I decided I didn't want it to be just a "Me" thing but instead a family moment. Thankfully they accommodate ages 3 and up, so the whole family would be able to participate.
iFLY Indoor Skydiving Orlando
6805 Visitors Circle
Orlando, FL 32819
Upon arriving at iFly Orlando we were met with excited and enthusiastic staff. They put our minds at ease about the experience and my anxiety soon diminished.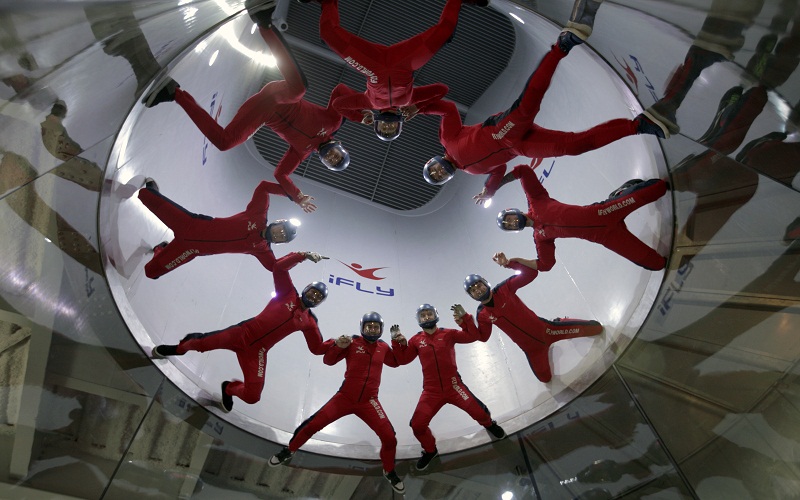 There were many packages to choose from, so we elected to purchase the "Learn To Fly" package because we weren't sure what to expect the first time. We did, however, upgrade the package to include the High Flying option.
We quickly headed upstairs to the viewing room to check out the other flyers while we waited for our instructor. We were quite fortunate because there was a group of skydivers having a training session while we waited. We all stared in awe as we watched them transition so elegantly from one move to another. Before we knew it the instructor arrived and walked us into the training room.   The training lasted about 15 minutes and was very simple. We were informed that he would fly with us and he demonstrated the techniques and hand signals.
Time to gear up! Our instructor handed out the jumpsuits, ear plugs, helmets, and eye protection. They even had small enough sizes to accommodate my 9 year old. There were about 8 people in our group, so it took a little while to get fitted and suited up. At this point my anxiety kicked in and it all just got very real. Thankfully the instructor was quite funny and distracted me from my fears.
Fly time! Our instructor led us to the Flight area and thankfully, I was last because the kids wanted to go first. I hid my fears from them of course. My daughter went first…and she rocked it with a huge smile and took to it very quickly.
[mom_video type="youtube" id="SmCXI3P8YEk" width="800″]
My son was next – the instructor made me feel so comfortable as he made sure my son was safe and had control of the situation. I was amazed at how well he did and not once did his smile disappear. I think this moment was complete just watching them enjoy the experience…but unfortunately I was next.
[mom_video type="youtube" id="Sggf4YRB-ow" width="800″]
I walked up to the entrance to the flying area and the instructor quickly assisted. Next thing I knew, i was doing it! I was flying!! It was the longest minute of my life but so much fun! I made my kids proud!
I highly recommend iFly Orlando for creating family memories.

Covering Orlando & Central Florida
'Coast to Coast'
Family Fun, Local Events
Attractions & More!
Check out iFly Orlando TODAY! 
950 Celebration Blvd, Suite H
Celebration Florida 34747
[ad id="4608″]