They Are Actually Tickled Pink
Guests can marvel at flamingos during daily morning stroll through park

ORLANDO, Fla. (August 26, 2019) – Discovery Cove® recently welcomed a colorful new group of guests to the park – eight Caribbean flamingos. Comprised of four males and four females, the group of flamingos (known as a flamboyance) arrived in late June after making the short trip from neighboring SeaWorld Orlando. The flamingos have settled in and are enjoying an expansive new habitat designed by a team of Discovery Cove animal experts and veterinarians. Visitors to Discovery Cove have an opportunity to watch the flamingos every morning as they take a leisurely stroll among guests along the park's lush pathways and white, sandy beaches.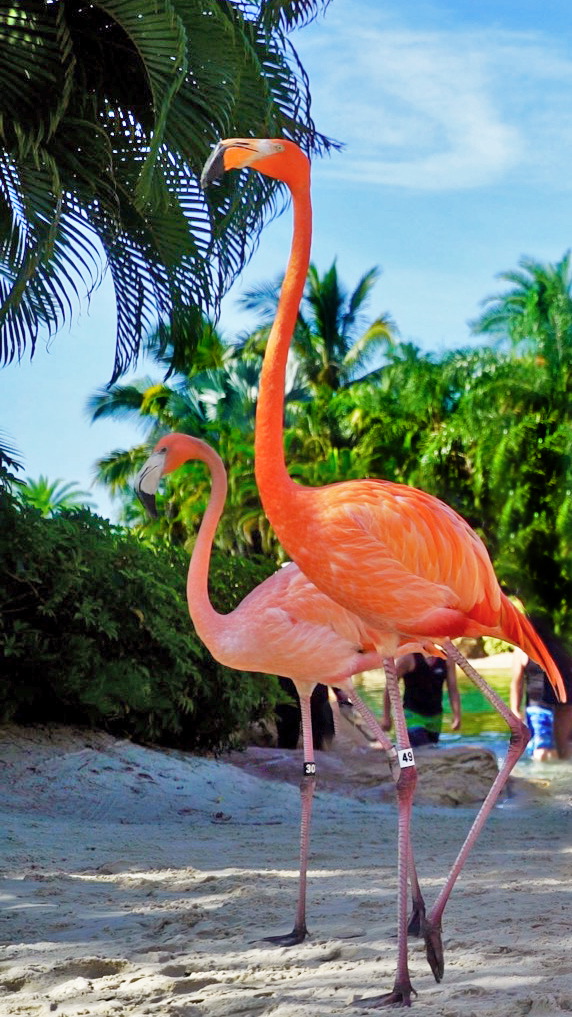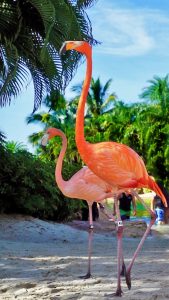 "We're delighted to welcome this beautiful flamboyance of flamingos to Discovery Cove and give our guests a wonderful opportunity to observe these amazing animals," said Kyle Miller, Park President. "To celebrate their arrival, we're encouraging our fellow Floridians to take advantage of great end-of-summer savings at Discovery Cove and welcome the flamingos in person."
Floridians can save 20 percent on an all-inclusive day at Discovery Cove and enjoy unlimited visits to SeaWorld and Aquatica now through Dec. 31, 2019 when they book by Sept. 9, for visits to Discovery Cove through Oct. 31.*
The only flamingo to naturally inhabit North America, adult Caribbean flamingos stand between 4 and 4 ½ feet tall, weigh between 5 and 6 pounds and can have a wingspan of nearly 5 feet. Sporting the brightest plumage of all flamingo species, they are deep pink, red or orange in color. As young birds, they are grey in color and their plumage slowly turns pink as they mature. They have long, pink legs with slightly darker pink knees and a large, pink, downward-curving bill that is black at its tip. Caribbean Flamingos have a loud, deep honking call like that of geese, making it easy for guests to hear them coming during their daily parade.
For more information, visit www.DiscoveryCove.com.
# # #
* Offer available through Sept. 9, 2019. Proof of Florida residency required at check in. Discovery Cove visit must occur prior to visiting SeaWorld & Aquatica. SeaWorld & Aquatica admission is valid from the date of Discovery Cove until Dec. 31, 2019. Other restrictions, fees and taxes may apply.
About Discovery Cove
Discovery Cove® in Orlando is an all-inclusive day resort where guests can enjoy a one-of-a-kind opportunity to swim with dolphins, snorkel among thousands of tropical fish and rays, hand-feed exotic birds, and encounter playful otters. Relax and explore rocky lagoons surrounded by lush landscaping, tropical reefs, winding rivers and white, sandy beaches. Freshly prepared meals, snacks and beverages throughout the day and swim gear are included. Guests will experience the most exciting animal encounters the world has to offer in a breathtaking tropical atmosphere. DiscoveryCove.com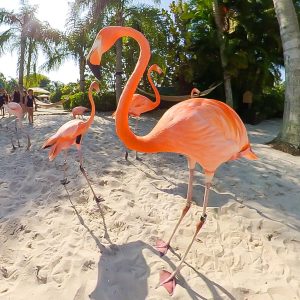 If You Enjoyed This Post, Don't Miss:

Covering Orlando & Central Florida
'Coast to Coast'
Daytona Beach • Tampa
• 
St. Pete Beach
• Clearwater Beaches •
Family Fun, Local Events,
Dining Reviews, Local Get-a-Ways,
Attractions, & More!
Discovery Cove® Announce Flamboyance of Flamingos
ShareOrlando.com | Share Orlando