The Crooked Can Brewing Company is one of Central Florida's newest breweries. Located in beautiful downtown Winter Garden on Plant Street.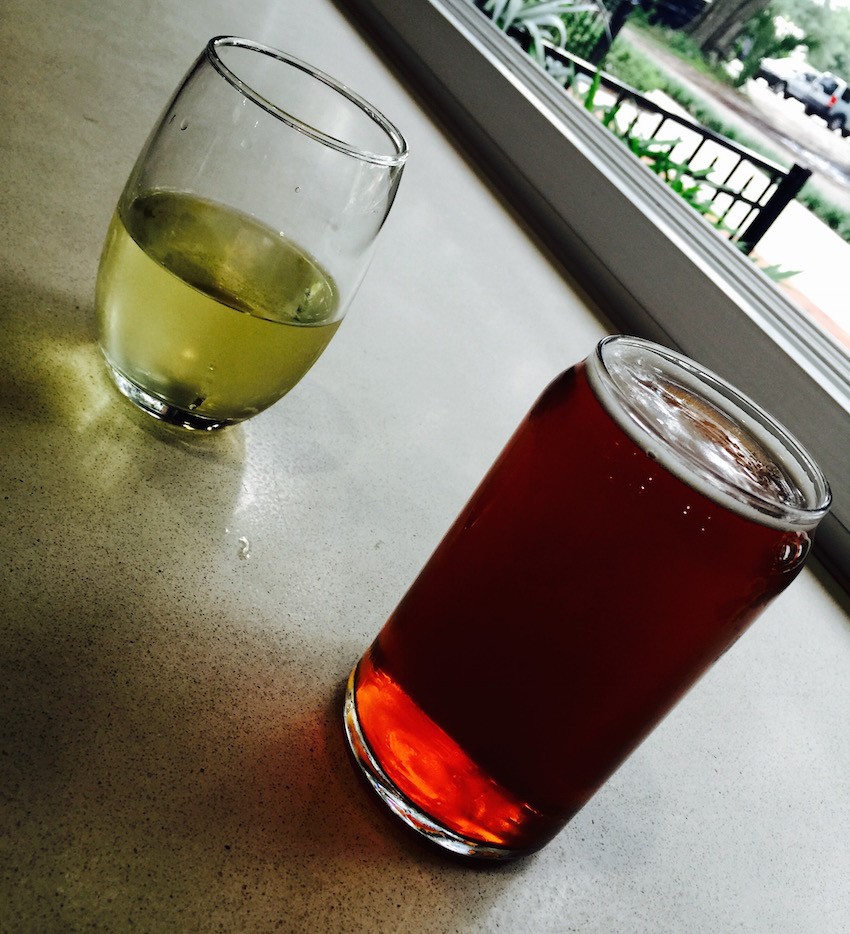 I really liked this brewery, not just because I enjoy a cold beer, but because of what it stands for, how its run, and the local homegrown feel it has. According to its website the brewery and company "was built on the founders passion for craft beer. The brewery represents a unique image and creates a cultural following for a way of life. The brand represents a free spirit laid back approach but with a purpose. We produce quality craft beer consistently, with excellent taste and unique quality."
The Crooked Can Brewery Company has 4 flagship brands as well as many other limited addition and seasonal brews. My personal favorite… is the High Stepper IPA. I describe it as deliciously hoppy but they describe it as "Citrus forward multiple hop addition ale with a full flavored clean finished at 7% ABV and 90 IBUs, this America IPA is a step up from the average. The High Stepper has a golden chestnut color with a well balanced malt profile. The hop notes are larger than life with citrus and floral aromas and flavors. This beer exhibits a personality all its own with seven hop additions, and will impress the most discerning hop head." (As you can tell they are much better at describing beer than I am. Still definitely hoppy!)
For less hoppy beer enthusiast, I suggest the Ducktail American Pale Ale, or the McSwagger's Own Amber Ale. Both are Crooked Can favorites and definitely worth trying. My wife (not a beer lover) really enjoyed the Ace Pineapple Cider. She was also very happy that they offered wine for the non-beer drinkers.
CROOKED CAN BREWING CO
The taproom has indoor and outdoor seating with two bars. One bar is generally for those sitting inside, and the second bar opens to a window facing outside for those patrons enjoying the outside seating. It's not uncommon to find a local musician playing outside on the terrace. Big glass walls separate the taproom from the brewery itself. Through the glass you can see the brewing kettle, fermenters and storage tanks. How cool is that! You actually feel like you are a part of the whole brewing process. Every one of the Crooked Can employees we met, were knowledgeable about the brewing process and were very eager to tell you their story.
If you are looking for a nice place, to hang out with friends or take a date, I would highly suggest the Crooked Can Brewery. I observed many patrons brought their kids and they remained on the outside terrace. Great Craft beer, good atmosphere, and good people… what else could you ask for!
The Crooked Can Brewery is part of the Plant Street Market, which offers many other hometown products. Stay tuned for more on that.
If You Enjoyed This Post, Don't Miss:

Covering Orlando & Central Florida
'Coast to Coast'
Daytona Beach • St. Pete Beach
• Clearwater Beaches •
Family Fun, Local Events,
Attractions, Discount
Ticket Opportunities & More!
CROOKED CAN
Winter Garden, FL
ShareOrlando.com | Share Orlando


950 Celebration Blvd, Suite H

Celebration Florida 34747