Blaze Pizza in Disney Springs is probably one the best pizza places I have ever been to.  The "Build Your Own" concept is awesome, the atmosphere is great and the pizza is delicious!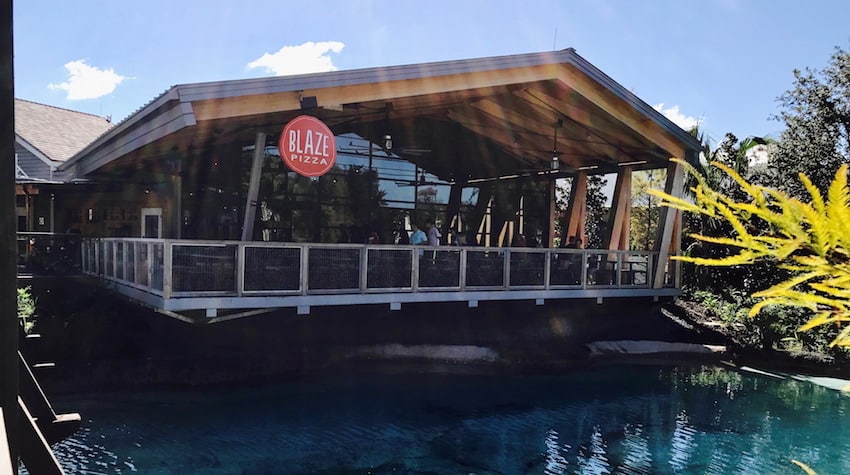 Here is how it works.  First, you order the kind of pizza crust you want.  You can choose from regular, gluten free or high rise dough (thicker pan pizza style).  I chose regular, as I am huge thin crust fan.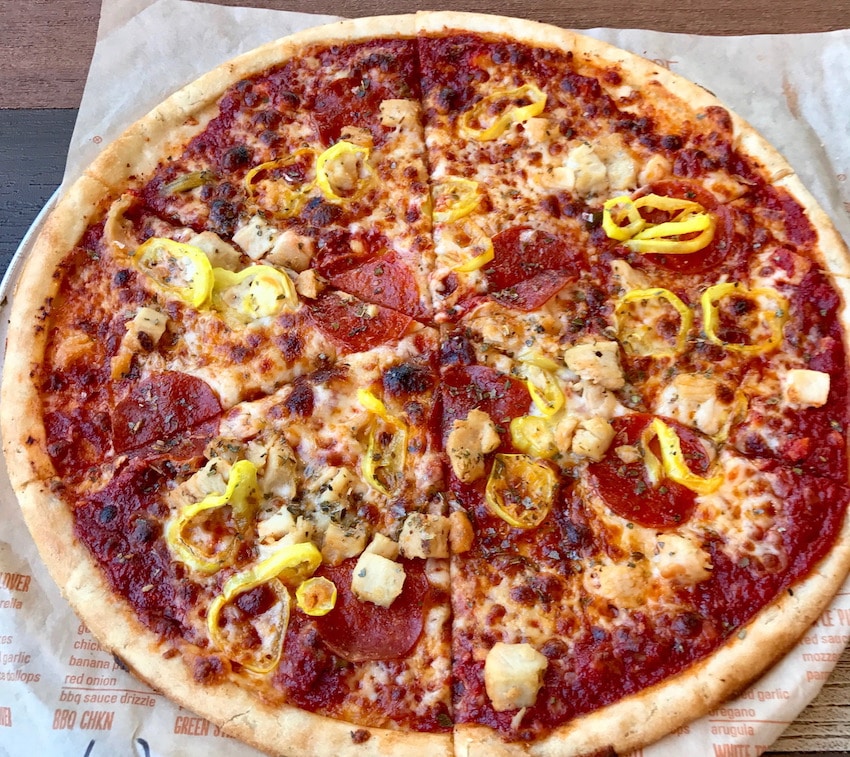 Next, you have your choice of sauces: classic red sauce, spicy red sauce, garlic pesto sauce, pesto drizzle, BBQ drizzle, olive oil drizzle, ranch, balsamic glaze or buffalo sauce.  I chose spicy red sauce because I like a little spice on just about anything.
BUILD YOUR OWN PIZZA – YEAH!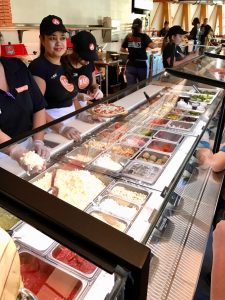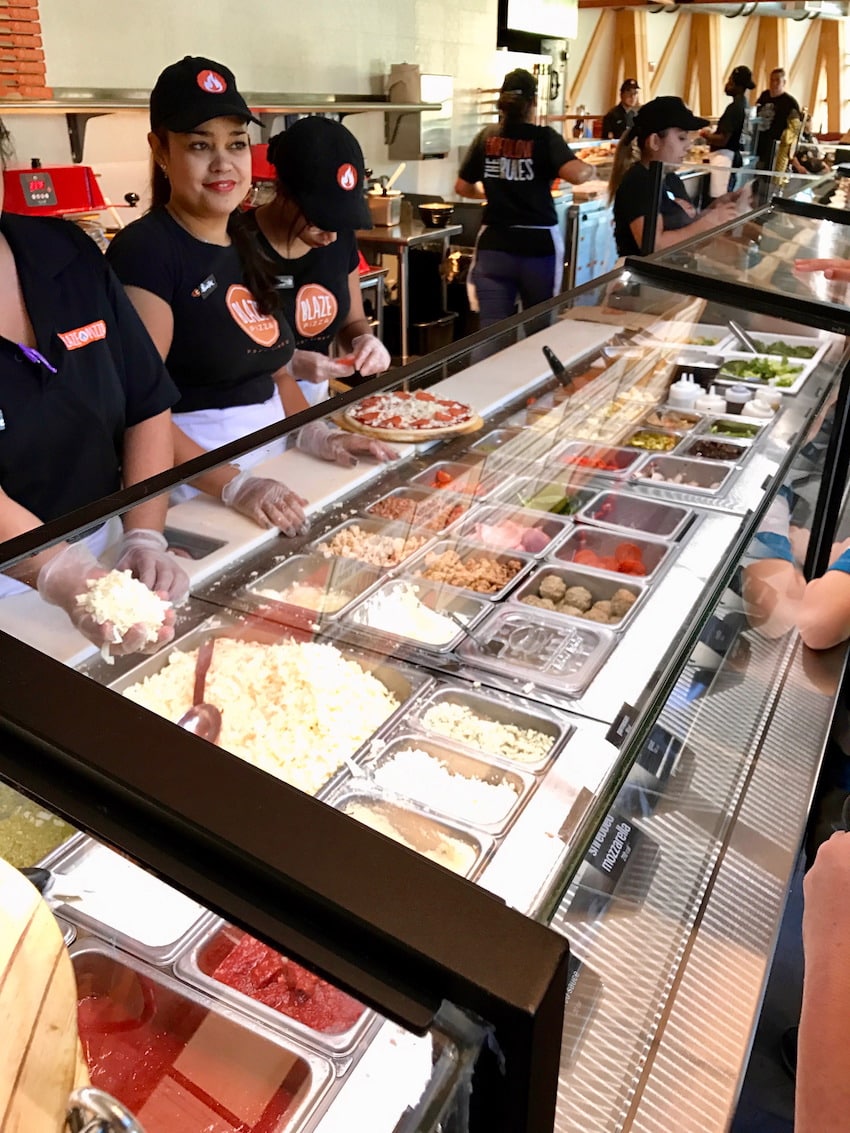 Then your choice of cheeses.  Goat, gorgonzola, mozzarella, ovalini mozzarella, parmesan, ricotta and vegan cheese are what you have to choose from.  I chose mozzarella and goat cheese.
And finally the toppings.  I think it's important to note, that when you build your own pizza, you can have unlimited toppings.  There is no additional charge for any of the toppings.  You have your choice of applewood bacon, crumbled meatballs, grilled chicken, italian sausage, pepperoni, salame, smoked ham artichokes, arugula, banana peppers, basil, bell peppers, cherry tomatoes, chopped garlic, jalapeños, mushrooms, olives, pineapple, red onions, red peppers, roasted garlic, sautéed onion, spinach and zucchini.  I chose bacon, meatballs, bell peppers, mushrooms and roasted garlic.
[powr-photo-gallery id=7d49054f_1478206403745]
Does it sound like it's too much to choose from?  Not to worry, they have signatures pizzas you can choose from.   The Meateater, Art Lover and Green Stripe are just a few of many that are available.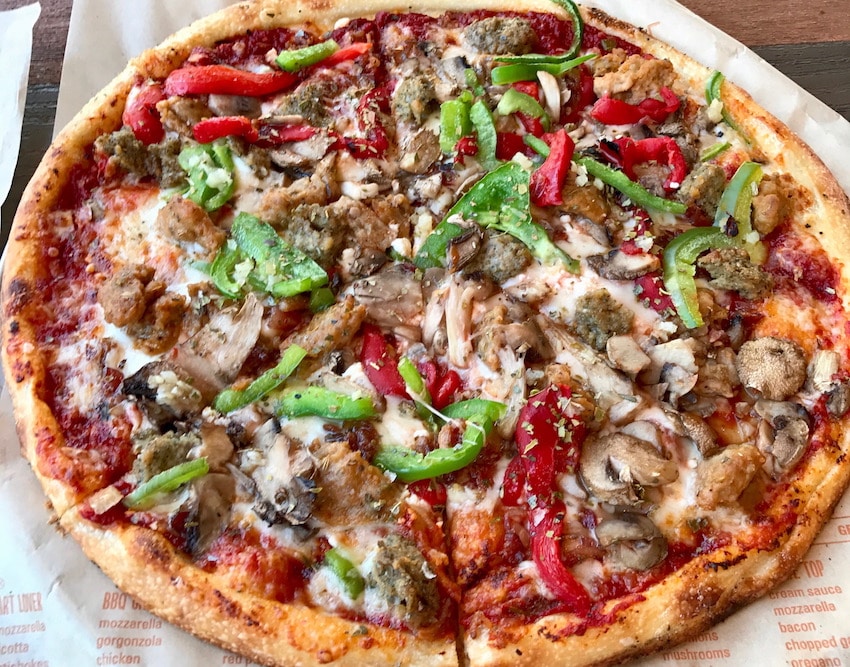 After you have made your selections, your pizza goes into a large "Fast Fired" oven.  They call it fast because your pizza is completely cooked on about 180 seconds.  Yes, 3 minutes!  How cool is that.
And the taste?  Absolutely delicious.  The ingredients were fresh and sauce was awesome.  I have to tell you, only get the spicy red sauce if you like spicy foods.  It definitely adds a big spicy kick to the pizza.  I loved it, but it's not for weak hearted.
The price?  The 12 inch build your own pizza was only $9.65, and comes with unlimited toppings.  I can't think of any other place where you can get that kind of pizza for less than $10.
As I said at the beginning, Blaze Pizza is a great place for lunch and/or dinner.  Next time you are down at Disney Springs, stop in a create your own pizza!
If You Enjoyed This Post, Don't Miss:

Covering Orlando & Central Florida
'Coast to Coast'
Daytona Beach • St. Pete Beach
• Clearwater Beaches •
Family Fun, Local Events,
Dining Reviews, Local Get-a-Ways,
Attractions, Discount
Ticket Opportunities & More!
Blaze Pizza – Build Your Own

ShareOrlando.com | Share Orlando


950 Celebration Blvd, Suite H

Celebration Florida 34747