My son Logan, has been bugging me to take him indoor rock climbing, so we headed off to Aiguille Indoor Rock Climbing Center.  The last time I went indoor rock climbing I was in the Army stationed in Hawaii.  Obviously, I was in much better shape (not round) back then.  So I was a bit nervous.
 Aiguille Rock Climbing Center
When we got there, we filled out our waivers and paid for our equipment.  The equipment included our climbing harness and shoes.  Who knew there were actually special "Rock Climbing Shoes".  The kids decided that they would just use their sneakers, and passed on the shoes.  After looking at the climbing walls, I decided that I was just going to be the kids "belay" and let them do the climbing.  The belay person is in charge of making sure the climber doesn't fall to the ground if the slip or lose their grip.
We had about 20 minutes to wait until the next Climbing Class begun.  Everyone has to attend this class if they have never been there before.  So while we waited, the kids tried to climb the freestyle walls.  These walls were only about 6 feet tall and you didn't need a rope to climb them.  While they tried, they were not very good at scaling these walls without a rope for protection.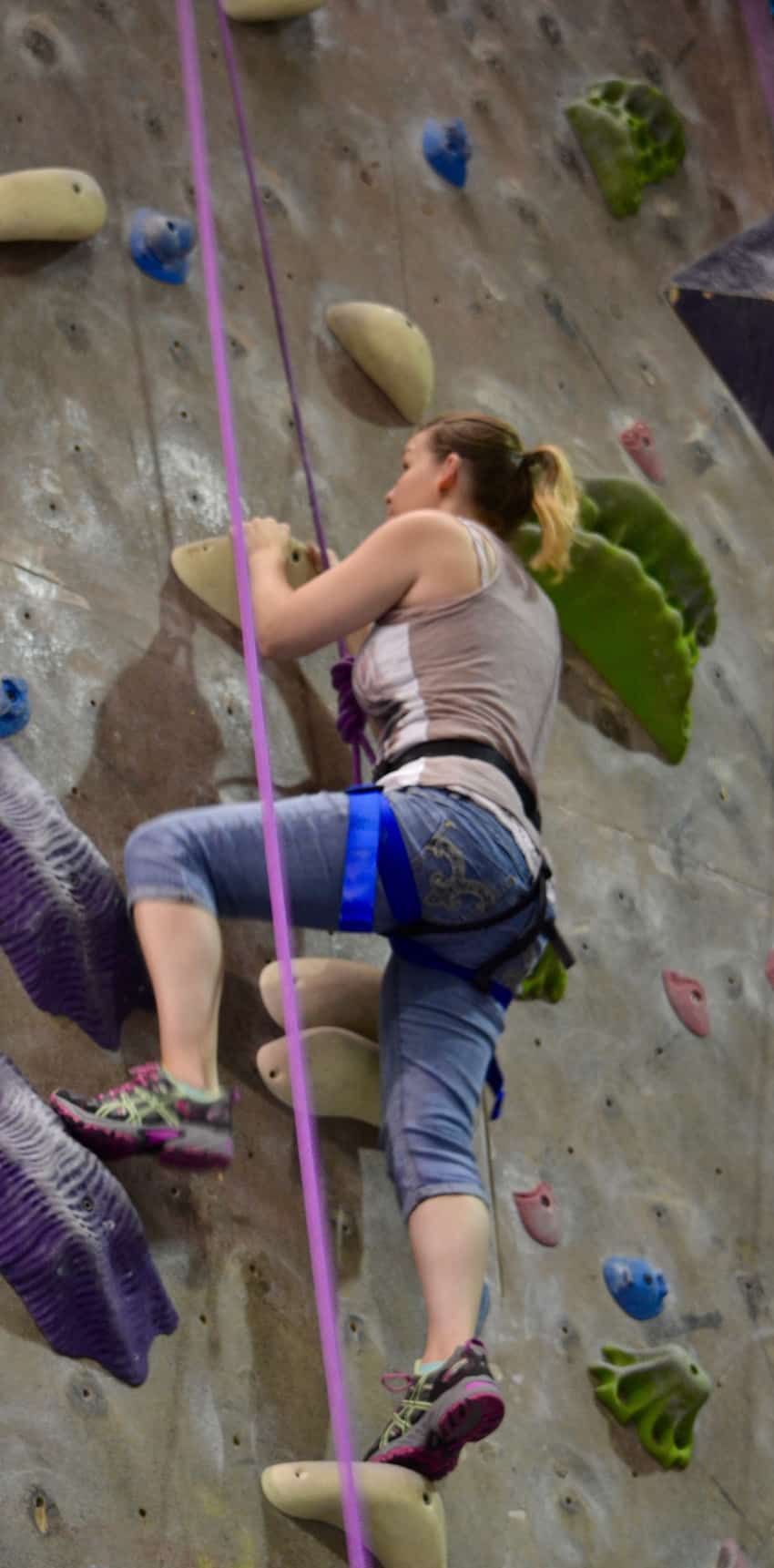 Our class was called and we went over to the training area.  During this class, we learned how to tie ourselves in on the wall.  The knot we learned to tie, although intricate, was fairly easy to do.  After a few times the kids and I had it down and were ready to climb.
Once at the wall, the instructor checked out our equipment and our knots to make sure we were good.  He explained to me how to hold the rope and take up all the slack as the climber moves up the wall.  Talk about pressure!  Here I have my kids climbing 10 – 20 foot walls and it's up to me to keep them from falling.
Logan went up first.  He was good at it.  He isn't very tall so reaching his next climbing peg was challenging at times, but he figured it out.  He was very proud of himself.  I lowered him down slowly until he reached the ground.  He had the biggest smile on his face, but he was drenched in sweat.  Apparently its hard work and he was sweating to prove it.   My daughter was next and off she went.  It took her a couple of times to get the hang of it, but she finally made it to the top.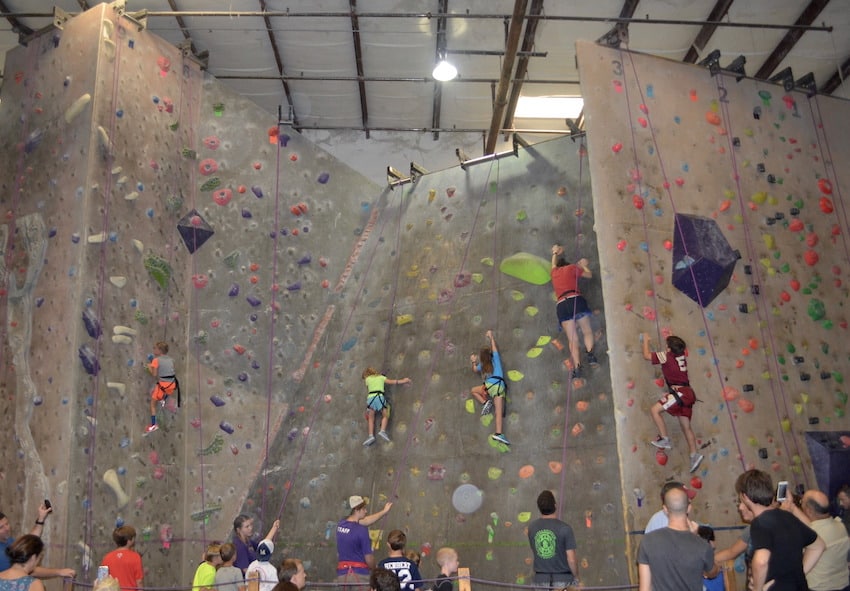 We moved around the room trying different climbs.  Some of them were easy and others not so much.  After about 2 hours, I could tell the kids were getting tired, because they couldn't keep their grip on the wall.  It was at that time Logan said to me…  "Dad I am done!  I can barely move my arms and legs."  I laughed and called it a day.
The staff and everyone there were very helpful and polite.  They even have Birthday Party rooms.  So, if you are looking for something to do with your kids (tweens and teens) then I would take them to Aiguille Rock Climbing Center.  It's a lot of fun, plus it's good exercise!
If You Enjoyed This Post, Don't Miss:

Covering Orlando & Central Florida
'Coast to Coast'
Daytona Beach • St. Pete Beach
• Clearwater Beaches •
Family Fun, Local Events,
Dining Reviews, Local Get-a-Ways,
Attractions, Discount
Ticket Opportunities & More!
Orlando : The City Beautiful, … But So Much More!
ShareOrlando.com | Share Orlando


950 Celebration Blvd, Suite H

Celebration Florida 34747