Stepping into WAVE – Asian Bistro & Sushi in Mt. Dora was like entering a realm of sheer culinary brilliance. From the very moment I crossed the threshold, I knew I was in for an extraordinary experience that would redefine my perception of sushi forever.
The ambiance at WAVE – Asian Bistro & Sushi was an eclectic blend of fun and uniqueness, with wall paintings depicting the artistry of the sushi masterpieces to come. It was impossible not to feel the excitement bubbling up as we settled into our seats, eager to explore their diverse menu.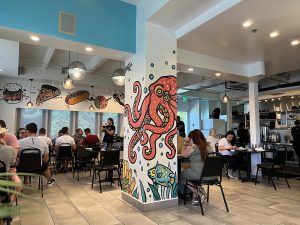 While traditional sushi rolls were available, my heart and taste buds gravitated toward the Non-traditional sushi offerings. Each creation was a testament to the chef's ingenuity and passion for pushing the boundaries of sushi innovation.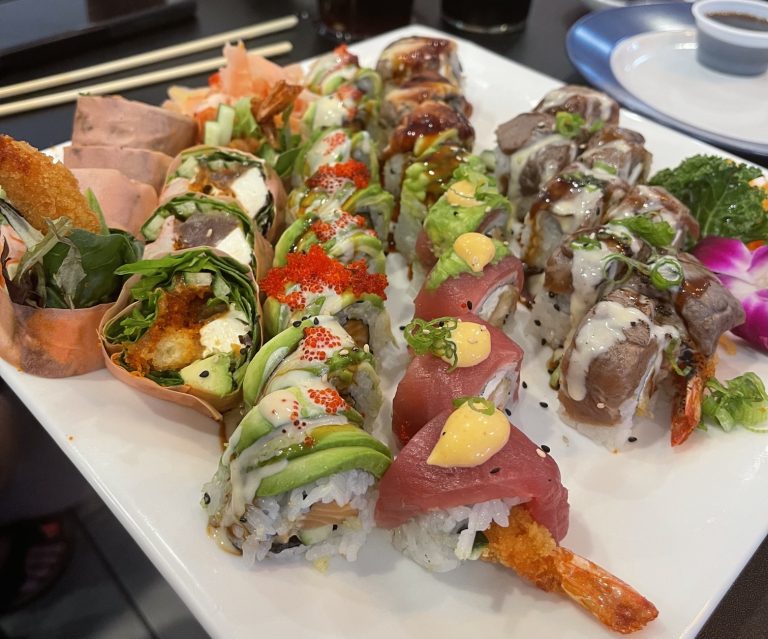 Let's talk about the stars of the show – the Sushi Burritos, Sushi Hot Dogs, Sushi Pizza, and the mouthwatering Sushi Crunch Wrap Supreme. The Rainbow Sushi Burrito first caught my attention first, Tuna, salmon, albacore, mixed greens, red cabbage, carrots, cucumber, and avocado playfully wrapped into a "burrito". Every bite was a tantalizing explosion of flavors.
Next, the Sushi "Hot Dog" stole the spotlight, featuring a spicy krab roll, tempura-fried to perfection and generously loaded with spicy tuna, cucumber, avocado, masago, scallion, seaweed salad, and sesame seeds, all drizzled in a divine mix of spicy mayo and eel sauce. The Sushi Meat Lovers Pizza, a creative salmon roll "crust" with a spicy krab mix base and topped with spicy tuna "pepperoni," was a true delight for the eyes and taste buds alike.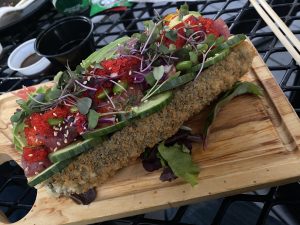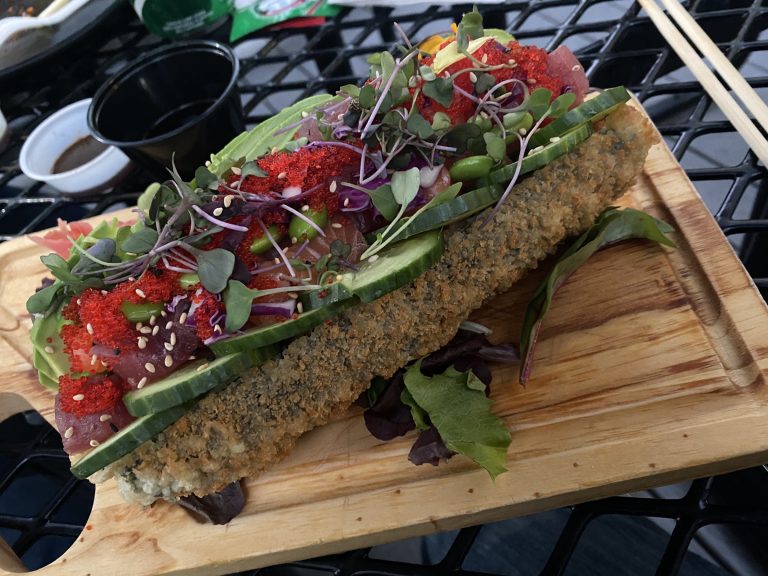 However, my ultimate favorite was the "Sushi Crunch Wrap Supreme," a generously sized creation that brought together salmon, boiled shrimp, spicy tuna, spicy krab, masago, cream cheese, seaweed salad, cucumber, avocado, scallion, sesame seeds, and sushi rice, all wrapped in nori and deep-fried to perfection. A symphony of flavors that was truly large enough to share.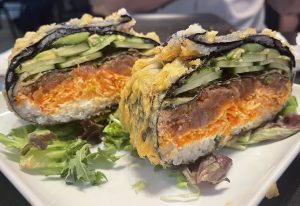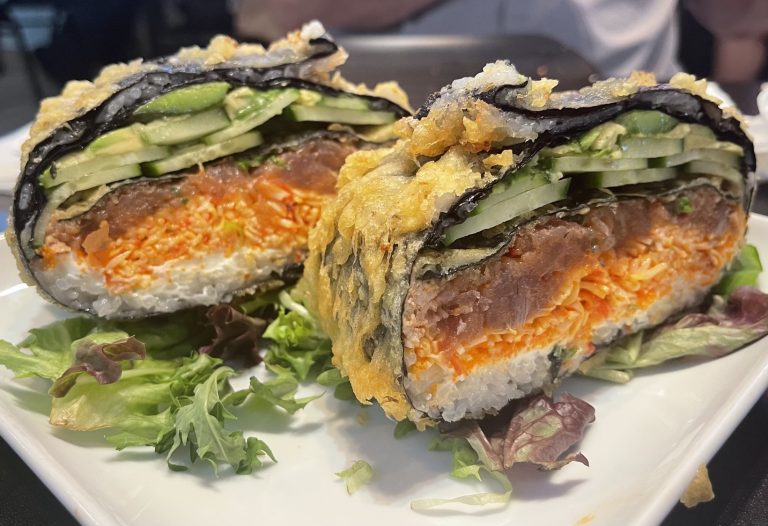 What impressed me the most was the impeccable freshness of the ingredients, vibrant with color and bursting with flavors. Each non-traditional creation was a harmonious fusion of tastes, proving that sushi can indeed evolve into something extraordinary.
The staff at WAVE were culinary wizards themselves, highly engaging, and ever-ready to offer personalized suggestions based on our preferences. Their passion for the cuisine elevated the overall experience, leaving us feeling well taken care of.
The presentation of these sushi masterpieces was nothing short of awe-inspiring. Who would have imagined that sushi could masquerade as a Hamburger, Hot Dog, Pizza, or Crunch Wrap? It was a feast for the eyes before it became a feast for the palate.
Before moving on to the main course, I must insist on trying the "Sushi Fries" as an appetizer. French fries tossed with togarashi and topped with spicy krab, masago, and scallions, drizzled with eel sauce and spicy mayo, these fries were simply irresistible.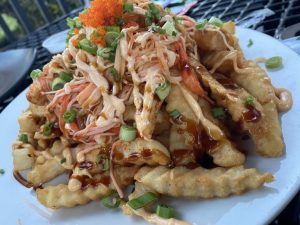 Finally, a sweet note to conclude our gastronomic journey – the Fried Oreos. Tempura-fried Oreos served with a scoop of ice cream, topped with Nutella, condensed milk, and powdered sugar. A divine treat that left us with a blissful smile, a perfect ending to an extraordinary experience.
In conclusion, WAVE – Asian Bistro & Sushi has revolutionized the sushi scene with its inventive creations, fresh ingredients, and exceptional flavors. If you seek an unforgettable culinary adventure that tantalizes the senses and leaves you craving for more, then this is the place to be. Prepare to be amazed, dazzled, and thoroughly satisfied – it's a wave of delight you won't want to miss!
I highly suggest following WAVE – Asian Bistro & Sushi on Facebook and Instagram.  The videos of how they make these awesome masterpieces are amazing!
If You Enjoyed This Post, Don't Miss:
Covering Orlando & Central Florida
'Coast to Coast'
Daytona Beach • St. Pete Beach
• Clearwater Beaches •
Family Fun, Local Events,
Dining Reviews, Local Get-a-Ways,
Attractions, Discount
Ticket Opportunities & More!
Sushi Reinvented: WAVE – Asian Bistro & Sushi!

ShareOrlando.com | Share Orlando